Ukraine-Russia crisis: India asks students to move to western border
Ukraine-Russia crisis: India asks students to move to western border
Written by
Pratyush Deep Kotoky
Feb 28, 2022, 03:39 pm
3 min read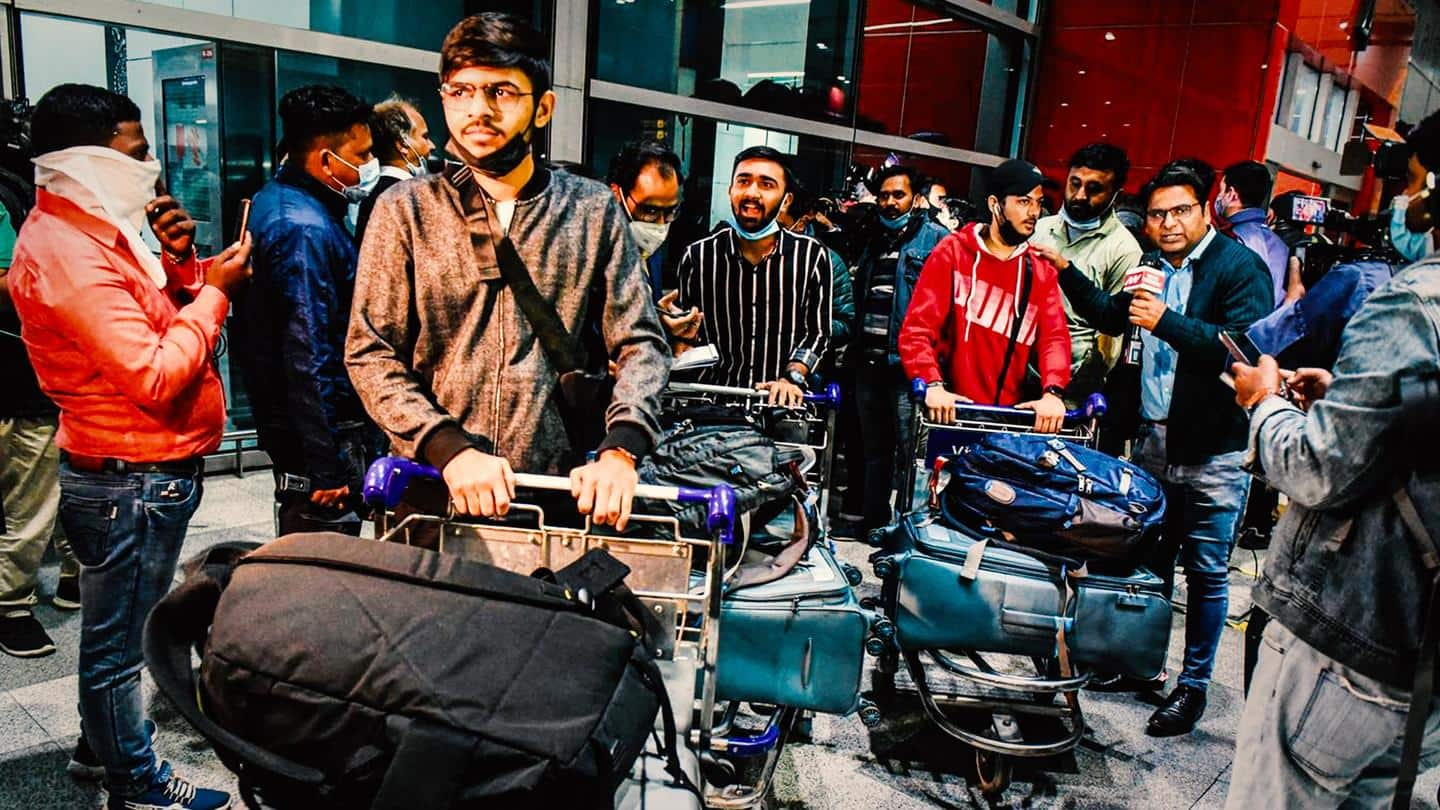 India on Monday advised students stranded in Ukraine's capital city, Kyiv to move to the western part of the country. The advisory came as Kyiv lifted the curfew amid intense fighting on streets and attacks on residential buildings. It told students to go to the railway station to travel to the western part, adding that "Ukraine Railways is putting special trains for evacuations."
Why does this story matter?
India is stepping up efforts to evacuate Indian citizens stranded in Ukraine after Russia invaded it.
Currently, a full-fledged war is underway between the two countries, with Russia raining down missiles in several cities of Ukraine.
Russia launched a military operation in Ukraine on Thursday after weekslong border tensions over the latter's wish to join the US-led international military alliance NATO.
India rescues over 1,300 Indians under Operation Ganga
Meanwhile, India has launched "Operation Ganga' to rescue Indian students stuck in Ukraine. So far, 1,346 Indian nationals have been evacuated from the war-hit country in six Operation Ganga evacuation flights. As per the government's estimate, around 15,000 Indian nationals were stuck in Ukraine after Russia launched its surprise offensive on Thursday. Around 4,000 Indians had left the country before the conflict.
Four union ministers to visit Ukraine's neighboring countries
Union Ministers Hardeep Singh Puri, Jyotiraditya Scindia, Kiren Rijiju, and Gen (Retd) VK Singh will be going to neighboring countries of Ukraine as Special Envoys of India to coordinate the evacuation. Scindia will look after Romania and Moldova, while Rijiju and Puri will go to Slovakia and Hungary, respectively. Singh will be in Poland to manage the evacuation of Indians stuck in Ukraine.
PM Modi held high-level meeting on Ukraine crisis
The decision to send union ministers was taken after Prime Minister Narendra Modi on Monday called a high-level meeting on the ongoing crisis in Ukraine. Reportedly, this was the second high-level meeting in 24 hours to discuss steps for the safe return of the citizens. On Sunday, Modi had said his government was "working day and night" to bring back Indians stranded in Ukraine.
How is India evacuating its citizens?
India is evacuating its citizens under its flagship Operation Ganga initiative. Since the Ukrainian airspace is closed, the Indian evacuation flights are operating out of Romanian capital Bucharest and Hungarian capital Budapest. India is facilitating the evacuation of stranded Indians from Ukraine through its land border crossings with Romania, Hungary, Poland, and Slovakia. Notably, the Centre is bearing the complete cost of evacuation.
Modi government facing pressure over return of Indian students
Meanwhile, the Centre is also facing pressure from state governments and opposition leaders over the return of Indian students. Sharing a video of Indians being harassed while trying to cross the border from Ukraine, Congress leader Rahul Gandhi tweeted, "My heart goes out to the Indian students suffering such violence." He also urged the Centre to share the detailed evacuation plan with those stranded.
Video of Indians being harassed
My heart goes out to the Indian students suffering such violence and their family watching these videos. No parent should go through this.

GOI must urgently share the detailed evacuation plan with those stranded as well as their families.

We can't abandon our own people. pic.twitter.com/MVzOPWIm8D

— Rahul Gandhi (@RahulGandhi) February 28, 2022