#SabarimalaRow: Hindu-groups call for hartal as temple opens for 2-months
#SabarimalaRow: Hindu-groups call for hartal as temple opens for 2-months
Nov 17, 2018, 10:47 am
2 min read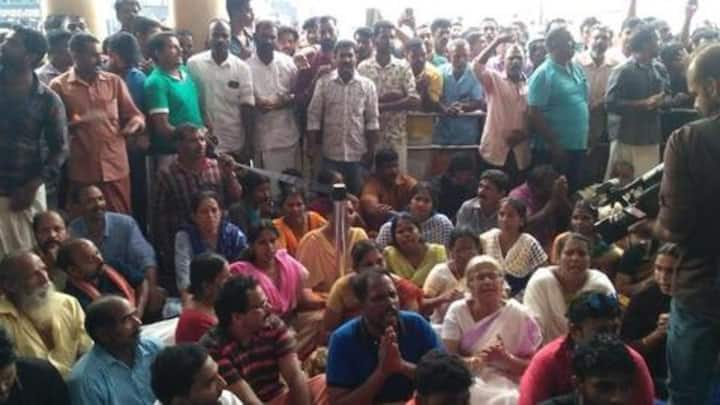 Sabarimala Karma Samiti, an umbrella organization for outfits of Hindu groups opposing the Supreme Court order, has called a state-wide shutdown in Kerala after Hindu Aikya Vedi state President, KP Sasikala was detained on Saturday morning. The hilltop shrine for Lord Ayyappa opened for two months, late on Friday evening, and lakhs of devotees are expected to visit it every day. Here's more.
Sasikala was on way to temple when she was arrested
VHP state president SJR Kumar said Sasikala, believed to be more than 50 years of age, was taken to custody near Marakkoottam at 2:30 AM. "She was arrested as she was on the way to the hill shrine carrying irumudikkettu (bundle carrying sacred offerings) to offer prayers," he told PTI. He added some other devotees too were arrested by the police.
VHP member says devotees won't be affected
The dawn to dusk hartal, called to protest the arrests, will not affect devotees. Kumar said essential services and vehicles of Ayyappa devotees won't be hampered. This is the third time the temple opened after Supreme Court's order which allowed women of all ages to enter it. Despite the decades-old ban being uplifted and heavy security, women haven't succeeded in visiting the deity.
Meanwhile, Trupti Desai was forced to return to Mumbai
Founder of Bhumata Brigade, Trupti Desai, who flew to Kochi with an intention to enter the temple, returned to Mumbai after protesters didn't allow her to leave the airport. The activist claimed she would not leave Kerala without entering the temple, but despite numerous attempts by the police her goal remained unachieved. At Mumbai airport too, scores of people protested against Desai on Saturday.
She should try entering the temple after 50: Protesters
We've come here to protest. Trupti Desai should try going there after attaining 50 yrs of agenot before that. She won't be allowed to step inside the temple before that. There are so many devotees working towards this stopping other women too: Protesters outside Mumbai airport pic.twitter.com/50FHd7BYP4

— ANI (@ANI) November 16, 2018
Vijayan wants to implement the order, Shah sees stubbornness
The Pinarayi Vijayan led state government has stated they intend to implement the SC order. To ensure it was done peacefully, Vijayan called an all-party meet where Opposition parties walked out. Congress leader Ramesh Chennithala called the meeting a "drama", saying that the Kerala government remained stubborn and was not willing to make a compromise. Separately, BJP's Amit Shah questioned Vijayan's urgency.