Mumbai: Over 6,000 people participated in Saksham Cyclothon
Mumbai: Over 6,000 people participated in Saksham Cyclothon
Feb 25, 2018, 05:31 pm
2 min read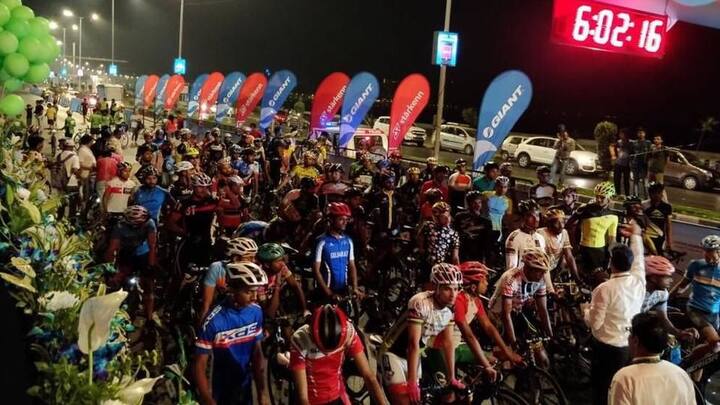 Over 6,000 people took part in the Saksham Cyclothon Mumbai held on Sunday. Krisha Nayakodi and T Manorama Devi won the men's and women's elite category. The sports event was organized in these categories: Elite (Men - 46 km/women - 32 km), Amateur (Men & Women 18 km), MTB and Hybrid and Amateur MTB Road Bike and the crowd favorite 8 km Green Ride.
Ride was flagged off by Narain Karthikeyan and Milind Soman
The ride was flagged off by India's first FI driver Narain Karthikeyan and actor Milind Soman. Nayakodi, who won the elite race in the men's category, went home richer by Rs. 1.25 lakh. In the women's elite category, T Manorama Devi from the Railways won a cash prize of Rs. 1 lakh. The Cyclothon was an initiative of the Petroleum Conservation Research Association(PCRA).
Event organized to instill socio-environmental consciousness in citizens
The event, initiated by PCRA, was held under the aegis of the Ministry of Petroleum and Natural Gas, to make citizens aware of conservation, effective utilization of petroleum products and to instill socio-environmental consciousness. The event also promoted the use of cycle for short distances, which will not only save fuel but also help in creating a greener environment and better health conditions.