'Dump garbage near L-G's house': SC rebukes Delhi government
'Dump garbage near L-G's house': SC rebukes Delhi government
Aug 07, 2018, 01:40 pm
2 min read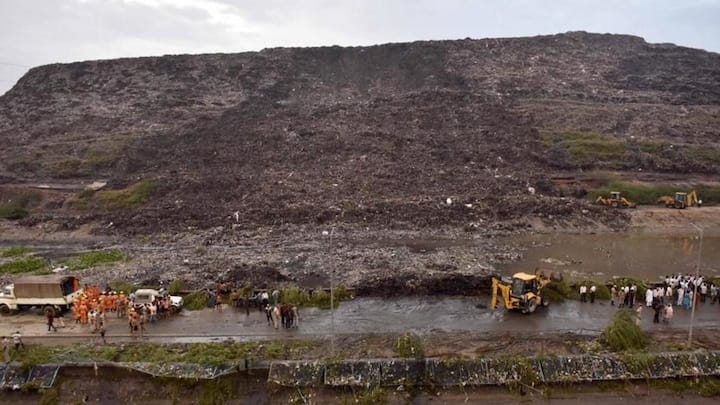 The SC took strong exception to plans of constructing a landfill site in Delhi's Sonia Vihar without consulting residents. "Are you suggesting people cannot raise this issue, like what was done in 1975, that if you ask something, you'll be jailed?" it asked additional solicitor general (ASG) Pinky Anand, who argued locals were protesting the site. "Dump the garbage on Raj Niwas Marg then," it said.
'Will there be any person alive in Delhi?'
The court took note of a report by Ganga Ram Hospital, which concluded 50% Delhiites, including non-smokers, are at risk of lung cancer due to air pollution. Mountains of garbage in Delhi were an "emergency situation": SDMC alone generates 3,600 tonnes of waste everyday. "NITI Aayog says in 2019, there'll be shortage of water in Delhi. Will there be any person alive in such a situation?"
'Waste segregation should begin at home'
The bench observed that a prime solution is waste segregation, which should begin at home. "You can have penalty if people don't follow (segregation)." "People who create construction debris and pull down their houses should pay for it," it added. It asked if the government could launch an awareness campaign on segregation, and asked it to submit steps taken for it by August 14.
Government lists steps taken to improve the situation
Responding, Anand said the SDMC and NDMC have planned to create new waste-to-energy plants. This procedure will also be used to enhance all existing plants. The new ones would start operating from December 2019, she added. Anand refuted allegations that municipal corporations were transporting all types of waste, unsegregated, in one vehicle. The L-G's office had earlier told the court it was monitoring and reviewing garbage disposal plans and actions.
Government explains delay in Sonia Vihar landfill site
Anand also mentioned the planned landfill site in Sonia Vihar, adding it had been delayed due to protests by residents, to which the court asked why they hadn't taken locals' feedback. "Life gets affected if people have garbage dumped in front of their house," noted the bench. "I can say that people residing there must not belong to well-to-do families, and that's why you have chosen the site."
Next hearing scheduled for August 17
The court has now sought details from the government on its future plans and course of action. The matter will be heard next on August 17.