Watch: Soldiers need hammer to break open eggs at Siachen
Watch: Soldiers need hammer to break open eggs at Siachen
Written by
Siddhant Pandey
Jun 09, 2019, 11:44 am
2 min read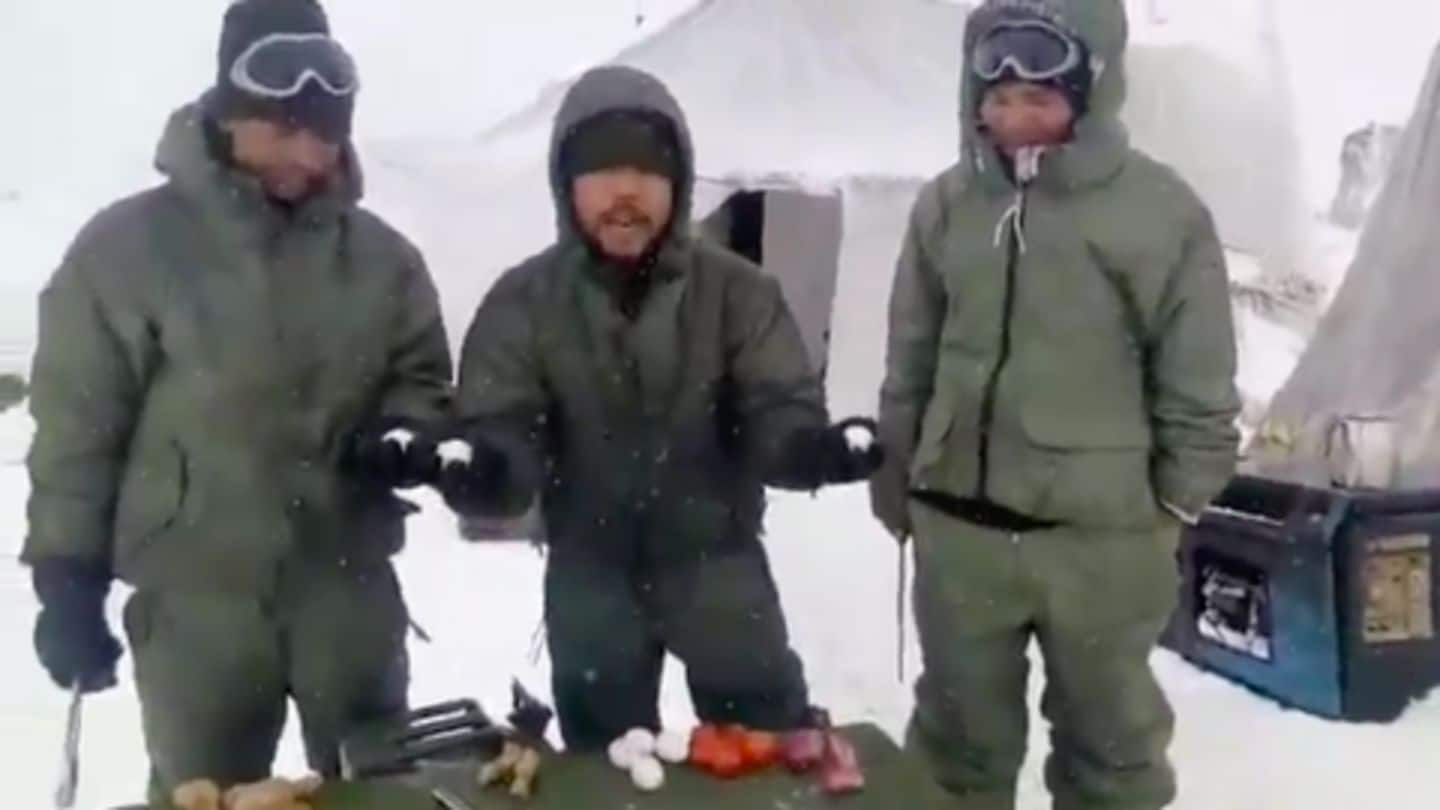 "Siachen me hamare jawan ladh rahe hai" might have been misused to support many a straw man argument, but it trivializes the harsh lives of Indian Army soldiers at the Siachen glacier. As we engage in lengthy discussions about their lives, sitting in our air-conditioned rooms, Indian Army soldiers took it upon themselves to remind us what a regular day at Siachen looks like.
At Siachen, eggs and vegetables remain frozen
Imagine waking up to prepare your morning breakfast, armed with a hammer and a machete, as you reach for the eggs to make an omelet. That's exactly what Indian Army jawans have to do. In a viral video, three soldiers demonstrate what it's like cooking at the Siachen glacier. With temperatures ranging from -40°C to -70°C, the eggs are rock-hard and juice packets frozen.
In video, soldiers hammer eggs, to no avail
"We have to boil the juice to drink it," says a soldier in the video, as he cuts through a tetra-pack juice packet and pulls out a frozen brick. The others then proceed to swing a hammer and a machete at it, to no avail. The soldiers then demonstrate smashing eggs against the table, and hammering them, but the rock-hard eggs don't break.
'It is not easy to do a job here'
"This is glacier's egg," the soldier says as he repeatedly hammers eggs, onions, and tomatoes, all frozen rock-hard. "It is not easy to do a job here as the temperature goes from -40 to -70-degree Celsius," he adds, "Life is hell here."
Soldiers at Siachen face frostbites, avalanches, icy winds
The Siachen glacier is a hostile terrain located in the eastern Karakoram range of the Himalayas and is the world's highest battlefield, with an average altitude of 20,000 feet above sea level. Soldiers brave being blasted by icy winds, avalanches, frostbites, as the temperatures plunge to minus 60°C. Since 1984, the Indian Army has maintained the glacier under Indian administration under the Operation Meghdoot.