How a Class-XII dropout became IAS officer after 19 years
How a Class-XII dropout became IAS officer after 19 years
Jun 09, 2019, 11:31 am
3 min read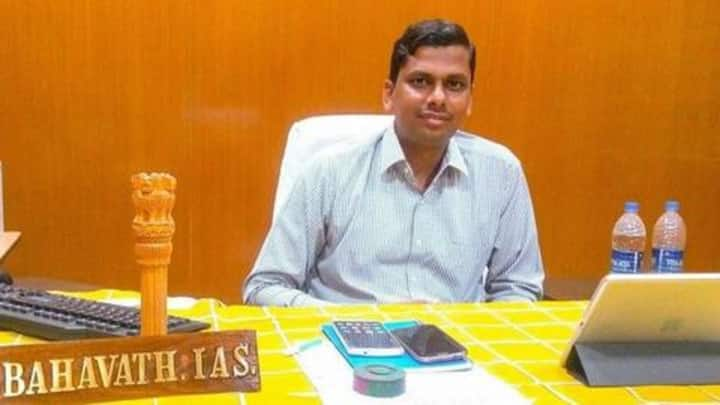 Every year, lakhs of students appear for the Union Public Service Commission civil services examination, having prepared extensively to become IAS officers. However, only a few hundred get to achieve their dreams. Ranipet Sub-Collector K. Elambahavath recalls being one of those applicants. Frustrated about being turned away at government offices, Elambahavath single-mindedly toiled for 19 years and eventually, became an IAS officer.
Elambahavath dropped out of school after father's death
Elambahavath was a regular class-XII student when in 1997, life took a different turn. His father, a village administrative officer, passed away. Elambahavath, born in 1982 in Cholagangudikkadu (Tamil Nadu), quit studies due to financial constraints and assisted his mother with farming.
He applied for government jobs but failed repeatedly
Elambahavath told The Better India that he was clueless about his future, but knew that farming wasn't lucrative. He applied for a Junior Assistant (LDC) position under compassionate grounds, accessible to family members of deceased government servants. However, the District Collector's office rejected his application, citing administrative reasons. 15 fellow candidates met the same fate, while others bypassed the waiting list, he said.
For nine years, he circled government offices to find jobs
Elambahavath, and other candidates, approached multiple authorities, to no avail. He said his typical day included working in the fields till afternoon and then requesting for jobs at government offices. "I fought this battle for nine years and yet nothing happened," he said.
'I wanted to change the situation for good,' says Elambahavath
After repeated failures, Elambahavath resolved to return to the District Collector's office as an officer. "The bureaucratic apathy didn't allow many senior IAS officers to hear our voices," he said. "I wanted to change the situation for good," Elambahavath then completed Bachelors in History from Madras University through long-distance learning and prepared for UPSC civil services; without any extra coaching.
Elambahavath started preparing for UPSC, studying at public libraries
Elambahavath studied at a public library which helped IAS candidates. "We were a group of 10 civil services aspirants in Pattukkottai. Our retired Headmaster Mr. AT Panner Selvam and many well-wishers were helpful," he said. Eventually, he became eligible for free civil services coaching by TN government by clearing an exam. He failed three UPSC attempts but cleared several TN Public Service Commission exams.
Even after finding a job, he continued preparing for UPSC
"I joined the state government Group 1 service which includes Assistant Director (Panchayat), DSP, etc. I continued preparing for the UPSC while working," Elambahavath said. He appeared for five mains and three interview rounds, but failed each time, exhausting his maximum attempts.
With all attempts exhausted, he was given a last chance
"I joined the state civil services. In 2014, the Central Government provided two more attempts for those who had been adversely affected by the Civil Services Aptitude Test. I grabbed the opportunity and appeared again," Elambahavath told TBI. He made the final attempt for civil services in 2015 and secured an All India Rank 117, getting into IAS in state cadre.
In 2016, Elambahavath became a Ranipet Sub-Collector
Elambahavath became a Ranipet Sub-Collector in 2016, of which, he said, "I could perceive the grief of the people whose voices are not heard," adding he directs his staff to tend to those waiting in government office corridors. However, he also urges people to stop judging government jobs as apathetic. Lastly, he said, "There is no substitute for hardwork. Never give up your dreams."