United Nations to issue special Diwali stamp next month
United Nations to issue special Diwali stamp next month
Written by
Pallabi C Samal
Sep 08, 2018, 04:39 pm
2 min read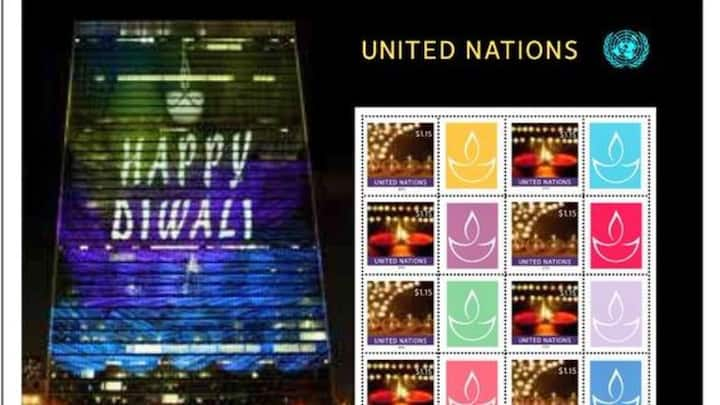 The United Nations is set to celebrate Diwali in a unique way. Its postal agency will release special stamps next month featuring festive lights and diyas. The New York special event sheet containing the stamps will be issued on October 19, on Dussehra, which is almost a fortnight ahead of Diwali. India's Permanent Representative to the UN Ambassador Syed Akbaruddin welcomed the move.
The sheet will have ten stamps, will cost Rs. 83
"Diwali, also known as Deepawali, is the joyous and popular festival of lights, which is celebrated in India and across the world by followers of many faiths," the UN agency said. The sheet, which will cost one $1.15 (Rs. 82.92), will contain ten stamps and tabs featuring diyas and other lights. The background will also have a picture of the UN Headquarters building.
US Postal Service had also celebrated Diwali through a stamp
The building's picture will, however, not be a normal one. It will be of a building that's illuminated with the message 'Happy Diwali' displayed prominently. Akbaruddin, while hailing the move, tweeted "Nice Diwali gift from @unstamps coming next month." Notably, this is not the first time Diwali was celebrated through a stamp. The United States Postal Service (USPS) had done it two years ago.
Trivia: USPS Diwali stamp came after seven-year long struggle
USPS had on October 2016 launched the commemorative stamp to mark the festival. It came after a seven-year struggle and efforts by the Indian-American community. Several Congressional resolutions by influential American lawmakers such as Congresswoman Carolyn Maloney also gave a massive boost to the movement.