Sunny Deol's decision to join BJP floods Twitter with memes
Sunny Deol's decision to join BJP floods Twitter with memes
Apr 24, 2019, 12:25 pm
2 min read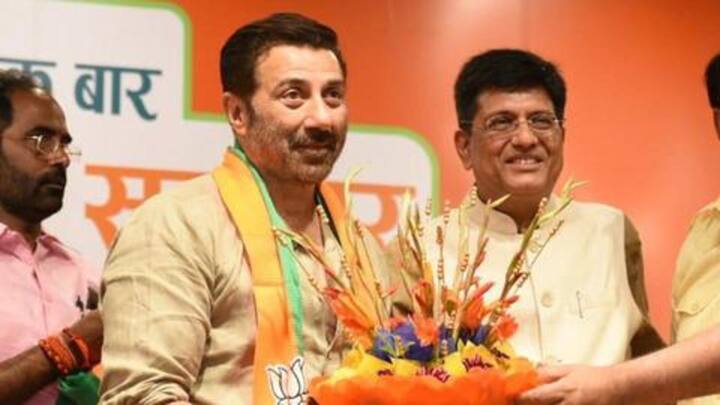 On Tuesday afternoon, Bollywood actor Sunny Deol, joined the Bharatiya Janata Party (BJP) in the presence of Defense Minister Nirmala Sitharaman and Minister of Railways and Coal, Piyush Goyal. Following this announcement, Twitterati took to the Internet and created hilarious memes of his famous dialogs from different movies. The 62-year-old actor will be contesting the Lok Sabha Elections from Gurdaspur constituency in Punjab.
Deol's movies, dialogs became inspiration for many memes
Deol's decision to join BJP ahead of the elections inspired several jokes on Twitter. Many of his famous dialogs like dhai kilo ka haath and tareek pe tareek from his movie Damini were among the major ones. Notably, he is now the third member from his family to join the BJP after his father, Dharmendra, and step-mother, Hema Malini. Here are the viral tweets.
Citing 'Damini', netizens ask Deol to fight Ram Mandir case
'Dhai kilo ka haath' vs 'Haath of Congress,' says another
Twitterati didn't miss out Deol's famous take on 'Hindustan'
Even Defense Minister referred to 'Border' while welcoming Deol
Even, Sitharaman did not forget to refer to Deol's movies, while welcoming him to the party. She said, "Sunny Deol made the film Border which showed how the feeling of nationalism and patriotism when portrayed beautifully on film can touch a chord with the people."
'Won't talk much, I will show you through my work'
After the announcement, Deol said, "Like my father joined Atalji, I have come to join Modiji. Whatever I can do for this family, I will do it. I won't talk much, I will show you through my work." While Dharmendra was the Member of Parliament from Bikaner, Rajasthan, Hema is the sitting MP from Mathura, Uttar Pradesh and is currently seeking a re-election.