Tablighi Jamaat event put nearly 9,000 at coronavirus risk: Centre
Tablighi Jamaat event put nearly 9,000 at coronavirus risk: Centre
Apr 02, 2020, 10:29 am
3 min read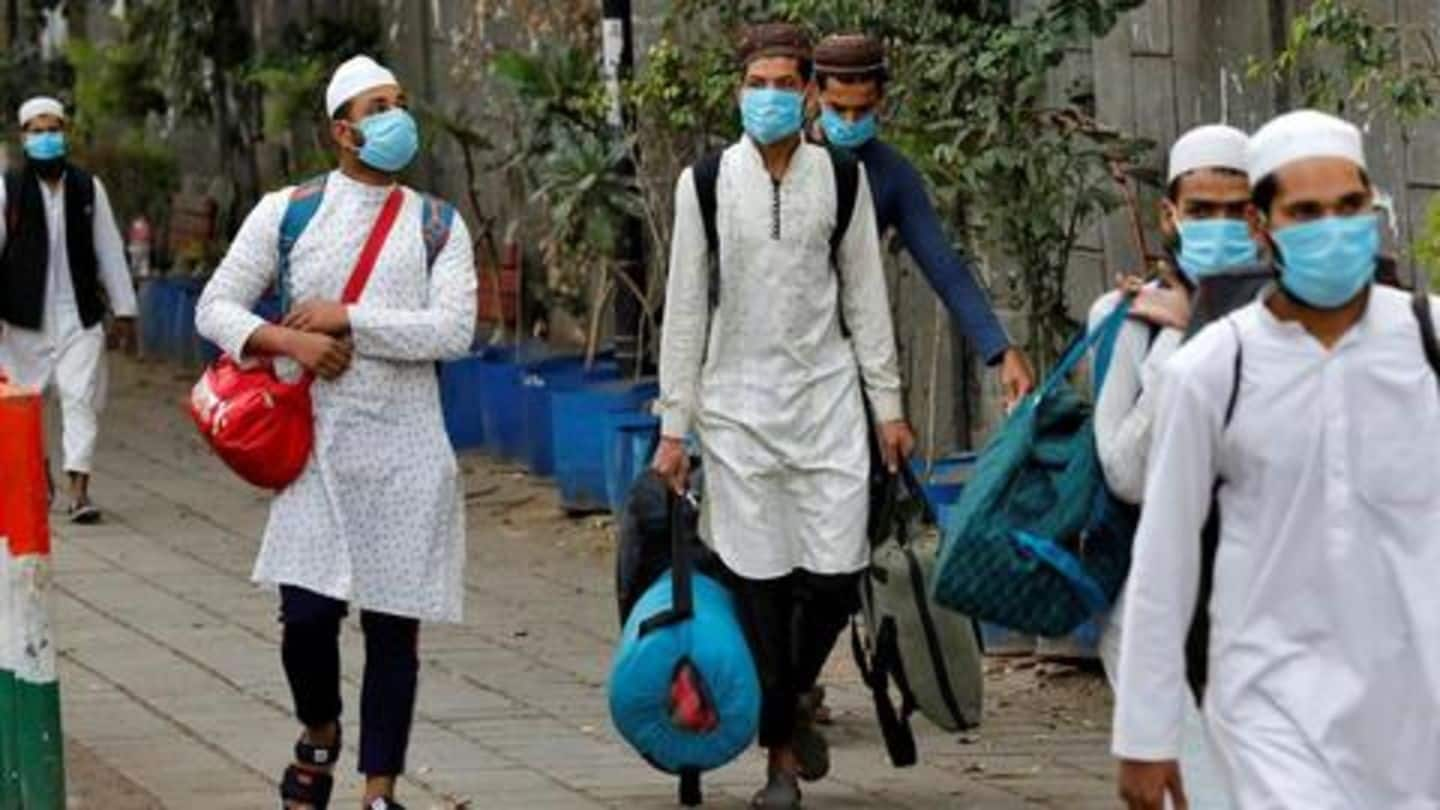 The infamous event organized by Tablighi Jamaat in Nizamuddin, New Delhi, last month, has put nearly 9,000 at risk of the contagious coronavirus, the Union Home Ministry said on Wednesday. So far, 7,600 Indians and 1,300 foreigners have been identified as having links to the Islamic congregation that went on for days and has emerged as the biggest domestic source of the disease.
Six Indonesians who attended the event died
Delhi Police and Intelligence officials believe 6,500-7,000 visited the 100-year-old complex between March 10 and 24, during which active infections possibly happened. The event was attended by foreign nationals from countries like Malaysia, Indonesia, and Thailand. Six Indonesians died of COVID-19 in Telangana and in total 358 confirmed coronavirus cases across India are linked to the congregation, where prayers and lectures continued for days.
Those who attended the event are being identified
The authorities now have the mammoth task of identifying those who attended the event, putting them in quarantine, and also finding their contacts. After working diligently, 23 states and four Union Territories identified 1,306 foreign members of the organization. Of them, 21 have tested positive, reports NDTV. Similarly, 7,688 Indian workers of the Jamaat and their contacts are also being traced.
Identifying people is a work in progress: Senior government official
A senior official of the Prime Minister's office, said, "The contact tracing is still going on but as on April 1, we have managed to identify most of the foreign and domestic workers. But it's a work in progress."
Complex has been cleared and sanitized
Facing criticism over its carelessness, the Tablighi Jamaat has said it had to house people inside the complex as after the nationwide lockdown all modes of transportation were suspended. It was only on Tuesday night that the entire facility was vacated and sanitized. Delhi's Deputy Chief Minister Manish Sisodia announced 2,361 were taken away from the hotspot and shifted to quarantine facilities.
Tamil Nadu reported the maximum number of infections
Data released by states and Home Ministry revealed that nearly 400 people linked to the group have tested positive. 190 tested positive in Tamil Nadu followed by 71 in Andhra Pradesh. In Delhi, Telangana, Assam, Maharashtra, Andaman and Nicobar Islands, Jammu and Kashmir, Puducherry, and Gujarat, 53, 28, 13, 12, 10, 6, 2, and 2 contracted the infection respectively, the data said.
Health officials aren't leaving any loose ends
In Delhi, where the event was held, 29 of the new COVID-19 cases reported on Wednesday were linked to Tablighi Jamaat. Separately, over 100 people residing near Nizamuddin West were traced. "We are checking if they have developed any symptoms or have been in contact with any of the visitors. Officials in the area are making regular phone calls and visits," a senior official said.
The situation in Delhi seems under control, said an officer
Further, several mosques in the National Capital are also being combed. "At present, the situation in Delhi seems to be contained. But we need to focus on this case as the numbers are rising across the country," a health official said.