Ukrainian guards turn away Indian students at border checkpoints
Ukrainian guards turn away Indian students at border checkpoints
Written by
Abhishek Sharma
Mar 01, 2022, 10:40 am
3 min read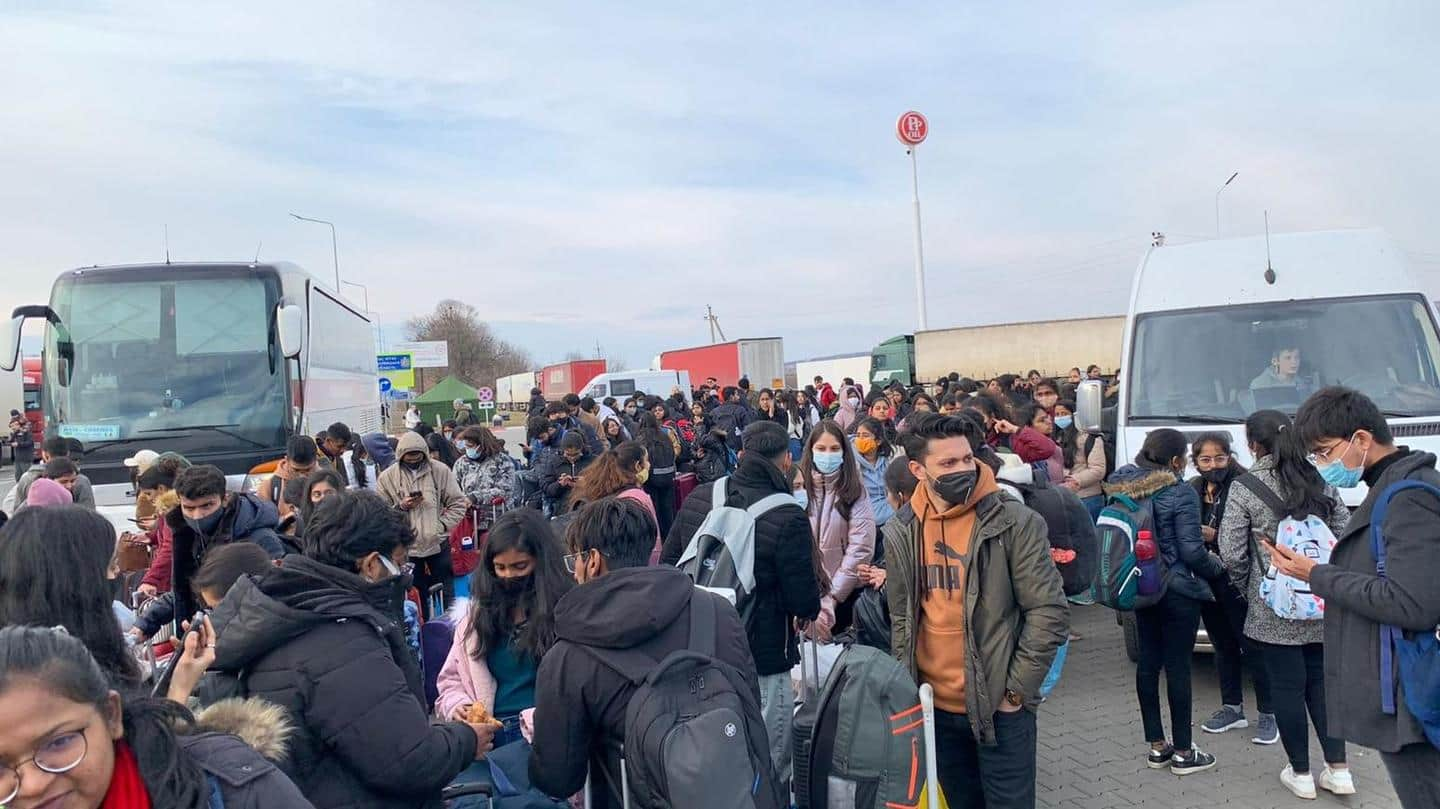 The conflict between Russia and Ukraine entered the sixth day on Tuesday even as international condemnation and economic sanctions against Moscow continue to rise. Meanwhile, thousands of Indians are still stranded in Ukraine, trying to get out of the war-hit country. Several students from Gujarat have said they are being stopped by the Ukrainian guards at border checkpoints from crossing over to Poland.
Why does this story matter?
The Indian Embassy in Kyiv has advised all Indian nationals in Ukraine to move to the western borders of the country.
Since the Ukrainian airspace is closed, the Indian evacuation flights are operating out of Romania's capital Bucharest and Hungaria's capital Budapest.
India is also facilitating the evacuation of stranded Indians from Ukraine through its land border crossings with Romania, Hungary, Poland, and Slovakia.
Students freezing in cold
"We have been waiting in the freezing cold since Friday evening and the Ukrainian border guards are not allowing us to cross over to Poland," a student from Vadodara told The Indian Express. Some of the girls were allowed to go after 40 hours, but not a single Indian has been allowed, the student added.
"They are hitting and kicking Indian students"
"They are hitting and kicking Indian students, who are asking questions and telling us to return to our universities. Some of us are injured too," the report quoted the student as saying.
Number insufficient for repatriation flight to take off
Another student informed that it took her 36 hours to exit from Ukraine. "We were made to wait even after being allowed to cross the check post. They were just not willing to stamp our passports for the exit," she said. She said since the students aren't being allowed to cross over, their number is not sufficient for the repatriation flights to take off.
9th Operation Ganga flight departs for New Delhi
Meanwhile, the ninth Operation Ganga flight has departed for New Delhi from Romania's capital Bucharest with 218 Indian nationals on board, External Affairs Minister Dr. S Jaishankar informed on Tuesday. "We will not rest till our fellow Indians are safe," he tweeted. On Monday night, another flight had departed for Mumbai from Bucharest with 182 Indian nationals on board.
4 ministers to visit Ukraine's neighboring countries
Union Ministers Hardeep Singh Puri, Jyotiraditya Scindia, Kiren Rijiju, and Gen (Retd) VK Singh will be traveling to Ukraine's neighboring countries as "special envoys" of India to coordinate the evacuation. Scindia will look after Romania and Moldova, while Rijiju and Puri will go to Slovakia and Hungary, respectively. Singh will be in Poland to manage the evacuation of Indians stuck in Ukraine.
What is happening in Ukraine?
The fighting between Ukrainian and Russian troops has intensified as Russia continues to bombard several key cities in Ukraine. Over 70 Ukrainian soldiers have been killed after Russian artillery hit a military base in Okhtyrka, a city between Kharkiv and Kyiv, as per a report by Turkish public broadcaster TRT World. Meanwhile, satellite pictures showed that a huge Russian convoy is approaching Kyiv.