Series-of-events: What happened on night CBI-boss Alok Verma was divested
Series-of-events: What happened on night CBI-boss Alok Verma was divested
Oct 27, 2018, 07:26 pm
3 min read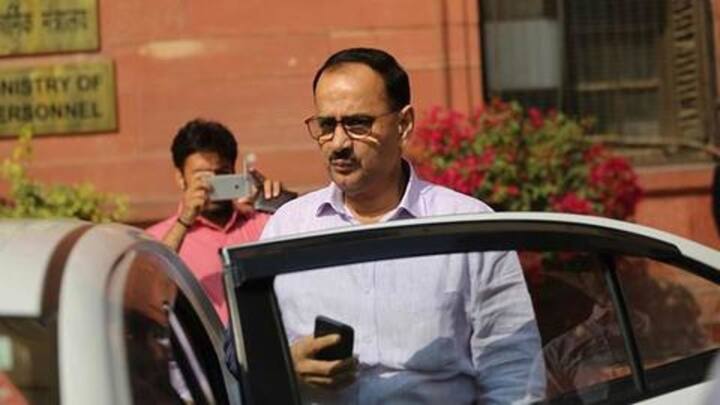 On the intervening night of October 23 and 24, CBI Chief Alok Verma was divested of his powers which led to political turmoil in the nation. Verma's battle with his deputy Rakesh Asthana was out in the open for days now, but with the compulsory leaves they were sent to, the cracks got deeper. Now an HT report has highlighted what exactly happened that night.
CVC officials took five hours to write the order
A senior government official said Central Vigilance Commissioner KV Chowdary and his colleagues, Sharad Kumar, and TM Bhasin, took five hours to write the order. They knew the midnight order would face judicial scrutiny, and hence should be well reasoned. "They had to put details of each instance of non-cooperation from the CBI under Verma when it started inquiring into the complaint of Asthana," the source said.
Due to urgency of order, Chowdary canceled his Denmark trip
Further, the source added Chowdary canceled his Denmark trip at the eleventh hour as he knew the urgency of the order. Officials familiar with Asthana's allegations on Verma gave a blow-by-blow account. For the uninitiated, Asthana leveled corruption charges on the CBI boss. He alleged Verma interfered in the investigation of important cases. In turn, CBI filed FIR against Asthana on charges of corruption.
After order was framed, it was sent to North Block
After the order was framed at midnight, the CVC officers left for home at 1 AM. The order was then sent to North Block where senior IAS officer C Chandramouli was waiting. Meanwhile, M Nageswar Rao, who became the interim chief after Verma, was called to CBI headquarters. The guards were ordered not to let anyone in. Rao waited there for almost two hours.
Precautions were taken to keep everything a secret
The source added Rao was called at night itself to avoid a Karnataka-like situation. After the election results, the Opposition had approached the Supreme Court at midnight challenging the Governor's decision to invite BS Yeddyurappa to form the government. Had Verma got whiff of actions, he would have knocked SC's doors at night itself, the source explained. So Rao was stationed at the headquarters.
Orders were handed over to them at their residences
At North Block, as soon as he received the order, Chandramouli rushed to PMO and got an approval from Appointments Committee of the Cabinet. After this, Verma and Asthana were handed over the orders at their residences at 2:30 AM. The next morning, the top two officials of the federal agency weren't allowed to enter the headquarters and their offices were sealed.