Who is Swami Sivananda, the oldest Padma Shri recipient?
Who is Swami Sivananda, the oldest Padma Shri recipient?
Mar 22, 2022, 01:16 pm
2 min read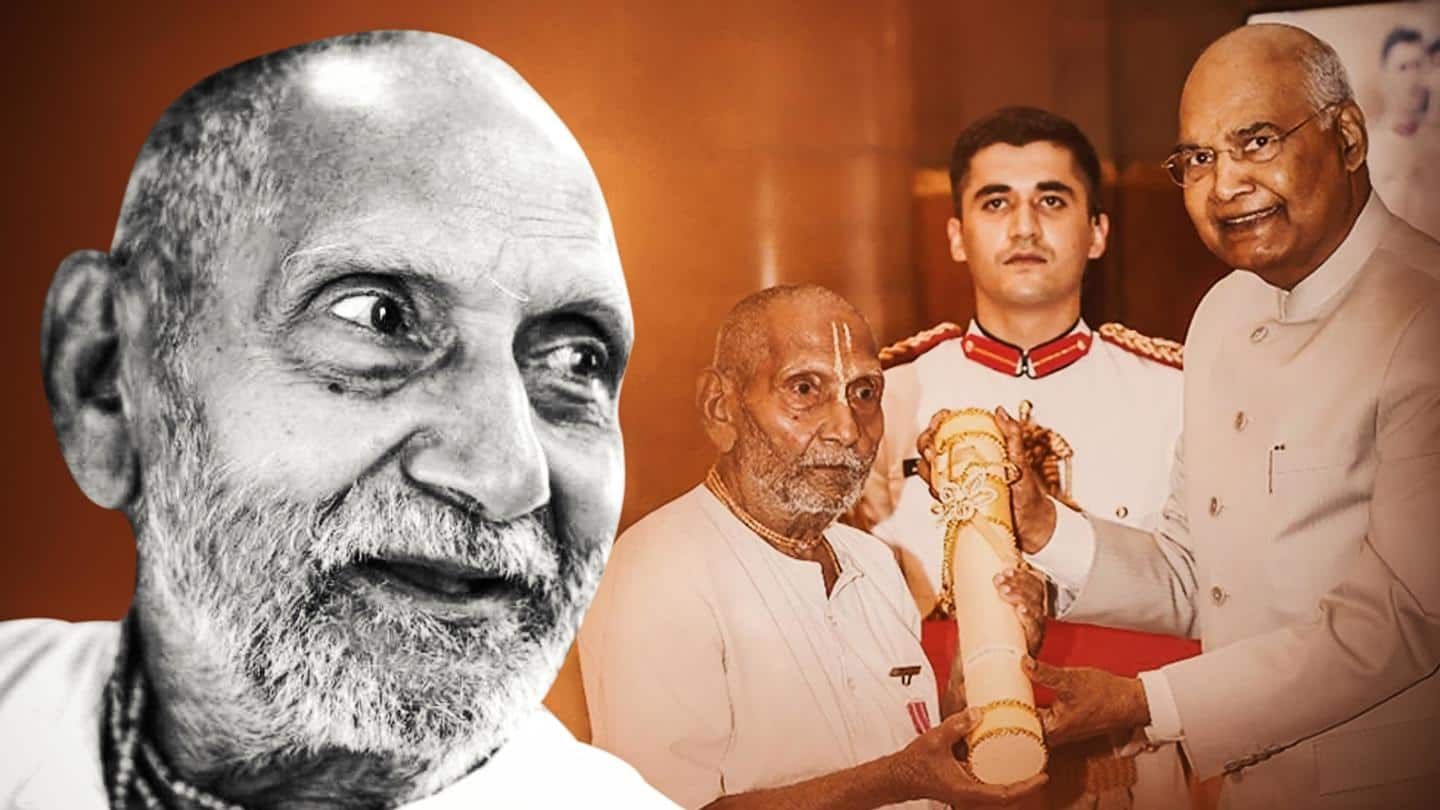 When Swami Sivananda, clad in a dhoti and kurta, walked barefoot down the hall to receive his Padma Shri award on Monday, he did something unusual. To everyone's amazement, he knelt and bowed down in front of Prime Minister Narendra Modi, and then in front of President Ram Nath Kovind. This mark of respect from the oldest Padma Shri winner won over the Internet.
Swami Sivananda serves leprosy-afflicted beggars
Swami Sivananda is a 125-year-old yoga guru, and the oldest man to be conferred with the Padma Shri. He is a monk from Varanasi. For the past 50 years, Swami Sivananda has been serving hundreds of leprosy-affected beggars in Puri. Swami has traveled across 34 countries with his Guru Omkarananda Goswami to teach yoga. He credits his disciplined life for being disease-free.
He lost his parents at a young age
Born on August 8, 1896, in Sylhet (present-day Bangladesh), Sivananda lost his parents and sister at the age of six. He'd only get to eat boiled rice and sometimes slept on an empty stomach. His relatives gave him up to a spiritual guru who brought him up at his Ashram in Nabadwip, West Bengal. Omkarananda Goswami imparted him practical and spiritual knowledge, including yoga.
Swami Sivananda believes in serving the world
Swami Sivananda dedicated his life to the well-being of society. His belief is, "The world is my home, its people are my fathers and mothers, to love and serve them is my religion." He serves the underprivileged in various parts of the country staying true to his belief. He is a living example of the endless possibilities of yoga, which is admirable.
The secret to the 125-year-old's healthy life
He has been a vocal supporter of the COVID-19 vaccination since he got vaccinated at the age of 125 years. His healthy life has garnered him global attention. His daily routine involves waking up at 3 am, doing yoga, eating oil-free and boiled foods, and selflessly serving society. Sivananda sleeps on a mat on the floor using a wooden slab for a pillow.