Tamil Nadu: Yogendra Yadav detained, claims he was manhandled
Tamil Nadu: Yogendra Yadav detained, claims he was manhandled
Sep 08, 2018, 03:10 pm
2 min read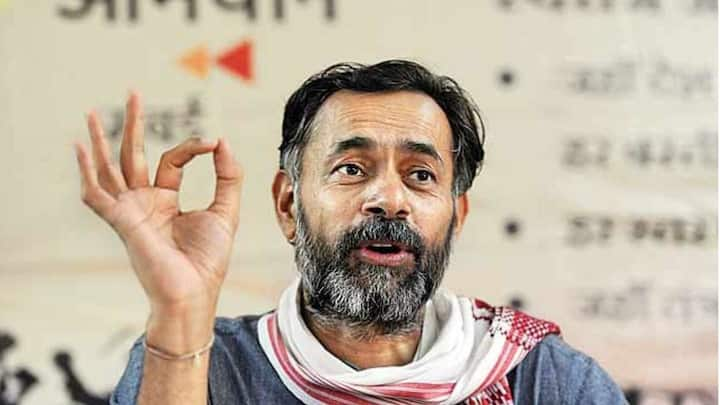 Former Aam Aadmi Party leader and Swaraj Abhiyan chief, Yogendra Yadav was detained in Tamil Nadu today. He was to join the farmers' protest against the eight-lane Salem-Chennai Expressway. As per initial reports, he was detained in Tiruvannamalai district and manhandled by the Tamil Nadu Police. Yadav tweeted and informed the media about him and his team members' detention in Chengam police station.
Here's Yadav's tweet about his detention
TN police has detained me and team in Chengam PS, Thiru Annamalai district. We came on the invitation of Movement Against 8Lane Way.
We were prevented from going to meet farmers, phones snatched, manhandled and pushed into police van.
First hand experience of police state in TN!

— Yogendra Yadav (@_YogendraYadav) September 8, 2018
Context: What actually happened in Tamil Nadu?
Yadav, who is also a social activist and launched the Jai Kisan Andolan, a campaign for farmers' rights, did not just allege manhandling. He also alleged that he was arrested within minutes of speaking to a senior district official about the farmers' complaints of forced acquisition of land for the Rs. 10,000 crore project and the police excesses.
Arrested within minutes after talking to the cops: Yadav
I had spoken to Mr Kandasamy, Collector, Thiru Annamalai about acquisition and complains of police excesses for 8 lane way. He completely denied any police interference. Within minutes of the phone call police detained us. https://t.co/KYrA0oHJ26

— Yogendra Yadav (@_YogendraYadav) September 8, 2018
But, why are the farmers protesting?
While the protesters are objecting to the acquisition of agricultural land, the farmers are also upset about the low compensation amount that they are being given. The highway will pass through Kancheepuram, Tiruvannamalai, Kishangiri and Dharmapuri. These are the areas with mostly agricultural lands. The farmers worry that the highway would affect the productive rice farms in Kancheepuram and Tiruvannamalai cities of Tamil Nadu.
The inappropriate behavior of the police
While the protest against this project has been going on since months, the detention and manhandling of Yadav is not the only case. The police has been time and again accused of arresting the protesting locals, farmers and activists indiscriminately.