5 outfit ideas for pre-wedding shoot
5 outfit ideas for pre-wedding shoot
Feb 24, 2022, 03:02 pm
3 min read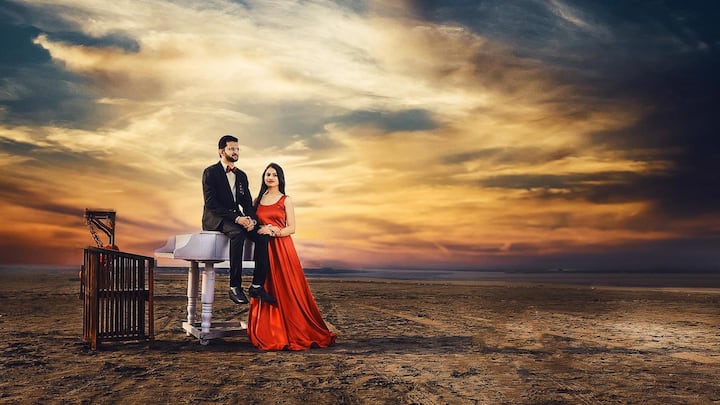 One of today's raging trends, pre-wedding shoots are a great way to create personal memories while awaiting your special day. Some couples like to re-enact the proposal, others like to create candid moments of everyday joy. It is important to choose a wardrobe that is timeless and beautiful. Wedding curators Aaradhana and Prateek Kashyap suggest some bridal outfit ideas for your pre-wedding shoot.
Use darker shades if your body type is endomorph, as it elongates your figure on camera. Make sure the length of your clothes does not hamper walking or seem awkward on videos. Don't forget about the accessories—the right footwear, clutch, and jewelry matter.
There is nothing more timeless than a saree in an Indian woman's wardrobe. Make sure that the saree is draped perfectly, so it looks prim and proper in the shots. The right makeup and hairdo matching your saree can make all the difference in the way you look in your photographs. Discuss the material, and shade to know what works best for you.
Semi-classic (Traditional)
Nothing screams "traditional" more than the humble salwar kurta and the Pajama Achkan. There are many different styles available for both women and men. Choose a style that mirrors your personality. If you have a video shoot, avoid intricate patterns as they always come out jagged and unclear on video. Solid colors always enhance your complexion, both in photographs and videos.
Brides look beautiful and regal in anarkalis, especially for the photographs where you can twirl. However, if you're shorter in height, flared bottoms are not ideal. If you still choose an anarkali, pick a solid color and go easy on the flare. Consult your photographers for suggestions. Avoid shimmery material, as they reflect back on camera sensors and the correct color does not show.
Twinning with your would-be as one of the combinations for your pre-wedding photoshoot is a common yet cute idea. The easiest way to do this is to go with smart casuals. Try the white tee and blue denim look with aviators, for a chic and timeless look. Some couples also choose to create custom T-shirts with witty messages or inside jokes.
Recreate an iconic look from your favorite movie scene with an evening gown or a little black dress, with your man in a tuxedo. This works best if one of your shoots is in an interior location and is well lit, suggesting the ambiance of an evening dinner date. You can go with other colors as well if black isn't your first choice.