Gujiya, malpua and more: 5 easy-to-make traditional Holi sweets
Gujiya, malpua and more: 5 easy-to-make traditional Holi sweets
Feb 23, 2022, 05:13 pm
2 min read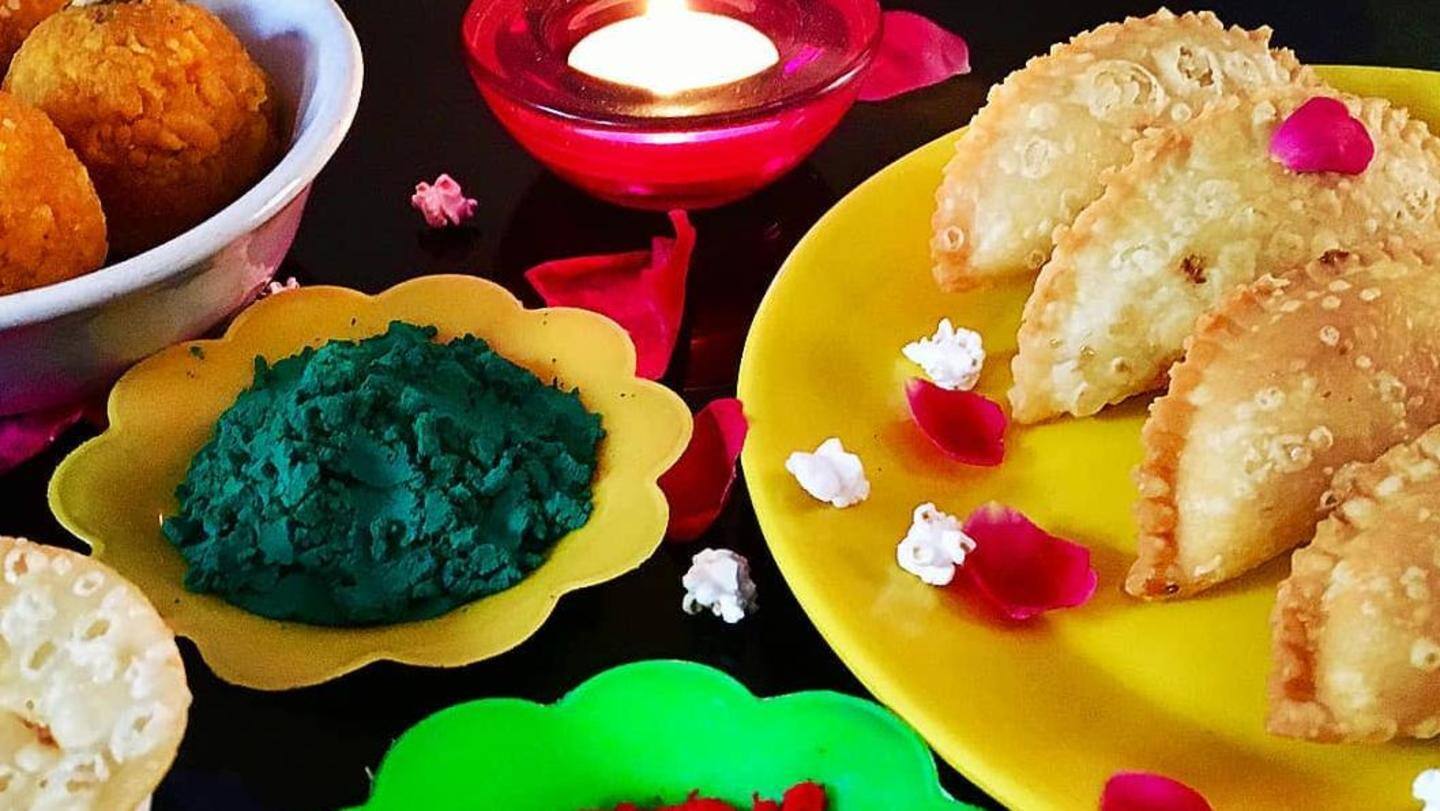 Holi, the festival of colors, is celebrated all over India and even in some other countries. While you may have prepared your attire for the day, flowers, and colors to play with, have you thought of what sweets you'll prepare? As festivities call for merriment and good food, we have for you here some must-try traditional sweets and beverages.
This crescent shaped pastry is everyone's favorite during Holi. Knead a dough of maida with warm ghee. Cook khoya in some ghee and cool it. Then mix it with chopped dry fruits, dessicated coconut and sugar. Make little balls from the dough and roll them into circles. Add a little stuffing and cover and press the edges giving the crescent shape. Then deep fry.
Heat ghee and roast besan until it turns golden brown and grainy. Transfer the mixture to a plate, and let it cool slightly. Dry roast melon seeds, cashew and almonds and crush them. Add the roasted nuts to besan mixture, along with sugar and cardamom powder and combine everything well. Prepare small laddoos and store in an airtight container.
In a mixing bowl, dissolve sugar in water. Then add in maida, semolina, cardamom powder, ghee and some salt. Mix them well and knead soft dough. Roll out slightly thick strips of the dough and cut into diamond shapes. Deep fry or bake at 180 degree Celsius for 15-20 minutes. Fry until they turn golden and crisp. Store them in an airtight container.
Make a liquid batter with maida, semolina, sugar, and milk. Add some green cardamom pods while making the sugar syrup. Heat ghee in a frying pan; add a ladle of batter. Add a little ghee on top of the malpua. Fry till the edges are golden brown, then flip over. Remove and dip it in the syrup for a couple of minutes.
Thandai technically isn't a dessert, but Holi would be incomplete without it. Blend almonds, peppercorns, fennel seeds, poppy seeds, watermelon seeds, and cardamom. Soak saffron in warm milk. Heat milk, add the thandai masala and mix well. Add sugar and turn off the heat. Add the saffron milk and rose water and keep aside for an hour. Strain the thandai and refrigerate overnight.