Sonia's dinner: 20 Opposition parties discuss politics "informally"
Sonia's dinner: 20 Opposition parties discuss politics "informally"
Mar 14, 2018, 12:04 pm
2 min read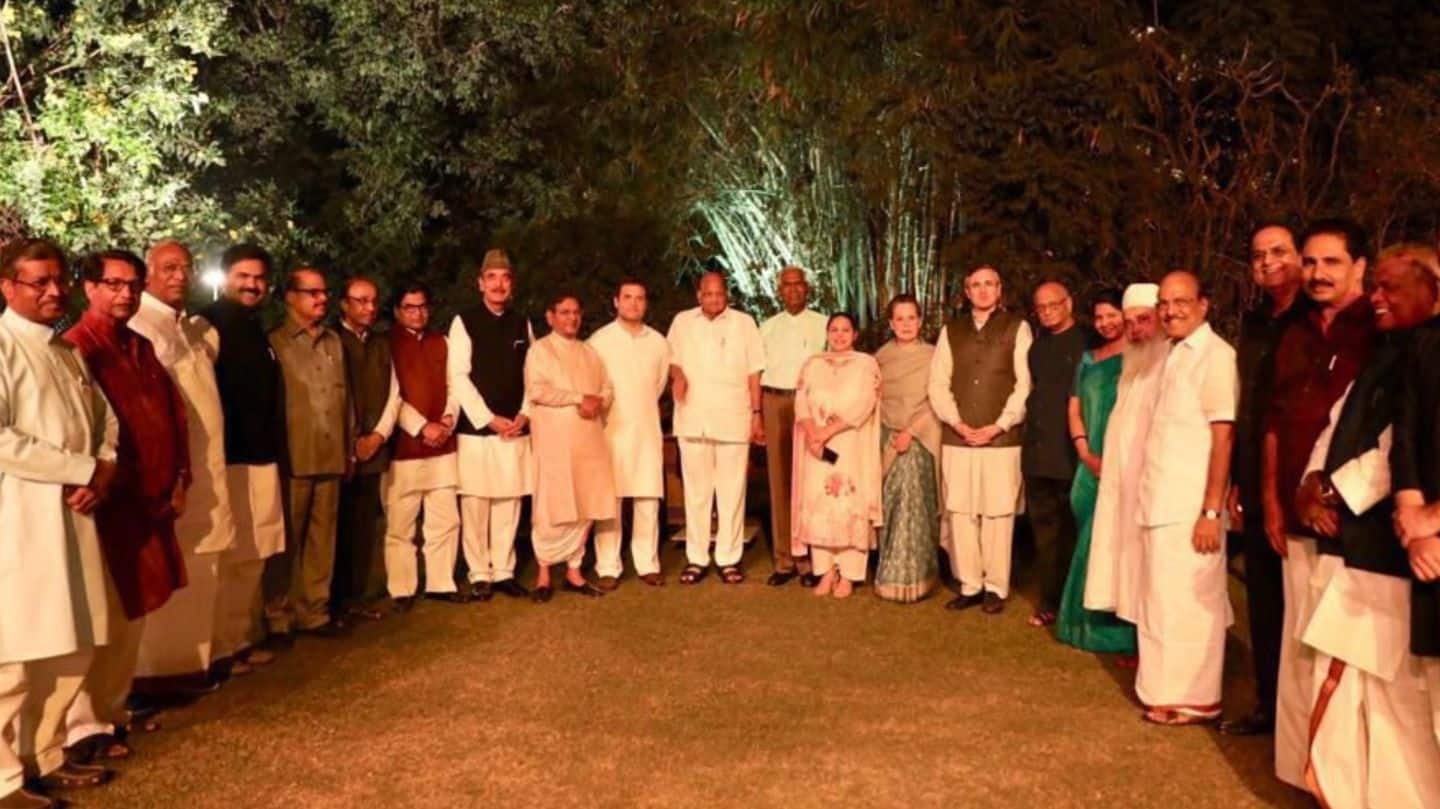 Members of 20 Opposition parties came together on Tuesday at a dinner hosted by Congress leader Sonia Gandhi. Though it was billed as a "non-political" event, it will set the stage for the Opposition's strategy to take on the BJP-led NDA for 2019 elections. She has been regularly organizing such dinners with Opposition parties for evolving a common plan against the government. Here's more.
Earlier, Congress made various appeals for Opposition to join hands
Congress has been trying hard to unite all Opposition parties. Earlier, Rahul had argued that state-level rivalries should be put aside to fight BJP. Sonia also told Congress MPs that as Congress Parliamentary Party's head she would work to build partnerships with "like-minded people."
Who all attended this dinner?
The non-Congress leaders who attended the dinner party were NCP's Sharad Pawar, SP's Ram Gopal Yadav, TMC's Sudip Bandyopadhyay and RJD chief Lalu Prasad Yadav's children Tejaswi Yadav and Misa Bharti. The new entrants were recent-joinee Hindustan Awam Morcha's Jeetan Ram Manjhi, Jharkhand Vikas Morcha's Babulal Marandi and JD(U)-defector Sharad Yadav. Former-PM Manmohan Singh and Ahmed Patel were Congress biggies at 10, Janpath.
However, Congress down-played the dinner
Congress's Randeep Surjewala downplayed the dinner's motive. He said the dinner shouldn't be seen through the "prism of politics." Instead, it was for friendship and better dialogue between the parties. Rahul tweeted that there was "tremendous positive energy, warmth and affection." An upbeat Tejaswi said, "We are united and parties like Shiv Sena and TDP are not happy in the National Democratic Alliance (NDA)."
Contrary to expectations, TDP wasn't invited to the dinner party
Meanwhile, Andhra's ruling TDP, which recently pulled out its ministers from Modi's government but continued to be a part of NDA, wasn't invited to this dinner. If CM Chandrababu Naidu had formally quit NDA, Congress would have been keen on inviting him. Presently, an invite would have been unethical. Also, if Naidu refused, it would have caused thorough embarrassment to Congress.