After Hindu girl comment, Anantkumar Hegde targets rival's Muslim wife
After Hindu girl comment, Anantkumar Hegde targets rival's Muslim wife
Jan 28, 2019, 01:14 pm
3 min read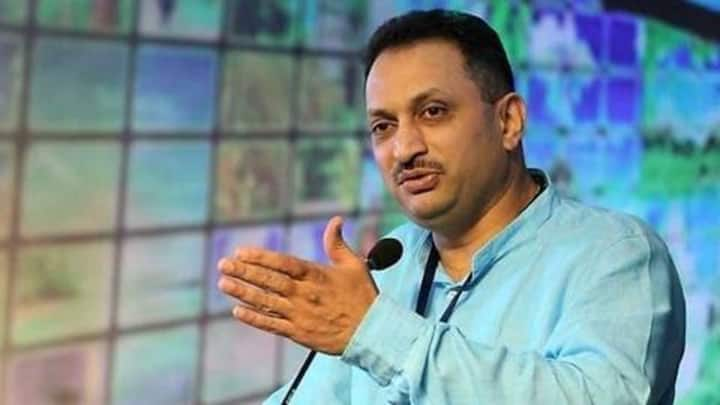 Union minister Anantkumar Hegde, who has grabbed the limelight time and again for his wild statements, has hit a new low. After Hegde, on Sunday, said that any hand that touches a Hindu girl "should not exist", the minister dragged an Opposition leader's Muslim wife into a Twitter spat later in the day. Here are the details.
An RSS/ABVP activist, Hegde is a five-time BJP MP. He rose in politics while rioting in Babri Masjid demolition's aftermath and has, since then, sparked one controversy after another. He represents the Uttara Kannada constituency.
A brief overview of what Hegde said on Sunday
On Sunday, while addressing a public event, Hegde made his Hindu girl comment before moving on to speak about the origins of the Taj Mahal. Hegde said that the Taj Mahal had not been built by Muslims, and that Shah Jahan had bought the iconic monument from King Jayasimha. Hegde further added that the Taj Mahal was initially a Shiv mandir.
Hegde warned against Islamicization
"It's a Shiv mandir built by King Paramatheertha, Tejo Mahalaya. Tejo Mahalaya became Taj Mahal. If we keep sleeping, most of our houses also will be named manzil. In future, Lord Ram will be called jahanpana and Sita will become bibi," said Hegde.
After a Congress leader's criticism, Hegde targeted his Muslim wife
Following Hegde's controversial comments, Karnataka Congress chief Dinesh Gundu Rao took to Twitter to condemn the BJP leader. He termed Hegde's comments as "deplorable" and questioned the minister's qualifications and achievements. Hegde, the Union Minister of State for Skill Development and Entrepreneurship, promptly hit back at Gundu Rao and questioned his ethics, saying that Rao had "ran behind a Muslim lady".
READ: Hegde's controversial tweet about Rao's Muslim wife
I shall definitely answer this guy @dineshgrao's queries, before which could he please reveal himself as to who he is along with his achievements?
I only know him as a guy who ran behind a Muslim lady. https://t.co/8hVJ2wQXMU

— Anantkumar Hegde (@AnantkumarH) January 27, 2019
Hegde has sparked controversy time and again
Despite being a Member of Parliament (MP) and a senior Karnataka BJP leader, Hegde is no stranger to courting controversy. Earlier this month, he had called the Kerala government's decision to uphold the Supreme Court's Sabarimala verdict as "daylight rape" of Hindus. Last year, he had described Dalit protesters who had blocked his way as "dogs barking on the road".
Hegde's Constitution comment had sparked widespread protests
Earlier, in 2017, Hegde had sparked controversy after he said that the BJP would alter the Indian Constitution and remove the word "secular". In the same year, he was seen slapping a doctor as he was unhappy with the medical treatment given to his mother. Hegde had also compared Opposition leaders to "crows, monkeys, foxes, and others" who had come together to fight the tiger, PM Modi.
In 2016, Hedge had equated Islam with violence
Yet, that's not all. In 2016, Hegde had said, "As long as there is Islam, there will be no peace in the world." He had also called "secularists" parent-less, and had defended the BJP's references to the Manusmriti.