#Article370Scrapped: Shah says Farooq Abdullah wasn't detained, he refutes claim
#Article370Scrapped: Shah says Farooq Abdullah wasn't detained, he refutes claim
Aug 06, 2019, 05:54 pm
3 min read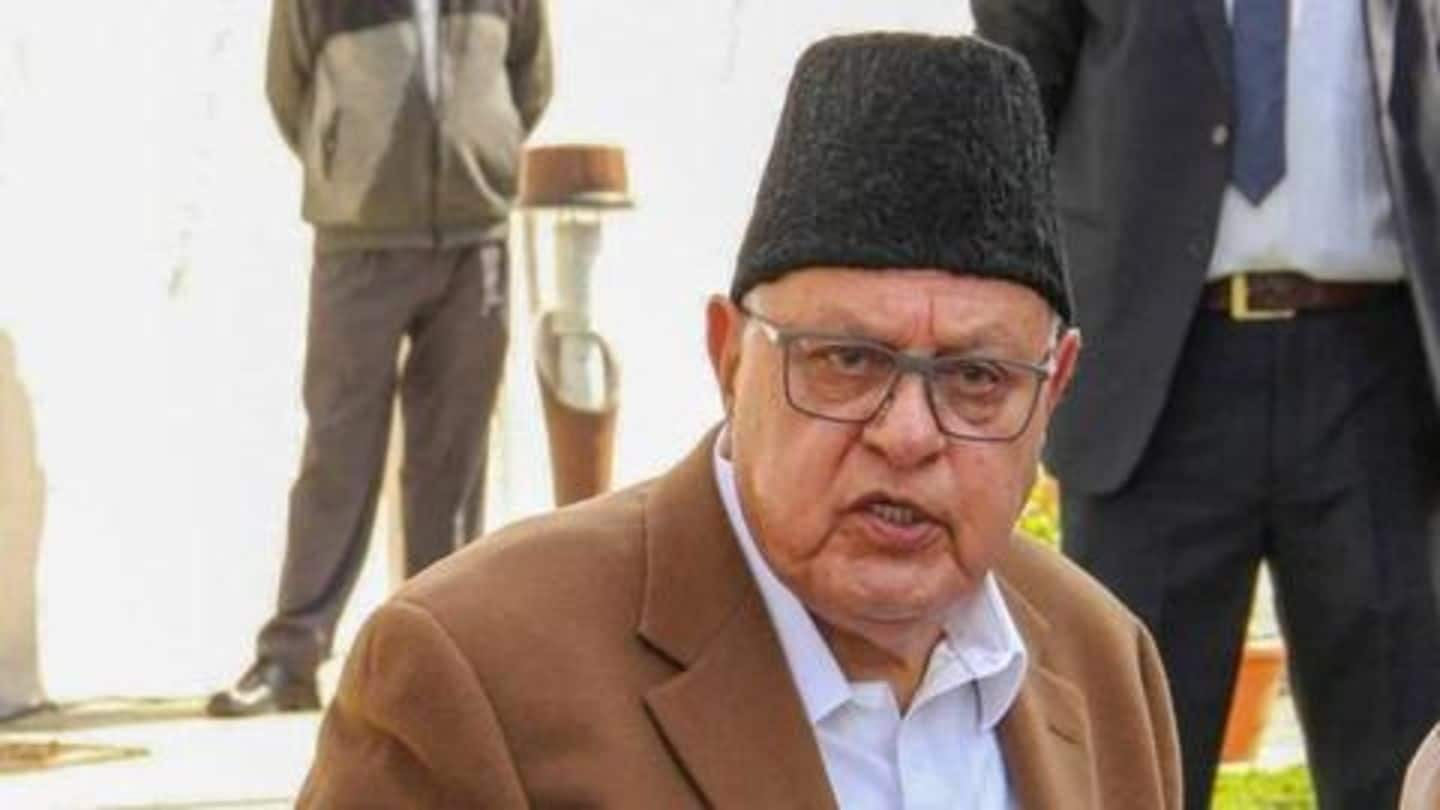 National Conference patriarch Farooq Abdullah on Tuesday alleged Union Home Minister Amit Shah lied in the Lok Sabha about his "detention" status. Contradicting Shah's claim that Abdullah was "neither arrested nor detained", Farooq told NDTV it was unfortunate that Home Minister would "lie like this". He revealed he hasn't been able to leave his house and also criticized the government's Kashmir move. Here's more.
House arrests, detention: What is happening with J&K politicians
Before Prime Minister Narendra Modi-led Centre dropped the huge Kashmir bomb, it "readied" the northernmost state. Over the last week, more than 30,000 troops were sent to J&K, and on Sunday night, in an unprecedented move, politicians like Omar Abdullah (NC), Mehbooba Mufti (PDP), and Sajjad Lone (People's Conference) were put under house arrest. Thereafter, on Monday evening, Mufti and Omar were detained.
MPs asked what happened to Farooq Abdullah
So, when the J&K Reorganisation Bill, which seeks to bifurcate J&K, came up for debate in Lok Sabha, Farooq's absence was discussed. DMK's Dayanidhi Maran said, "Farooq Abdullah, a member of this House, is missing. He is arrested and we have no intimation." Later, NCP's Supriya Sule rose up to say the debate will be incomplete without Farooq, who sits next to her.
Asked about Farooq's health, Shah said he isn't a doctor
Responding to Sule's remark, Shah said, "He has neither been detained nor arrested. He is at home by his own will," Subsequently, Sule asked if Farooq was unwell, only to get "I'm not a doctor" reply from Shah. However, the events took an interesting turn when Farooq dismissed Shah's claim from Srinagar. He said he "broke the door" to talk to media.
Why will I stay inside my house willingly: Farooq
They divided land, will they divide regions too: Farooq
Explaining how he "came outside", Farooq told NDTV, "I told them (the security) that the home minister says I'm not detained. Who are you to detain me?" Talking about the government's move, an emotional Farooq said, "They divided regions, will they divide hearts too? Will they divide Hindus and Muslims? I thought my India was for all, everyone who believes in secular, unity."
However, Shah said he can't force anyone to attend Parliament
In the meantime, Shah also remained firm at his position. Rising in Lok Sabha to talk about the big decision, Shah said he has clarified thrice that Farooq hasn't been put under house arrest "He is in good health, mauj-masti mein hain, unko nahi ana hai toh gun kanpatti par rakh kar bahar nahi la sakte hum," Shah went on.