Bihar floods: Nitish Kumar's JD(U) slams "ally" Giriraj Singh
Bihar floods: Nitish Kumar's JD(U) slams "ally" Giriraj Singh
Oct 06, 2019, 12:08 pm
3 min read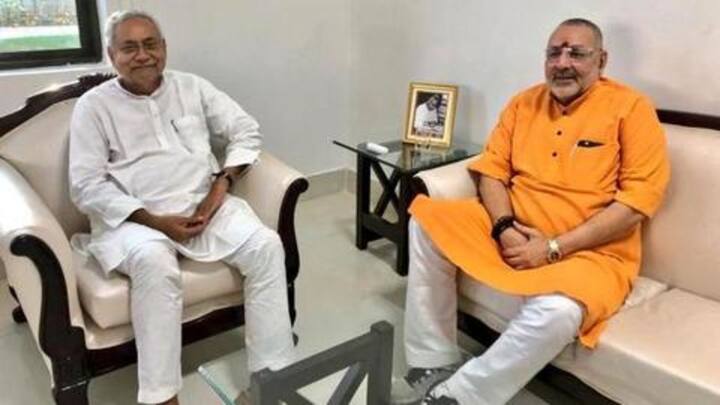 The devastation in Bihar, courtesy heavy rainfall, impacted the political corridors with Union Minister Giriraj Singh constantly slamming ally JD(U), led by Chief Minister Nitish Kumar. Visibly irritated by his constant tirade, JD(U) finally hit back at Singh on Saturday. This war of words will, of course, affect the alliance in the state where assembly polls will be held in 2020. Here's what happened.
Context: Condition of Bihar's capital Patna has been distressing
Heavy rains wreaked havoc in Bihar, especially capital Patna. The water-logged streets of Patna sang tunes about the ill-infrastructure. If even the posh localities of Patna remained adversely affected, one can only imagine what other smaller cities went through. As per reports, nearly 400 people got treatment for dengue. Floating animal carcasses and garbage sparked concerns among residents, who protested against the state government.
We owe an apology to Patna residents, said Singh
For days now, Singh hasn't been mincing his words to slam the alliance. Earlier this week, he said, "It is not a failure of the people of Patna. It is our failure. Residents of the city have reposed so much trust in the NDA, especially the BJP. We owe an apology to them." And on Friday, he said Kumar should be duly criticized.
He blamed Kumar and Sushil Modi
"A leader should accept praise as well as blame. Nitish Kumar and Sushil Modi are responsible for what has happened in Patna after the heavy rains," Singh, who represents Begusarai in the Lok Sabha, said.
Obviously, JD(U) leaders gave it back to Singh
Stung by Singh's statements, JD(U) leaders broke their silence on Saturday. "He (Giriraj Singh) is not even comparable to a speck of dust on Nitish Kumar's feet. One does not become a leader just by chanting the name of Mahadev (Lord Shiva) every now and then," JD(U) spokesman Sanjay Singh. Meanwhile, another spokesperson Rajiv Ranjan Prasad said BJP should take the blame.
Prasad said BJP holds important positions in Patna
"The urban development portfolio has been with our alliance partner. Patna's Mayor belongs to BJP and so do MPs representing the two Lok Sabha constituencies that cover the district. All the assembly segments in the city have been BJP strongholds since the 1990s," Prasad said.
Separately, KC Tyagi opined Singh is "hurting" the alliance
Meanwhile, JD(U)'s chief spokesperson KC Tyagi went as far as saying that Singh is turning out to be a "liability" for the state government. "Giriraj Singh has become a habitual offender. He is causing more damage to our alliance than even Tejashwi Yadav (opposition leader in the state assembly) is capable of," Tyagi reportedly said in Delhi.
Notably, state BJP spokesperson defended Kumar and Modi
Singh got some support from his party colleague Ram Kripal Yadav who claimed he couldn't contact officials of his constituency, Patliputra. But state BJP spokesman Nikhil Anand tried to curtail the damage. Saying the matter belongs to their "home", he added, "Agreed that some leaders are under pressure to address public grievances during floods. But the CM and the deputy CM are working tirelessly."
Unsurprisingly, RJD leader said Singh is "right"
The skirmishes between BJP and JD(U) served as an opportunity for RJD, whose leader Manoj Jha said, "It's one of the rare occasions when we've found ourselves on the same page as polarizing BJP leader like Giriraj Singh. He is perfectly right in blaming the NDA government."