BJP fields 28-year-old Tejasvi Surya from Bangalore South
BJP fields 28-year-old Tejasvi Surya from Bangalore South
Mar 26, 2019, 10:56 am
3 min read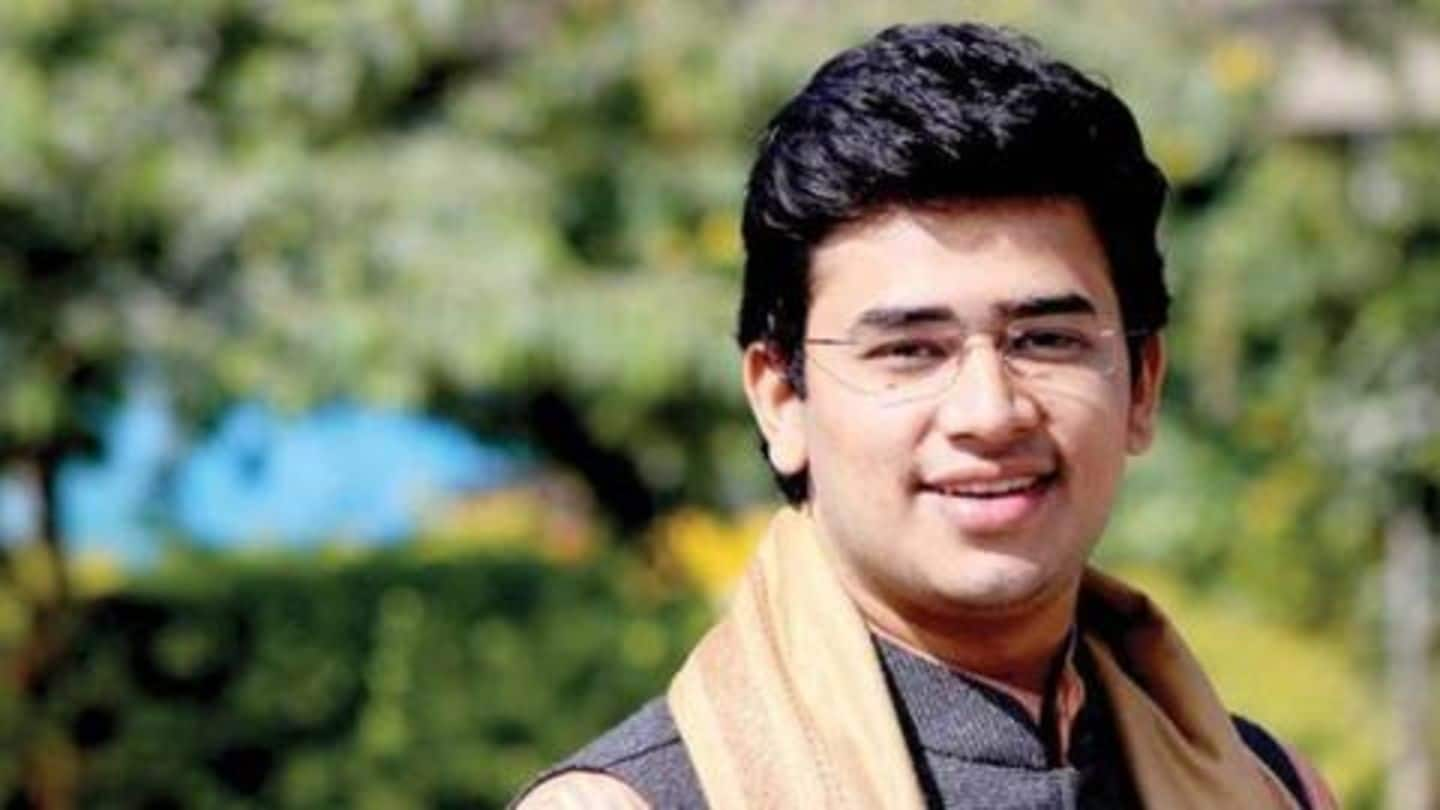 After high-octane discussions, Bharatiya Janata Party on Monday fielded 28-year-old Tejasvi Surya from prestigious Bangalore South Lok Sabha seat. Surya was chosen over Tejaswini Ananth Kumar, the wife of late BJP leader Ananth Kumar who contested from Bangalore South numerous times. Sitting Malleshwaram MLA Ashawat Narain was selected for Bangalore Rural seat. The young turk said getting a ticket was surreal. Here's more.
Surya made his presence felt in 2014
Surya, the nephew of Basavanagudi MLA Ravi Subramanya, is a practising lawyer in Karnataka High Court. His fiery speeches praising Prime Minister Narendra Modi got attention in political circles. In 2014, when Surya was only 23 years old, he emerged as a star-campaigner. He addressed rallies in Pune, Chennai, and Mumbai. He founded the organization 'Arise India' and played an important role in BJP's social media outreach.
Ananth Kumar held the seat for years
Ananth Kumar represented Bangalore South from 1996 till his death in November last year. After his demise, party workers suggested the name of his wife Tejaswini. On Monday, Tejaswini tweeted a picture to show she had the support of party workers. Notably, cadres of BJP wanted PM Modi to contest from the high profile seat and had conveyed their wishes to the high command.
Nation first, party second, I last, Tejaswini had tweeted
Today hundreds of our anxious well wishers BJP karyakartas visited our house.
I told them AnanthKumar ji always believed in:
Nation First, Party Next, I Last.
On the same lines let's all abide by the decision of the central leadership work towards#NamoAgain #ಮೋದಿಮತ್ತೊಮ್ಮೆ pic.twitter.com/60JGcnQVAD

— Chowkidar Tejaswini AnanthKumar (@Tej_AnanthKumar) March 25, 2019
Tejaswini's inexperience worked against her
Tejaswini's lack of political knowledge worked against her. According to The News Minute, Surya was chosen as he has been a BJP worker for long. His family's links with the RSS also helped his case. "Tejasvi (Surya) has worked for the party. He has good oratory skills and is better than Tejaswini. Besides, he has experience handling political affairs," TNM quoted a source.
OMG! tweeted Surya after his name was announced
Notably, Surya also batted for Tejaswini. So, when his candidature was suggested, he was surprised. After the midnight announcement, Surya tweeted, "OMG OMG!!! I can't believe this. PM of world's largest democracy & President of the largest political party have reposed faith in a 28 yr old guy (sic)." He added this was possible only in "New India".
Surya thanked his first mentor Ananth Kumar
In another tweet, Surya thanked Ananth Kumar. "I have learned so much seeing him, talking to him and just seeing him at work. He is one of the tallest leaders of Karnataka ever," he wrote. Surya called Ananth Kumar the "maker of modern Bengaluru" and also thanked Tejaswini for grooming him. "I intend to take our city to newer heights," he wrote.
Can't sleep, so much to do: Surya
Okay! Sleep is not coming. So much excitement. So much adrenaline rush. So many hopes for the future. So much of work to do. One life time is not enough. If Modi can work for 20 hours a day at 68, we must be able to do more at 28!

Yeah. Nomination tomorrow. See you all tomorrow

— Chowkidar Tejasvi Surya (@Tejasvi_Surya) March 25, 2019
Young turk of BJP pitted against Congress veteran
With the latest list, BJP has announced names of 310 candidates for the summer elections. Surya will fight against veteran Congress leader BK Hariprasad, who is contesting from Bangalore South after more than two decades.