History, roots, leaders and ideology: Know all about BJP
History, roots, leaders and ideology: Know all about BJP
Mar 26, 2019, 11:09 am
5 min read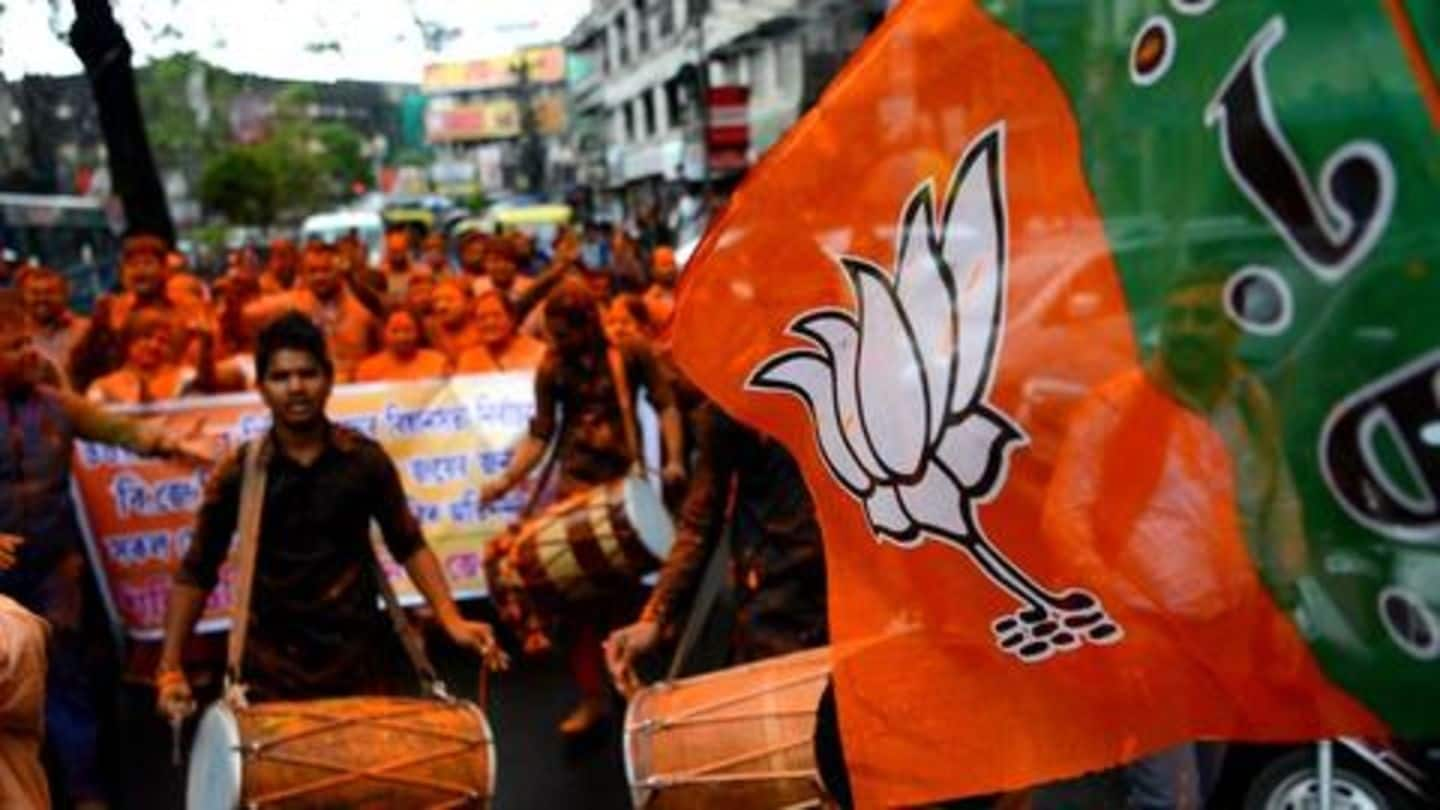 Nearly 51% of Indians live in states ruled by Bharatiya Janata Party. Before the saffron party led by Prime Minister Narendra Modi lost elections in Chhattisgarh, Madhya Pradesh, and Rajasthan in December 2018, the aforementioned figure was 71%. In the last five years, BJP has only become stronger, something even its founding members wouldn't have imagined. But how did this happen? We tell you.
It all started with Shyama Prasad Mukherjee's Jana Sangha
The BJP finds its origins in Jana Sangha, which was founded by Shyama Prasad Mukherjee in 1951 to protest against the dominance of Congress in politics. After former Prime Minister Indira Gandhi announced Emergency in 1975, Jana Sangha joined hands with several other opposition parties to form the Janata Party. The JP defeated Indira in 1977 general elections but couldn't complete the full term.
After Morarji Desai's government fell, BJP was born
Notably, the Jana Sangha was deeply imbibed in RSS' values and this miffed other constituents of Janata Party. Soon the cracks deepened and some members of Janata Party split to form Janata Party (Secular) forcing PM Morarji Desai to resign. Subsequently, the Jana Sangha members formed a new party, the BJP, after the 1980 general elections. Atal Bihari Vajpayee was BJP's first president.
When "liberalism" didn't work, BJP went back to its roots
Initially, the BJP took the liberal right wing stand and it didn't work. In 1984 general elections, BJP won just two seats while Rajiv Gandhi led Congress won 404 seats. Soon, BJP underwent a revamp and fanned emotions related to Ram Janmabhoomi. The VHP demanded that Ram Temple should be built at the disputed site in Ayodhya and BJP supported the cause.
In 1999, BJP got opportunity to complete full term
Riding on Hindu nationalist emotions, BJP won 85 seats in 1989 parliamentary election and gave support to VP Singh's government. After years of being a minor player in national politics, the BJP was invited to form a government for the first time after the 1996 elections. Under Vajpayee's leadership, the party won 161 seats and emerged as the single-largest party. However, the poet PM failed to show majority and resigned after 13 days. NDA led by BJP completed its first time in Lok Sabha in 1999.
BJP's stand on Ayodhya remains unchanged
BJP's Hindutva ideologies, which toe the line of teachings of Vinayak Damodar Savarkar, drive all its decisions. The party firmly believes that Babri Masjid was built on a temple where Lord Rama took human form in Ayodhya and the sensitive issue has found a place in all its manifestos. However, as years passed, BJP took the softer Hindutva road in hope of pleasing voters.
But, BJP has evolved over the years
For far too long, BJP and its ideological mentor RSS have opposed homosexual relationships. So when the Supreme Court decriminalized same-sex relationships in September last year, RSS' stand surprised everyone. RSS Chief Mohan Bhagwat said members of LGBTQ community are part of the society. His statement confirmed that BJP is ready to ditch conservativeness and embrace changes to stay relevant in Indian politics.
Congress' dynasty politics became BJP's boon
While dynasty politics failed Congress, BJP ensured it milked this phenomenon to its benefit. When Rajiv Gandhi was made the PM, India fell in love with the dynamic son of Indira. But the honeymoon period didn't last long and soon voters realized surname doesn't necessarily mean a leader can deliver results. In the run-up for 2014 elections, BJP kept reminding voters of the same.
Before 2014, BJP reminded people of Congress' baggage
The Anna Hazare movement, despite its failures, made citizens aware of how public offices can be misused by those in power. Seeing the potential in the movement of the Gandhian, BJP built its 2014 election strategy around Congress' corruption. The dynamic leader Modi, who served as Gujarat's Chief Minister thrice, told citizens that if they vote for Congress, they would be looted.
To recall, BJP got a historic mandate in 2014
The 2014 results confirmed PM Modi managed to touch a raw nerve. The BJP won a staggering 282 seats in Lok Sabha and Congress was reduced to its lowest tally of 44. Three years later, BJP scripted history in Uttar Pradesh assembly elections by winning 325 out of 403 seats. The duo of Amit Shah and Narendra Modi became indispensable in politics.
In absence of PM Modi, BJP may have never won
Undoubtedly, PM Modi's magic helped BJP script history in 2014. PM Modi saw the potential in first-time voters and addressed students all over the country. The turnout at his gatherings trumped those at Congress President Rahul Gandhi's by a huge margin. Despite Rahul being younger to him, Modi connected with young minds. He spoke about jobs, the Gujarat model and everyone listened passionately.
PM Modi projected himself as the only alternative
Way before Congress could decide who would lead the party in 2014, PM Modi projected himself as an alternative to former PM Manmohan Singh. When Dr. Singh gave his last Independence Day speech from Red Fort in 2013, CM Modi delivered his in Bhuj where a replica of the Mughal monument was created. A year later, PM Modi addressed the nation from Red Fort.
However, this time around the battle won't be easy
But 2019 is not 2014 and PM Modi's "wave" may have actually died down. The Centre's failure to create jobs, its apathy towards agrarian distress, women safety (a BJP MLA is key accused in Unnao rape case), PM Modi's decision to never hold a press conference, and the treatment of minorities, are all pressing issues which the Opposition will talk about in coming weeks.
The Opposition should remember BJP went from 2 to 282
While BJP has given many reasons to criticize it, the Opposition can't afford to undermine PM Modi's popularity or Shah's plans, especially since 36 parties are reportedly part of NDA. BJP will fight tooth and nail to retain the space it has built in national politics. All we have to do is wait for May 23 and see if India chooses PM Modi again.