#LokSabha2019: With 36 alleged allies, NDA is stronger than ever
#LokSabha2019: With 36 alleged allies, NDA is stronger than ever
Mar 14, 2019, 09:08 pm
4 min read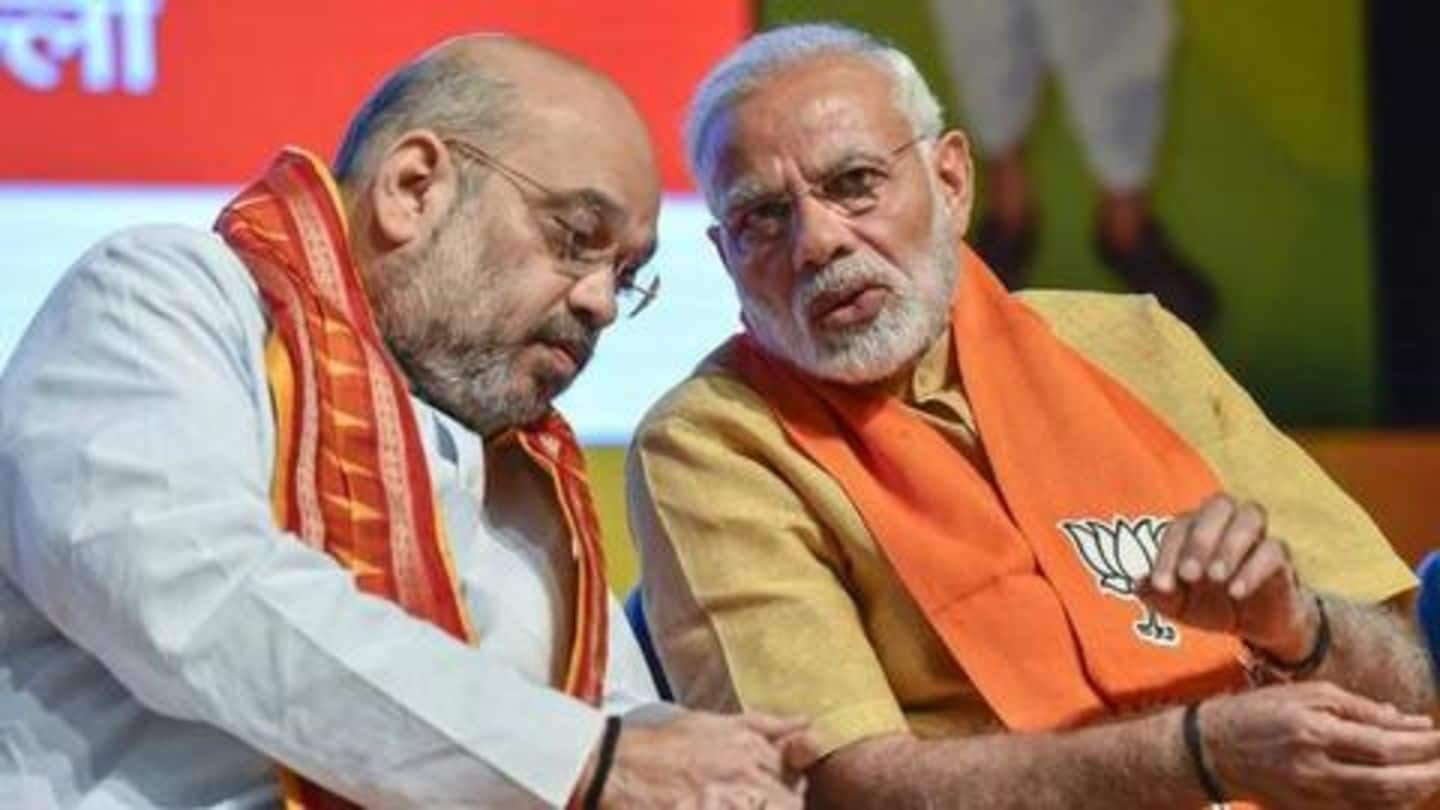 For the Bharatiya Janata Party, the days of disgruntled allies have become a thing of the past. Party President Amit Shah has walked an extra mile to please parties and if General Secretary Bhupinder Yadav is to be believed, NDA has a record "36 allies" under its umbrella. Ahead of crucial general elections, this alliance will certainly cement BJP's position as a formidable force.
NDA lost important allies like TDP
In 2014, NDA constituted of some 25-27 parties, and it has already surpassed the tally. In the last few years, BJP suffered setbacks as important regional parties exited the alliance. Chandrababu Naidu's TDP, which is governing Andhra Pradesh, Mehbooba Mufti's PDP and Upendra Kushwaha's RSLP, left NDA due to different reasons. The allies-turned-foes then became one of the most vocal critics of BJP.
After losing three states, BJP learned its lesson
In all probability, the heartbreak in Hindi heartland last year served as a wake-up call for BJP. The party bent backward to join hands with Shiv Sena, which has been its loudest critic. As per the alliance, both parties will fight Lok Sabha and Maharashtra assembly polls together. While Shiv Sena will field candidates from 23 Lok Sabha seats, BJP will contest from 25.
Despite brilliant performance in 2014, BJP accepted demands of allies
Similarly, in Bihar, BJP didn't have any qualms in accepting demands of Nitish Kumar led JD(U)and Ram Vilas Paswan's LJP. To recall, BJP won 22 out of 40 Lok Sabha seats in 2014 but agreed to contest from only 17 seats this time. JD(U) got 17 seats and LJP was given 6 seats. Shah also promised a Rajya Sabha seat to Paswan.
NDA will fight as one unit this time
"We will strongly campaign for all NDA candidates. We are not working in 'party-spirit', rather all NDA candidates are considered as one block," said JD(U) vice-president Bashishtha Narayan Singh. This further confirms that BJP might have lost seats, but it made friends.
BJP joined hands with Amma's party AIADMK
In Tamil Nadu, where BJP has an abysmal presence, it forged an alliance with AIADMK. Notably, the party's matriarch late J Jayalalithaa had slammed Prime Minister Narendra Modi and said her governance was better than his. But desperate times called for desperate measures. While BJP will contest from five seats, AIADMK will fight from 27 seats. Tamil Nadu has 39 Lok Sabha seats.
Smaller parties were also given place in BJP-AIADMK alliance
Meanwhile, BJP also tied up with smaller Dravidian parties in Tamil Nadu. PMK was given seven seats and DMDK got four seats. PT, NJP, and NR Congress got one seat each in the alliance.
Notably, both BJP and Congress couldn't find friends in Andhra
Till now, BJP has failed to stitch any alliance in Andhra. YSR Congress, led by Jagan Reddy, is seen as Naidu's biggest competitor in the state, and he hasn't said anything about an alliance yet. However, political pundits claim YSR Congress may join hands with BJP after polls if need be. Importantly, Congress hasn't been able to forge any alliance in Andhra.
Unhappy friends rejoined NDA in Assam
Meanwhile, in Northeast, BJP's Ram Madhav took on the task of placating allies. Asom Gana Parishad, which walked out of NDA to protest Citizenship (Amendment) Bill, rejoined BJP recently. Bodo People's Front is also a part of NDA. An elated Madhav said while the Opposition was just talking about mahagathbandhan, BJP formed an alliance with many. "The NDA is stronger than before," he said.
In Jharkhand, BJP gave one seat to AJSU
In Jharkhand, BJP partnered with All Jharkhand Students Union (AJSU). The party president Sudesh Mahato could be fielded as an NDA candidate from Giridih seat.
BJP gave top posts to allies in UP
BJP might not be able to repeat its 2014 performance in UP, which is why the party took steps to calm the angry allies. Recently, Shah announced that Arvind Rajbhar, the son of SBSP leader OP Rajbhar, will be made the chairperson of UP Small Industries Corporation Limited and Rana Ajit Pratap will be given the top post in UP Beej Vikas Nigam.
Members of Apna Dal were given plum posts too
BJP also extended an olive branch to Apna Dal, which has been demanding important positions in the government. The party's national treasurer OP Katiyar and former President JL Patel were given plum posts. This made the party cadres happy, confirmed senior leader Anupriya Patel.
Every party counts and Shah knows this well
BJP's National General Secretary P Muralidhar Rao said NDA would finalize candidates for the entire country by March 23-24. The flexibility which BJP has shown in recent days dismisses Congress President Rahul Gandhi's claims that the saffron party is without allies. And to NDA's credit, everyone knows who their leader is, whereas the mahagathbandhan is still struggling to find one.