#RoadTo2019: Bihar seat-sharing done, BJP-JD(U) to contest on 17 seats
#RoadTo2019: Bihar seat-sharing done, BJP-JD(U) to contest on 17 seats
Dec 23, 2018, 01:23 pm
2 min read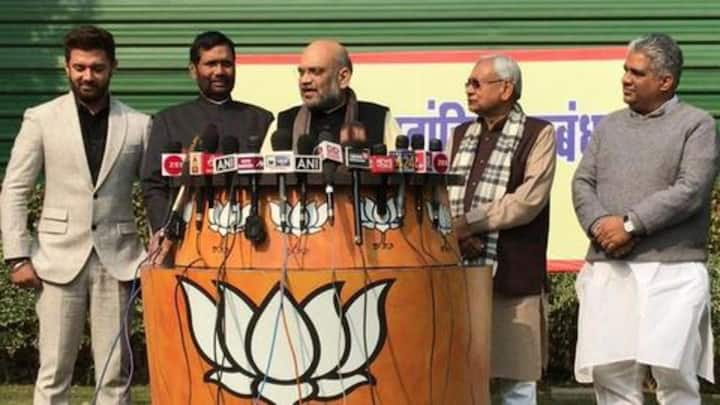 In an apparent show of strength, BJP President Amit Shah, Bihar Chief Minister Nitish Kumar, and Lok Janshakti Party chief Ram Vilas Paswan announced the seat sharing agreement for Lok Sabha elections 2019 on Sunday. As per the deal, JD(U) and BJP will fight on 17 seats each and LJP will contest on 6 seats. Paswan will be sent to Rajya Sabha from NDA.
Shah is confident NDA will win more seats than 2014
Addressing the media, Shah said the conclusion was reached after discussing politics of Bihar and the ground reality. Shah said all the three parties were happy with the seat-sharing. He was confident that NDA will win more seats than 2014 in the upcoming elections. For a few days now, there were speculations that all is not well between BJP and LJP.
BJP couldn't have lost Paswan
After Paswan's son, Chirag, praised Congress President Rahul Gandhi for his win in Assembly polls, it was widely speculated that LJP might join hands with the grand alliance in Bihar. Losing Paswan at this stage would have cost BJP a lot and it can be concluded that this could have driven NDA to elevate him to Rajya Sabha. Bihar sends 40 MPs to Parliament.
NDA hopes to clinch maximum seats in Bihar
Notably, Chirag had earlier sent a letter to Union Finance Minister Arun Jaitley asking him to explain the benefits of demonetization. So when his father Ram Vilas mentioned Jaitley in his press address today, it became evident that allies reached an amicable solution. NDA won 31 seats in Bihar in 2014, and Nitish Kumar said the performance will be even better this time.
Nitish Kumar says will work for NDA's win in 2019
Kumar, who has been advocating equal seats for BJP and JD(U) in Bihar, said, "We will sit together with the BJP leadership and discuss the issues. We will work towards ensuring NDA's win in 2019 elections." Addressing press, Kumar thanked Shah and said history will be scripted in Bihar. On the sensitive Ram Mandir issue, he said the court should solve the matter.