BJP's Yediyurappa takes oath as Karnataka's CM for fourth time
BJP's Yediyurappa takes oath as Karnataka's CM for fourth time
Jul 26, 2019, 07:02 pm
2 min read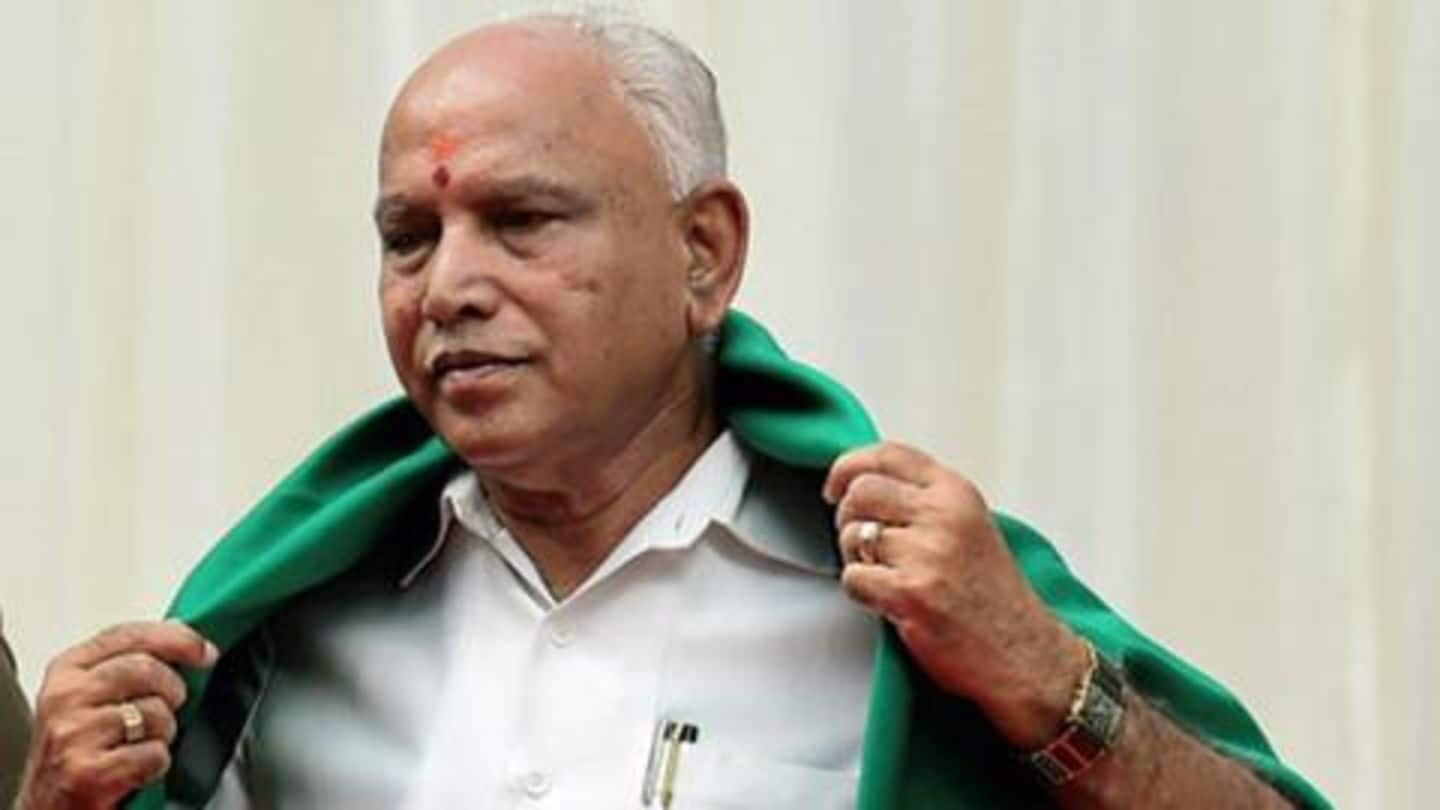 BS Yediyurappa took oath as Karnataka's Chief Minister at the Raj Bhavan for the fourth time on Friday. Notably, he had resigned from the CM post in May 2018 before facing trust vote, as he lacked numbers. But after HD Kumaraswamy-led JD(S)-Congress coalition collapsed earlier this week, he staked claim to form the government. Dozens of his supporters attended the swearing-in ceremony. Here's more.
76-year-old Yediyuappa becomes CM once again
Backstory: Elected CM in 2018, Kumaraswamy resigned few days ago
The survival of Kumaraswamy's government was threatened after 18 MLAs resigned, forcing the CM to prove majority. The crisis in the state got prolonged after the trust vote was delayed. It started on Thursday, last week, and on Friday two deadlines given by Governor Vajubhai Vala were breached. On Monday, despite speaker KR Ramesh Kumar's inclination, the trust vote wasn't completed. A day later, Kumaraswamy faced the trust vote and lost.
Yediyurappa met Vala, staked claim to form government
With 105 legislators in the House, the coalition's end paved way for BJP. After waiting for two days, Yediyurappa staked claim to form the government. "I have requested Governor to administer me oath between 6-6.15 PM as the Chief Minister, the Governor has agreed and given me a letter," he told reporters. Before the ceremony, Yediyurappa offered prayers at Kadu Malleshwara temple.
In case you hadn't noticed, Yediyurappa changed his name's spelling
Interestingly, the new CM changed the spelling of his name, apparently on the suggestion of an astrologer. Yediyurappa's name was spelled as Y-E-D-D-Y-U-R-A-P-P-A since 2000s. But he went back in time. He hopes this might help him complete the term as the state's CM. Interestingly, in the last 40 years, not more than two CMs have stayed in power for a full five year.
Will changing spellings help the new CM this time?
"The numerologist had suggested that he should go back to using Yediyurappa as his political career had not changed since he changed it in 2008. He hopes it will change his political career, before he retires as state President at least," his aide told TNM.