'Aankhon me aankhein' remark: BJP-leaders seek punishment for Azam Khan
'Aankhon me aankhein' remark: BJP-leaders seek punishment for Azam Khan
Jul 26, 2019, 02:09 pm
3 min read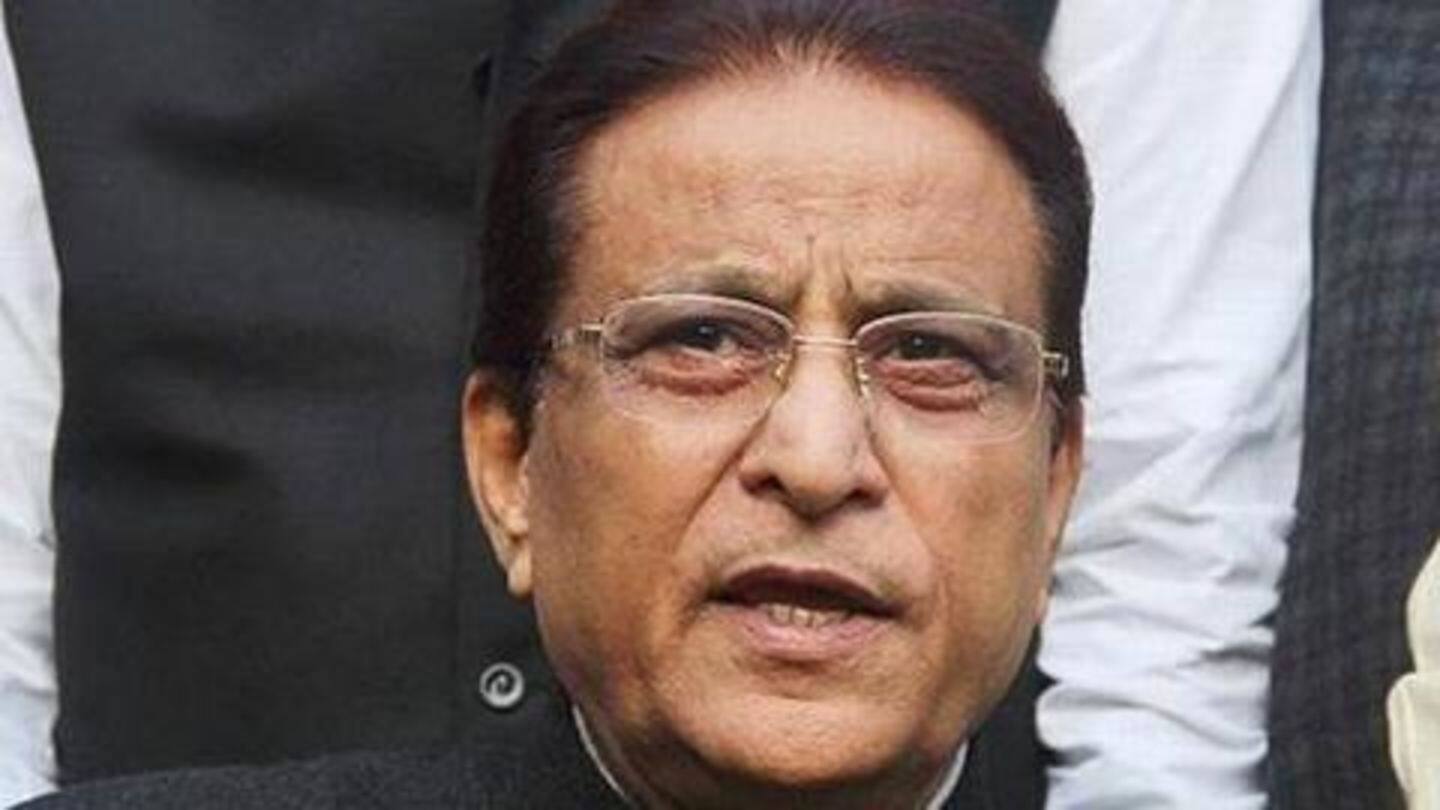 Samajwadi Party leader Azam Khan should be punished for his sexist remarks and an example should be set for all- this is what BJP leaders demanded in the Lok Sabha on Friday. The chorus grew louder after Union Ministers Nirmala Sitharaman and Smriti Irani joined in. Khan, who is an MP from Rampur, had passed derogatory remarks against a BJP MP. Here's what happened.
Background: Addressing Rama Devi, Khan said "he liked her"
Khan, who has a reputation for being inappropriate and insulting towards women, showed he is incapable of changing his behavior. On Thursday, during a debate on Triple Talaq Bill, Khan told Rama Devi (who was officiating as the speaker), that he liked her a lot. "Mera mann karta hai ki aap ki aankhon mein aankhein dale rahoon," Khan told the MP.
In damage-control mode, Khan said Rama was like his "sister"
Rama quickly pulled up Khan for his out-of-line comments, telling him he can't speak like this. Thereafter, Khan responded by saying she is like a "sister" to him. When speaker Om Birla returned to his chair and slammed Khan, he remained defiant. He said he is ready to resign if his language was "unparliamentary". Interestingly, SP Chief Akhilesh Yadav lent support to Khan.
Earlier, Rama said Khan has never respected women
"He has never respected women, we all know what he had said about Jaya Prada. He has no right to stay in the Lok Sabha, I will request the Speaker to dismiss him. Azam Khan must apologize," Rama said.
Several lawmakers sought action against Khan
Unsurprisingly, when the House convened on Friday, Khan's remarks took up most of the time. Lawmakers across party lines said his behavior was unacceptable. Lok Sabha debutant and Trinamool MP Mimi Chakraborty said, "Nobody can stand in the Parliament and tell a woman "look into my eyes and talk." Speaker sir, all women here are expecting something big from you on this."
BJP leaders demanded toughest punishment
Union Law Minister Ravi Shankar Prasad said Khan should either apologize or be suspended from the House. "The incident was painful. Rama Devi handled it with utmost dignity. We appeal for the toughest punishment, without compromise," Prasad added. His cabinet colleague, Sitharaman, concurred. "This is an abominable act, I appeal to you for exemplary action," the Finance Minister told Birla.
Meanwhile, Smriti Irani said it's a blot on all legislators
"Let us not reduce this to a problem of just women. This is a blot on all legislators including men. This is not a House where men come in and 'Kisi aurat ki aankhon mein jhanka jaye'," said WCD Minister Smriti Irani.
Cannot misbehave with a woman and get away: Smriti
BJP MP Smriti Irani: The entire nation watched yesterday what happened. This House passed the Sexual Harassment of Women at Workplace Bill. I appeal to all to speak in one voice- You cannot misbehave with a woman and get away with it by just dramatizing it. https://t.co/nTWlGR6B6q

— ANI (@ANI) July 26, 2019
Demanding actions against Khan, Owaisi asked what about MJ Akbar
Though the House was mostly united in this matter, AIMIM Chief Asaduddin Owaisi took a jibe at BJP. While seeking action against Khan, Owaisi reportedly asked what happened to the committee which was formed to probe sexual misconduct allegations against MJ Akbar. Akbar, a former MoS at the External Affairs Ministry, was accused of rape and sexual harassment by multiple women last year.
Will take decision on matter soon, promised Birla