Discipline is branded 'autocracy' these days, says PM Modi
Discipline is branded 'autocracy' these days, says PM Modi
Sep 02, 2018, 03:21 pm
2 min read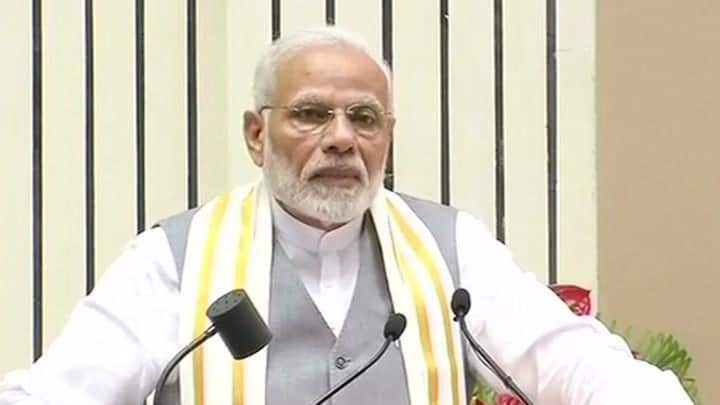 Praising Rajya Sabha Chairman Venkaiah Naidu's disciplinarian nature, Prime Minister Narendra Modi on Sunday said these days discipline is branded as autocracy in the country. Notably, PM Modi was one of the high-profile attendees of Naidu's book's, 'Moving On, Moving Forward: A Year In Office', launch event in New Delhi. Former PM Dr Manmohan Singh was also present at the event.
Whole dictionary is opened, tells PM Modi
"Venkaiah ji is a disciplinarian, but our country's situation is such that it has become easy to call discipline undemocratic. If someone calls for discipline, he is branded autocratic... the whole dictionary is opened. But discipline Venkaiahji calls for, he himself follows it," he said.
At event, PM Modi praises Naidu
Praising the Vice President, PM said Naidu has been in public life for 50 years and has taken every role with diligence. He also recalled how former PM Atal Bihari Vajpayee wanted to give Naidu ministry in his government, but he wanted rural development ministry. "Venkaiah ji is a farmer at heart. He is passionate about the welfare of farmers and agriculture," he added.
Agriculture needs sustained supports, says Naidu
Further, Naidu showed his penchant towards agriculture in his speech. He said people are moving away from agriculture and called for a biased approach towards this sector. He said agriculture needed a sustained support. "Finance Minister is here, he may not like what I'm saying as he has to take care of everybody, but there has to be a bias towards agriculture," he added.
Dr Singh says Naidu's political experience reflected in his office-term
Dr Singh said Naidu's one year in office had impressions of political and administrative experience, but the best was yet to come. HD Deve Gowda, Lok Sabha Speaker Sumitra Mahajan, Finance Minister Arun Jaitley and senior Congress leader Anand Sharma were seen at the event. The 245-page book talks about Naidu's "mission of engagement" on four key issues with various stakeholders across the country.