#KarnatakaCrisis: After being denied entry, Shivakumar detained in Mumbai
#KarnatakaCrisis: After being denied entry, Shivakumar detained in Mumbai
Jul 10, 2019, 02:55 pm
3 min read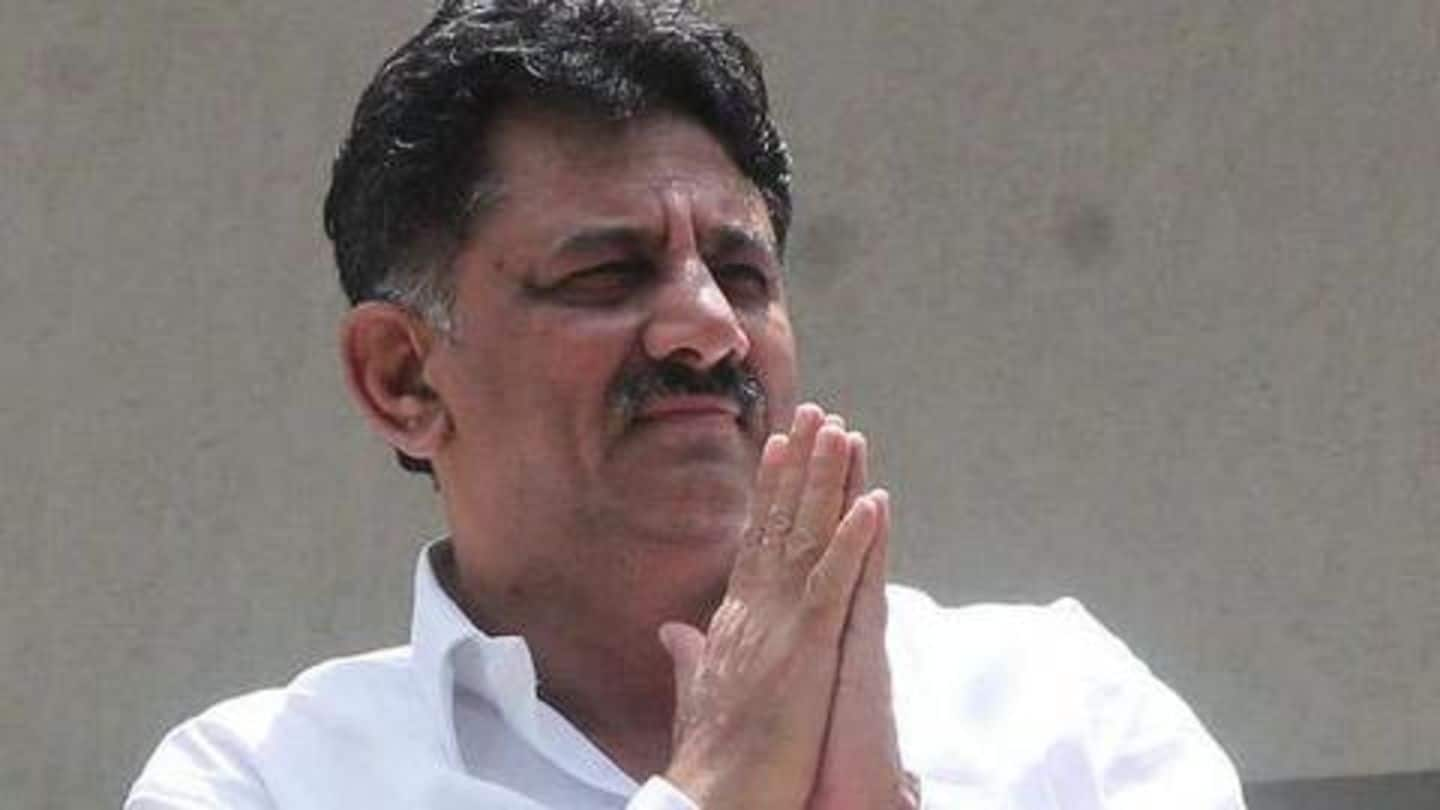 Congress leader DK Shivakumar, who is trying hard to curtail the crisis which has rocked Karnataka's coalition government, was on Wednesday detained by Mumbai Police from outside the Renaissance Mumbai Convention Centre Hotel. Shivakumar wanted to speak to Congress MLAs who resigned last week, but they said they weren't interested. As the crisis deepened, Section 144 was imposed in the area. Here's more.
A brief recap on what happened so far
The JD(S)-Congress government, headed by HD Kumaraswamy, was endangered after 13 MLAs resigned on Saturday. 10 MLAs belonged to Congress and 3 to JD(S). Two independent legislators also followed suit. On Tuesday, speaker and Congress leader KR Ramesh didn't accept their resignations, saying nine of them weren't in order. This morning, the rebel MLAs approached Supreme Court accusing Ramesh of "abandoning his constitutional duties".
Escaping clutches of senior leaders, MLAs moved to Mumbai
Sending a clear message that they aren't willing to talk to the party's top brass, the rebel MLAs moved to Mumbai to stay at the Renaissance Hotel. Meanwhile, in a bid to persuade his "friends", Shivakumar landed in Mumbai and went straight to the hotel. However, Mumbai Police informed him that he can't enter the hotel, as MLAs feel "threatened" by him.
Interestingly, Shivakumar booked a room but it was canceled
Shivakumar, who seemed determined, had also booked a room at the same hotel. But as the drama progressed, the hotel canceled his reservation. Citing "an emergency", the hotel said Shivakumar won't be charged anything for cancellation. Reacting on this, Shivakumar said, "They should be proud of a customer like me. I love this hotel. Let them cancel. I have other rooms also."
As Shivakumar waited, he was given coffee, momos, and umbrella
As he waited for Congress MLAs to turn around, Shivakumar told police he just wanted to have a cup of coffee with them. One officer told him they can get the drink for him, and later he was spotted sipping coffee. Some hours later, he ate momos made by the hotel, which canceled his reservation. When it started raining, police gave Shivakumar an umbrella.
Despite doors being shut, Shivakumar wasn't ready to move
Though his "friends" have told they aren't interested in meeting him, Shivakumar said he will not leave without speaking to them. "I'll not go without meeting my friends. They'll call me. Their heart will break. I'm in touch already, hearts of both of us are beating," he said. In fact, Congress' Milind Deora also arrived at the hotel to lend support to Shivakumar.
Just before he was detained, Shivakumar met Deora
मैं होटल के बाहर @DKShivakumar जी के साथ हूं। मेरा कर्नाटक के विधायकों से अनुरोध है कि वह बैंगलोर लौटकर संवैधानिक तरीके से मामले को सुलझाएं।

यहां पर धारा 144 भी लगा दी गई है। बीजेपी, महाराष्ट्र में अपनी ताकत का दुरुपयोग कर ओछी राजनीति कर रही है। यह उनकी सुनियोजित साजिश है। pic.twitter.com/GjBotD2xts

— Milind Deora (@milinddeora) July 10, 2019