#DemonetizationTurns2: Congress and BJP trade attacks on note-ban anniversary
#DemonetizationTurns2: Congress and BJP trade attacks on note-ban anniversary
Nov 08, 2018, 01:27 pm
3 min read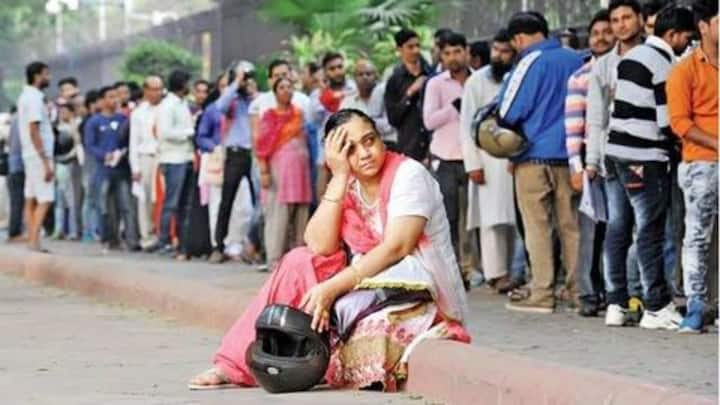 On the second anniversary of demonetization, Congress has planned a nationwide protest on Friday. The Congress plans to take to streets against the 'Tughlaqi farmaan' of Prime Minister Narendra Modi. Trinamool Congress, which has always been a critic of note ban, would observe a black day today. Meanwhile, the ruling BJP said the idea of demonetization was to formalize the economy.
Former PM Manmohan Singh says scars of demonetization still visible
In a press statement, former Prime Minister Dr. Manmohan Singh said the consequences of note ban were still unraveling. "Today is a day to remember how economic misadventures can roil the nation for a long time and understand that economic policymaking should be handled with thought and care," he said. He said small and medium businesses are yet to recover from demonetization.
It's best to not take short term measures, says MMS
Further, Dr. Singh added demonetization has taken a toll on infrastructure lenders and non-bank financial services firms. He said the full impact of demonetization is yet to be understood. "It is therefore prudent to not resort to further unorthodox, short-term economic measures that can cause any more uncertainty in the economy and financial markets," he concluded.
Congress says none of the objectives of demonetization was achieved
The Congress is all set to take out a candlelight march from Jantar Mantar to RBI head office. Similar protests are planned in other cities. In Kolkata, finance minister P Chidambaram will hold a meeting to talk about 'failed demonetization'. On Twitter, Congress wrote the three objectives of demonetization: curbing black money, weeding out fake notes and checking terror funds, weren't achieved.
Everyone knows the truth of demonetization by now, says Congress
Separately, Mamata Banerjee says economists agreed with her views
West Bengal Chief Minister Mamata Banerjee, who was one of the first leaders to ask BJP to roll back the 'draconian order', tweeted renowned economists and common people have agreed with her thoughts on demonetization. "It ruined the economy and the lives of millions. People will punish those who did this," Banerjee wrote. CPM leader Sitaram Yechury said PM Modi single-handedly destroyed the economy.
Meanwhile, Arun Jaitley claims confiscating cash was never the objective
Meanwhile, BJP explained why demonetization was important. Finance Minister Arun Jaitley wrote, on Facebook, that demonetization was criticized wrongfully as confiscating cash was never the objective. "Getting it into the formal economy and making the holders pay tax was the broader objective," he wrote. He highlighted transactions in UPI grew from Rs. 0.5 billion in October 2016 to Rs. 598 billion in September 2018.
Jaitley says cash transactions were curbed, economy has been formalized
Further, Jaitley said there was a subsequent increase in tax deposit. "In the year 2017-18, the tax returns filed reached 6.86 crore, an increase of 25% over the previous year," he wrote. He went on to say demonetization and GST curbed cash transactions in a big way. Taxpayers increased to 12 million after GST, Jaitley wrote. You can read his blog here: https://www.facebook.com/notes/arun-jaitley/impact-of-demonitisation/906015826253633/
"125 crore Indians joined hands with PM against corruption"
2 years ago 125 crore Indians under the leadership of PM @NarendraModi joined hands to take on the evil forces of corruption, black money terrorism. We are making rapid progress towards New India. That is why #CorruptCongressFearsDemo

— Piyush Goyal (@PiyushGoyal) November 8, 2018