Weeks after appointment, Priyanka gets into campaign-mode with boat ride
Weeks after appointment, Priyanka gets into campaign-mode with boat ride
Mar 17, 2019, 01:41 pm
3 min read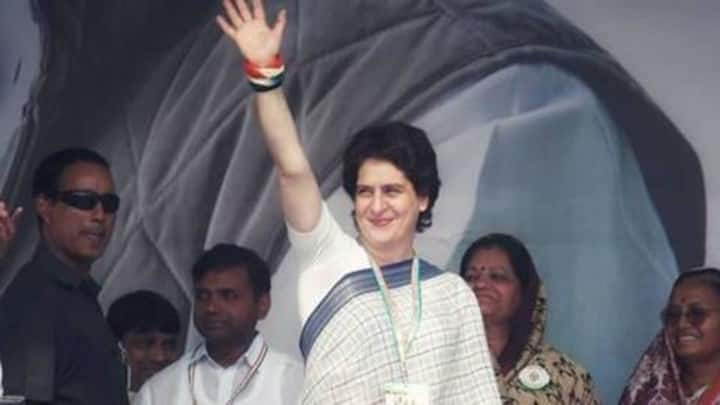 Priyanka Gandhi Vadra, the in-charge of Congress for UP East, will take a boat ride from Prayagraj on Monday, the party has confirmed. The last stop of Priyanka's much-anticipated 140-kilometer long boat ride will be Varanasi, the constituency held by Prime Minister Narendra Modi. Separately, Priyanka wrote a letter to citizens of the state underlining that she would hear their grievances. Here's more.
Congress leaders recced the route on Saturday
Though Congress released the unofficial schedule of Priyanka's visit nearly three days ago, the official announcement was delayed due to "detailing issues". According to reports, few Congress leaders recced the route on Saturday to figure out the modalities. Reportedly, the party didn't receive permission for the ride till late hours on Saturday. Priyanka is expected to reach Prayagraj (formerly Allahabad) by Sunday evening.
Can understand enthusiasm related to Priyanka's visit, tweets Raj Babbar
उप्र महासचिव प्रियंका गांधी जी अभी आयी भी नहीं कि उनके लम्बे-चौड़े प्रोग्राम आ गए। मान्यवरों, प्रियंका जी के प्रोग्राम की पूरी रूपरेखा अभी तैयार हो रही है एवं प्रशासन के समक्ष भी जा रही है। जल्द ही आप सबको सूचित किया जाएगा। प्रियंका जी के दौरे को लेकर आपका उत्साह स्वागत योग्य है।

— Raj Babbar (@RajBabbarMP) March 15, 2019
Priyanka will speak to locals, visit temples and dargahs
This will be Priyanka's second visit to the politically-volatile state after she was given the top post by Congress President Rahul Gandhi weeks ago. Reportedly, Priyanka will interact with significant communities during her boat ride. The steamer is also expected to make several stops at temples and dargahs. Her trip is scheduled to end on March 20, a day before Holi.
Priyanka will also expose PM Modi's "Namami Gange" scheme
Apart from this, Congress also hopes to "expose" BJP's ambitious Namami Gange scheme through this trip. During her interaction with locals, Priyanka is expected to "bust" the Centre's claims of having cleaned the holy river. Her itinerary also includes a 'Holi Milan' program in Varanasi.
In letter, Priyanka said she wants to change UP's politics
Priyanka took potshots at the state and Centre in her letter, which was addressed to UP citizens. She said the state has come to a standstill due to which women, youth, laborers, and farmers were facing numerous problems. She added she would work as a Congress soldier to change the "politics in the state". For this change, Priyanka underlined, speaking to people was necessary.
Have a deep connection with UP: Priyanka
"I have a deep connection with UP which is why I am coming to you to understand your concerns. I will get in touch with you via various routes, like water, trains, and roads," wrote Priyanka in the letter.
Priyanka reminded about "Ganga-Jamuni tehzeeb"
#दिल्ली : @priyankagandhi ने पत्र लिखकर यूपी की जनता से संवाद करने के लिए उनके द्वार पहुंचने की बात कही, युवा महिला मजदूर और किसानों की बातों को राजनैतिक गणित में दबा देने का लगाया आरोप, गंगा को सच्चाई और समानता का प्रतीक बताकर गंगा का सहारा लेकर लोगों से जुड़ने की बात कही. pic.twitter.com/wMJgkK2lYu

— UttarPradesh.ORG News (@WeUttarPradesh) March 17, 2019
Meanwhile, BJP leader pointed out Priyanka didn't visit Kumbh
As expected BJP downplayed Priyanka's boat ride. Party spokesperson Rakesh Tripathi said she was able to travel via Ganga due to the "untiring efforts" of the government to clean the river. Tripathi added that Priyanka was "absent" from UP for a month. "She and her brother Rahul Gandhi never visited Sangam during the Kumbh but she is coming now," Tripathi pointed out.
Priyanka isn't putting up a good fight in UP
Priyanka, who was widely seen as Congress' trump card, has hardly done anything to revive the party in UP. While her entry into active politics made cadres enthusiastic, the excitement has slowly and steadily died down. In the last general elections, Congress managed to retain only its bastions- Raebareli and Amethi. Considering Priyanka's laid-back approach, the prospects of Congress definitely don't look bright.