Modi has lost his moral-compass, onus is now on bhakts
Modi has lost his moral-compass, onus is now on bhakts
Written by
Shikha Chaudhry
Oct 25, 2019, 08:18 pm
3 min read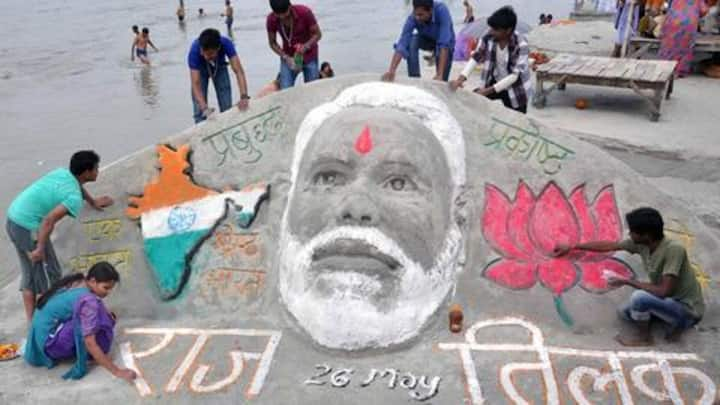 Prime Minister Modi = Prime Minister + Modi. According to the equation, there are/were thirteen more people like him in India. But, there is no one like the second part of the equation: Modi. He is infinity times infinity, in hatred and love both. But, let's talk love today. At a time when he has lost his logical acumen (context: his decision to join hands with rape-accused leader Gopal Kanda), let's discuss why his bhakts have to rise up to the occasion.
First, let's dissect his very many bhakts
Before we proceed, let's first dissect Modi's bhakts: Traditional supporters: They have been with BJP ever since, and they will stay with BJP with or without him. TINA supporters: These are the ones who believe/used to believe "There is no alternative." By now, they are on the brink of getting tired of his shenanigans. Modimaniacs: This is the problematic category. They can't think beyond him, don't question him, and find ways to justify his actions. And, they are many.
He suffers from narcissism, Modimaniacs are victims of narcissistic abuse
Evidently, PM Modi suffers from narcissism, but it is Modimaniacs who suffer from the trauma of it. Loosely speaking, traumatic narcissism is a type of trauma in "which one is denied the ability to have an independent mind of one's own." By now, the Modimaniacs are so brainwashed that they can't think straight. They are hypnotized by him, and they are his ruthless warriors and victims, all at once.
Neither his servile partymen, nor the bikau media can speak
In 2014, you could have called it a wave, in 2017 UP elections a tsunami, but now it is established Modi is a phenomenon. As campaigner-in-chief of a party, whose leaders can't win any elections without him, his methods won't be questioned from within. And, to be fair, no one questions the winning horse. Coming to media, it is "bikau" and has been bought. A certain Arnab still lives in the era where Congress is the ruling party.
Go to Goyal's Twitter account, search the keyword "Modi"
But, why can Modimaniacs fix him?
Since media and his partymen won't do anything, the onus to fix their leader is on Modimaniacs. Here's why: a) Their heart is in the right place, they never supported him for money. They believed in him. b) For what it is worth, the leader Modi (and not politician Modi) is receptive to feedback. c) Power is so dear to him that he would do everything to cling on it. He knows he wants their support.
Lesson: Life is not black and white, but grey
In conclusion, the Modimaniacs need to come out of his aura. He can't always be right, and his wrongs are not on them. Do they defend Jeff Bezos just because they buy products from Amazon? Exactly! We chose Modi, it was a transaction, he is answerable to us. And, if he doesn't realize he is going the wrong route, his ardent supporters should show him the right way. And, he will listen because he needs your support. Even, he knows that.
My unsolicited advice to Mr. Modi
Well, as far as I am concerned, here is my unsolicited advice to Mr. Modi: "Tum se pehle jo ik shakhs yahan takht-nashin tha, us ko bhi apne khuda hone pe itna hi yakin tha!"