DK Shivakumar arrested: Congress cries foul, Yediyurappa "isn't happy"
DK Shivakumar arrested: Congress cries foul, Yediyurappa "isn't happy"
Sep 04, 2019, 09:34 am
3 min read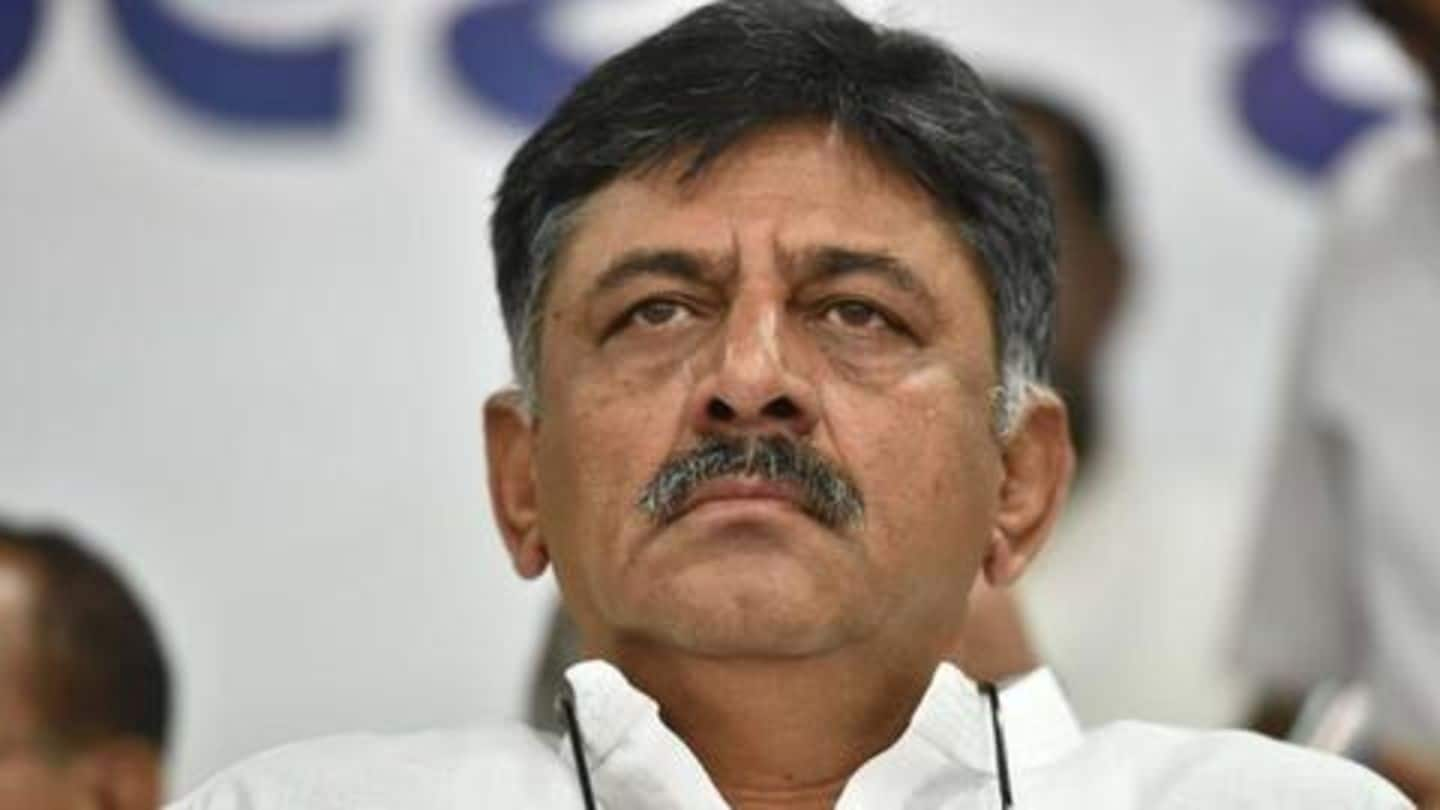 The Enforcement Directorate (ED) on Tuesday night arrested DK Shivakumar, Congress' strongman in Karnataka, in connection to a money laundering case. The agency moved for his arrest after grilling him several times in the last couple of days. The turn of events was slammed by Congress and a protest has been called. Meanwhile, Chief Minister BS Yediyurappa said he isn't happy with Shivakumar's arrest.
What are the allegations against Shivakumar?
Shivakumar, seen as Congress' troubleshooter in the southern state, was arrested as per provisions of the Prevention of Money Laundering Act (PMLA). During questioning, Shivakumar was reportedly asked to explain the source of funds which he used to buy properties in Delhi and Karnataka. He was also interrogated about Rs. 10 crore cash, recovered from his premises during Income Tax raids in 2017.
ED arrested Shivakumar for being "evasive"
Interestingly, ED had registered a case against Shivakumar in September last year. However, his arrest was facilitated after Karnataka High Court refused to grant him any relief. The former cabinet minister and Kanakapura MLA first appeared for questioning in New Delhi on August 30. He was questioned for the fourth time on Tuesday, and arrested for being "evasive". He will be produced in court later today.
After being arrested, Shivakumar "congratulated" BJP
Shivakumar was quick to berate BJP after being arrested. He tweeted, "I congratulate my BJP friends for finally being successful in their mission of arresting me. The IT and ED cases against me are politically motivated and I am a victim of BJP's politics of vengeance and vendetta." Notably, the Congressman spent the night at Ram Manohar Lohia Hospital.
After Shivakumar's arrest, his supporters pelted stones at buses
While action ensued in Delhi, Karnataka too witnessed drama after Shivakumar's arrest. At least ten buses were vandalized by stone-pelting protesters at Satanur. Meanwhile, a bandh was called at Ramanagara and Kanakapura (the constituency he represents). Anticipating an untoward incident, security was beefed up at Yediyurappa's residence and at BJP offices in Ramanagara and Kanakapura.
Meanwhile, Siddaramaiah said Shivakumar is a "victim of vindictive politics"
Unsurprisingly, Congress leaders came down heavily at BJP. Former Karnataka CM Siddaramaiah said opposition leaders are being "targeted" every day. "It is just an attempt to divert the attention from structural failures of BJP government and also to prevent the voices of dissent. Mr. Shivakumar is also a victim of their vindictive politics," Siddaramaiah said. Shivakumar also found support in JD(S) leader HD Kumaraswamy.
Government using agencies to oppress opposition leaders: Kumaraswamy
"After days of interrogation, without allowing even a day's break for the festival, the ED now cites non-cooperation to arrest Shivakumar. The ruling government is using investigation agencies to oppress those opposition leaders who they think are a threat to their interests," tweeted Kumaraswamy.
In fact, Yediyurappa is also unhappy with Shivakumar's arrest
Meanwhile, Yediyurappa claimed he was upset with the arrest of Shivakumar, his political rival. "Let me tell you one thing, the arrest of DK Shivakumar did not bring me any happiness. I will pray to God that he will be out soon," the BJP leader said. He also asserted he hasn't "hated" anyone in his entire life and that justice will take its course.