Parties can't use photos of defense personnel, directs Election Commission
Parties can't use photos of defense personnel, directs Election Commission
Mar 10, 2019, 10:09 am
3 min read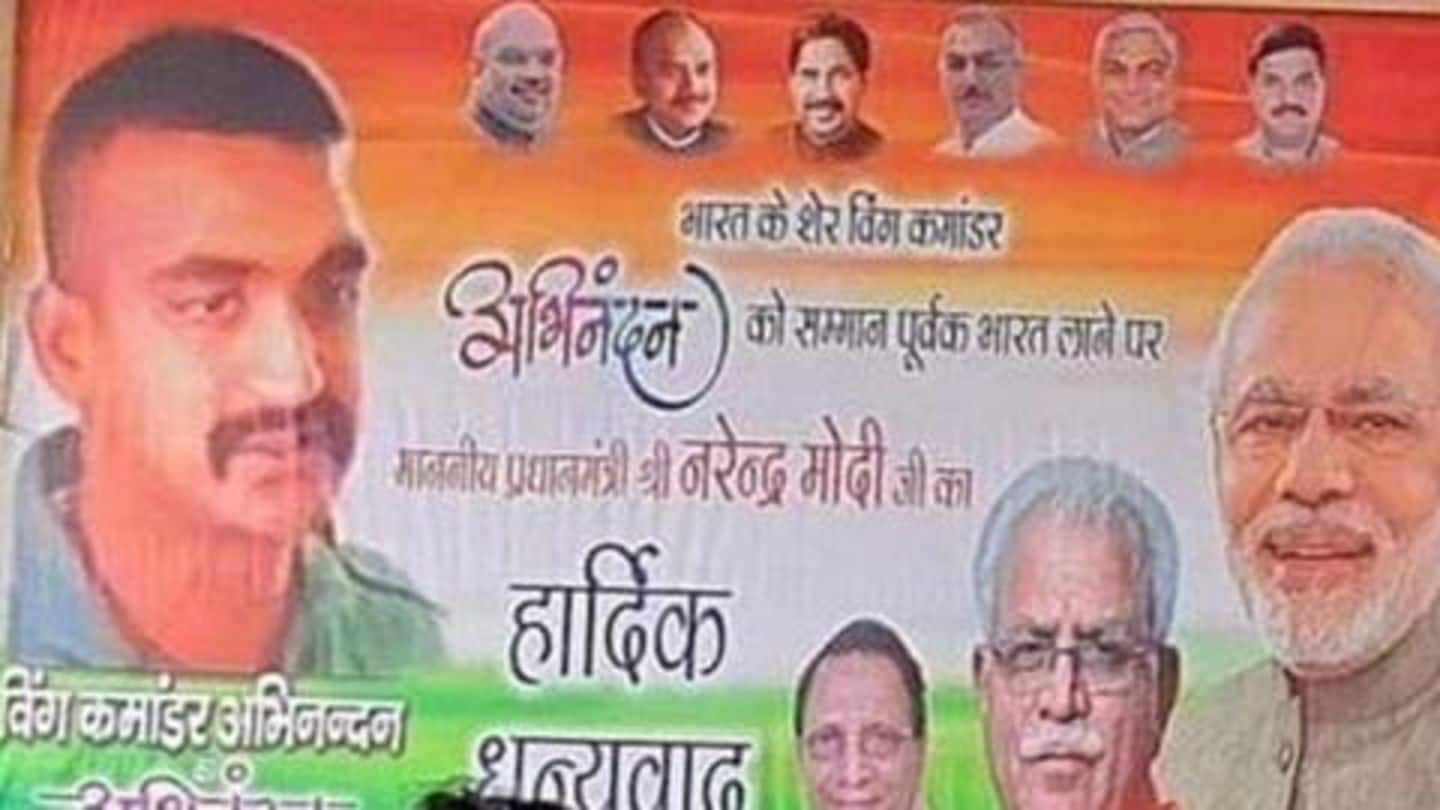 At a time when emotions related to defense forces are running high in the nation, the Election Commission on Saturday said political parties can't use photos of defense personnel for their poll campaign. Of late, photos of Wing Commander Abhinandan Varthaman, who returned from Pakistan safely, have been used by political parties to further their agenda. Here are more details.
Looking at what the EC said
The EC sent a letter to presidents, national vice-presidents and other important members of recognized parties, underlining that the "Armed Forces of a nation are the guardian of its frontiers, security and the political system." The letter added armed forces are neutral and hence, it's important that political parties and leader exercise caution while referring to them in their campaign.
"Can't use pictures of defense personnel"
"The Commission is of the view that photographs of Chief of Army Staff or any other Defense personnel and photographs of functions of Defense Forces should not be associated with or used in any manner in advertisement/propaganda/campaigning," the letter added.
EC passed a similar order in 2013
Incidentally, EC had issued a similar order on December 4, 2013. Reiterating the same, the EC asked parties to comply with the instructions "strictly". However, a senior EC official told TOI, the body hasn't put restrictions on what leaders can say. "There has never been and cannot be any restraint on a political leader or candidate referring to war or counter-terror action while addressing poll rallies," the official added.
BJP has invited criticism for "politicizing" airstrikes
The ruling BJP has invited ire from critics for "politicizing" the February 26 IAF strikes. The IAF launched a pre-emptive operation in response to Pulwama attack of February 14, in which 40 CRPF soldiers were martyred. Notably, the banner at Prime Minister Narendra Modi's rally in Churu, Rajasthan, included pictures of Pulwama attack martyrs. The move was slammed by many.
Separately, Manoj Tiwari dressed in military uniform during a rally
Earlier, BJP MP Manoj Tiwari was also criticized after he wore the military uniform during a rally. Tiwari, the chief of Delhi BJP, wore military fatigues for a bike rally and various opposition leader berated him. Unaffected by criticism, Tiwari said he was just showing his solidarity towards the armed forces and wasn't "insulting them" as many opined.
As army's action got a lot of attention in politics, former Chief of Naval Staff, Admiral L Ramdas (retired), wrote to EC to complain about what he called a "misuse" of airstrikes to "influence the electorate". "It is particularly important that there should not be any misuse of these recent events by any political party to send triumphalist or jingoistic messages," his letter read.