In worst attack after Uri, India loses 40 CRPF jawans
In worst attack after Uri, India loses 40 CRPF jawans
Feb 14, 2019, 08:10 pm
2 min read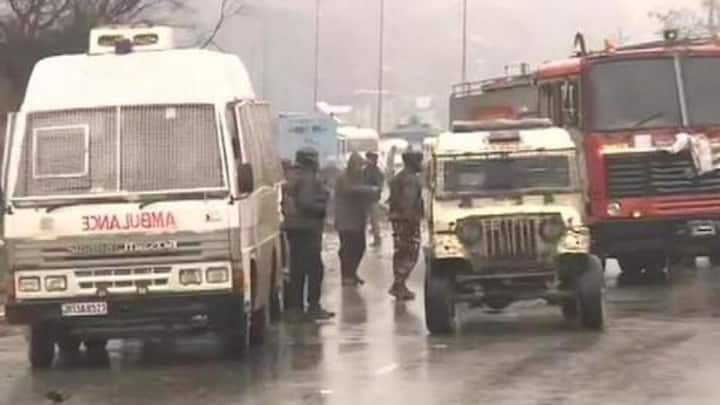 In a horrific incident, two buses of a CRPF convoy were attacked by an explosive at Awantipora area of Pulwama district of Jammu and Kashmir. In the attack triggered by IED blast, 40 CRPF soldiers were martyred while 40 others were injured. Terrorist organization Jaish-e-Mohammed claimed responsibility for the attack. This is said to be the worst attack on the Indian army after the Uri incident of 2016.
Jaish reveals Pulwama resident carried out the attack
Claiming responsibility for the attack, Jaish revealed a terrorist identified as Ahmad alias Waqas carried out the suicide attack. Jaish added Waqas hailed from GundBagh village of Pulwama. According to reports, the car which Waqas was driving rammed into the 55-seater CRPF bus. The vehicle was reduced to a heap of iron. The injured have been shifted to a hospital.
Convoy was going to Srinagar
CRPF Official on Pulwama attack: There were 70 vehicles in the convoy and one of the vehicles came under attack. The convoy was on its way from Jammu to Srinagar. https://t.co/B0SaEEU5wE

— ANI (@ANI) February 14, 2019
In series of tweets, Omar Abdullah condemns attack
Former Jammu and Kashmir Chief Minister Omar Abdullah condemned the horrific attack on CRPF personnel. "My prayers for the injured & condolences to the families of the bereaved," Abdullah tweeted. In another tweet, he wrote this attack by Jaish reminded of the dark days of militancy before 2004-05. Meanwhile, the gut-wrenching visuals from the spot found their way on social media.
When will this madness stop, asks PDP Chief Mehbooba Mufti
Disturbing news coming in from #awantipura . Twelve of our security personnel have been martyred and several have been injured. No words are enough to condemn the gruesome terror attack. How many more lives will be snuffed out before this madness ends?

— Mehbooba Mufti (@MehboobaMufti) February 14, 2019