Welcome home hero: Abhinandan Varthaman crosses border to enter India
Welcome home hero: Abhinandan Varthaman crosses border to enter India
Mar 01, 2019, 09:38 pm
3 min read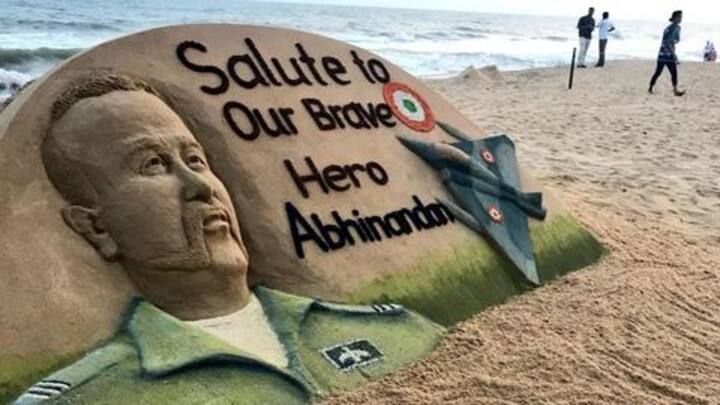 After an inordinate delay, Wing Commander Abhinandan Varthaman entered India by crossing the Wagah border, a short while ago. The IAF pilot's release from Pakistan was announced on Thursday amid escalating tensions between India and Pakistan. To recall, Abhinandan was captured by the neighboring country on Wednesday. While hundreds of Indians had gathered at Wagah to welcome the hero, his return was delayed due to "documentation" reasons.
"Peace loving" Pakistan records Abhinandan's video with multiple cuts
After changing time of return twice, Pakistan handed Abhinandan over
According to ANI, Pakistan changed the timing of Abhinandan's return this evening. Meanwhile, the mood at Wagah Border was celebratory since morning. Placards, posters and dozens of tricolor dotted the scene testifying how happy India was to get him back. A contingent of IAF too went to Wagah to receive the pilot. He crossed over to Indian side at 9:21 PM.
Abhinandan's first visuals
We are happy he is back: IAF
"Wing Commander Abhinandan Varthaman has been handed over to us. He will now be taken for a detailed medical checkup because he had to eject from an aircraft. IAF is happy to have him back," Air Vice Marshal RGK Kapoor, said. About the delay, Amritsar DC said he had been waiting at Attari-Wagah border for long now.
Backstory: After aerial combat, Abhinandan was captured
Notably, Abhinandan was arrested, making the entire country pray for his return. The IAF pilot shot down PAF's F-16 jet but his aircraft crashed after that. Though he ejected safely, he strayed over the wrong side and was captured by the Pakistani army. Before Abhinandan was taken to a safe house, local boys beat and manhandled him.
India asked for immediate and safe return of Abhinandan
Pakistan shared videos of Abhinandan to put across a point that they have an upper hand. However, India made it clear Abhinandan wasn't a bargaining chip to be used by Pakistan. The Indian government summoned Pakistan's envoy on Wednesday and communicated that the country demands Abhinandan's immediate release. India also slammed Pakistan's aggressive act of targeting military installments.
India wanted Abhinandan to take the aerial route, Pakistan refused
Facing global pressure, Pakistan's Prime Minister Imran Khan announced Abhinandan's release. He called it a peace gesture but India downplayed it. Air Force Vice Marshal RGK Kapoor said Pakistan was just following the Geneva Convention. At a mega press conference on Thursday, Kapoor added IAF was happy the pilot was returning home. Reportedly, India wanted to fly Abhinandan out, but Pakistan refused.