Amit Shah rebukes minister Giriraj Singh for 'Iftar party' dig
Amit Shah rebukes minister Giriraj Singh for 'Iftar party' dig
Written by
Ramya Patelkhana
Jun 04, 2019, 07:58 pm
2 min read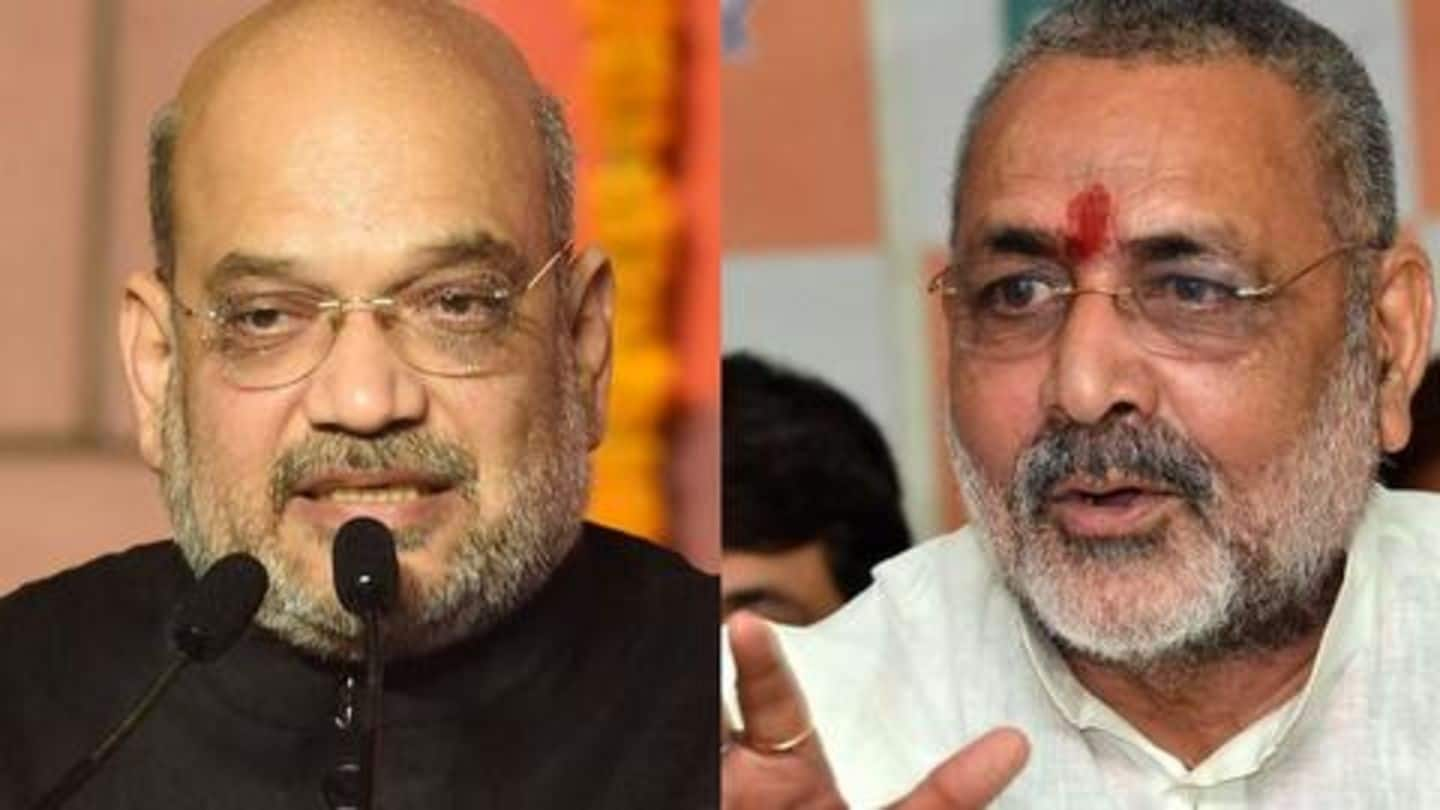 BJP President and Home Minister Amit Shah on Tuesday reprimanded Union Minister Giriraj Singh for taking a dig at Bihar Chief Minister Nitish Kumar and his own party member Sushil Modi over an Iftar party. Giriraj reportedly posted a provocative tweet earlier this morning targeting Modi and BJP allies Kumar and Ram Vilas Paswan among others for attending an Iftar party. Here's more.
It should not happen again: Shah tells Giriraj
Shah reportedly called up Singh and asked him to avoid making any such controversial statements. The BJP chief even told him that the same should never happen again. Singh, who has courted controversy with his comments even in the past, is currently the Union Minister for Animal Husbandry, Dairy, and Fisheries in the new cabinet of Prime Minister Narendra Modi.
Here's what Giriraj posted on Twitter about the 'Iftar' party
कितनी खूबसूरत तस्वीर होती जब इतनी ही चाहत से नवरात्रि पे फलाहार का आयोजन करते और सुंदर सुदंर फ़ोटो आते??...अपने कर्म धर्म मे हम पिछड़ क्यों जाते और दिखावा में आगे रहते है??? pic.twitter.com/dy7s1UgBgy

— Shandilya Giriraj Singh (@girirajsinghbjp) June 4, 2019
What did Giriraj say about leaders who attended 'Iftar' party?
In a tweet, Giriraj had taken a swipe at CM Kumar, Modi, Paswan and other leaders who were seen at an "Iftar" party. The Union minister posted a tweet in Hindi, saying, "How beautiful would this picture have been if a Navratri meal would have been organized with the same eagerness. Why do we hold back on our own faith and get into pretense."
Giriraj Singh makes such remarks deliberately: CM Kumar
Meanwhile, responding to Giriraj's remarks, CM Kumar said, "Giriraj Singh makes such remarks deliberately so that you (media) make news out of it." The Bihar CM was talking to reporters over the matter. Giriraj's comments came even as Kumar was already upset over his party Janata Dal (United) being denied more than one cabinet seat in PM Modi's government.
Here's how the Bihar CM responded to Giriraj's remarks
Bihar CM JD(U) leader Nitish Kumar on Union Minister Giriraj Singh's tweet on Iftar: He (Giriraj Singh) does all this so that media makes news out of it. pic.twitter.com/DXti8QKxtB

— ANI (@ANI) June 4, 2019
Take part in Holi programs too, not just Iftar: Modi
Giriraj's BJP colleague and Bihar Deputy CM, Modi, also responded sharply, saying, "I don't know what he tweeted. Let me say, I am proud to be a Hindu. I take part in Holi programs too, not just Iftar." "I have been a part of Iftar celebrations for 25 years. People who never hosted a Holi Milan party are raising questions today," he said.