Rajasthan: Ashok Gehlot blames Sachin Pilot for his son's defeat
Rajasthan: Ashok Gehlot blames Sachin Pilot for his son's defeat
Jun 04, 2019, 03:26 pm
3 min read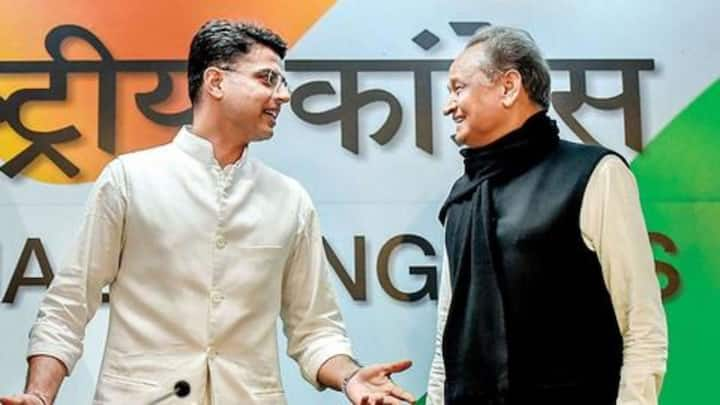 They say, success has many fathers but failure is an orphan. The same holds true for the Rajasthan unit of Congress. The cracks between the leaders have been visible ever since the party was wiped out of the state in Lok Sabha elections. While Congress is trying to put up a strong face, a statement by Rajasthan CM Ashok Gehlot has hinted that everything has gone haywire.
Backstory: Even after winning assembly elections, Congress lost Rajasthan
Rajasthan has 25 parliamentary constituencies and Congress drew blank in the state. This happened despite Congress wresting power from BJP in assembly polls of December 2018. Funnily enough, even Gehlot's son Vaibhav had to face a staggering defeat at the hands of BJP's Gajendra Singh Shekhawat, who was made a Cabinet minister. Shekhawat won the Jodhpur seat by a margin of 2.7 lakh votes.
Sachin Pilot should take responsibility for Jodhpur seat: Gehlot
Speaking on Vaibhav's defeat, Gehlot Sr. said, "Sachin Pilot said we would win with a huge majority. He said we have six MLAs (legislators) and we have done very good campaigning there...he should take responsibility for at least that (Jodhpur) seat." Subsequently, Gehlot took a softer stand and said the responsibility is collective and no one was ready for such a defeat.
Gehlot spent time in Jodhpur, yet his son lost
Gehlot may have put the blame on Pilot, but political observers believe otherwise. The CM spent too much time in Jodhpur and ignored other constituencies. Despite his endless rallies and roadshows, Vaibhav couldn't win. Further, Congress President Rahul Gandhi was not in favor of giving Vaibhav a ticket from Jodhpur, to begin with. But Gehlot kept pestering Rahul and he gave in. Nepotism, NEPOTISM.
Rahul also slammed Gehlot for ignoring party for son
At the Congress Working Committee (CWC) meeting, which was called to assess the humiliating defeat, Rahul reportedly pulled up Gehlot for keeping his son above the party. When Gehlot was asked about this, he said, "Such meetings have sanctity and what is said inside should remain within. It is not right to take what is said out of context and propagate it to media."
The war between Gehlot and Pilot is out in open
To recall, after Congress won assembly polls, neither Pilot nor Gehlot was ready to give up the CM chair. Later, the senior leader was chosen after he promised wins in Lok Sabha polls. When that didn't happen, a rift was certainly expected. Pilot's supporters want him to replace Gehlot, but the latter would obviously not vacate the seat without a fight.