Hema Malini sweeps streets, junta finds the photo-op unreal
Hema Malini sweeps streets, junta finds the photo-op unreal
Jul 13, 2019, 03:04 pm
2 min read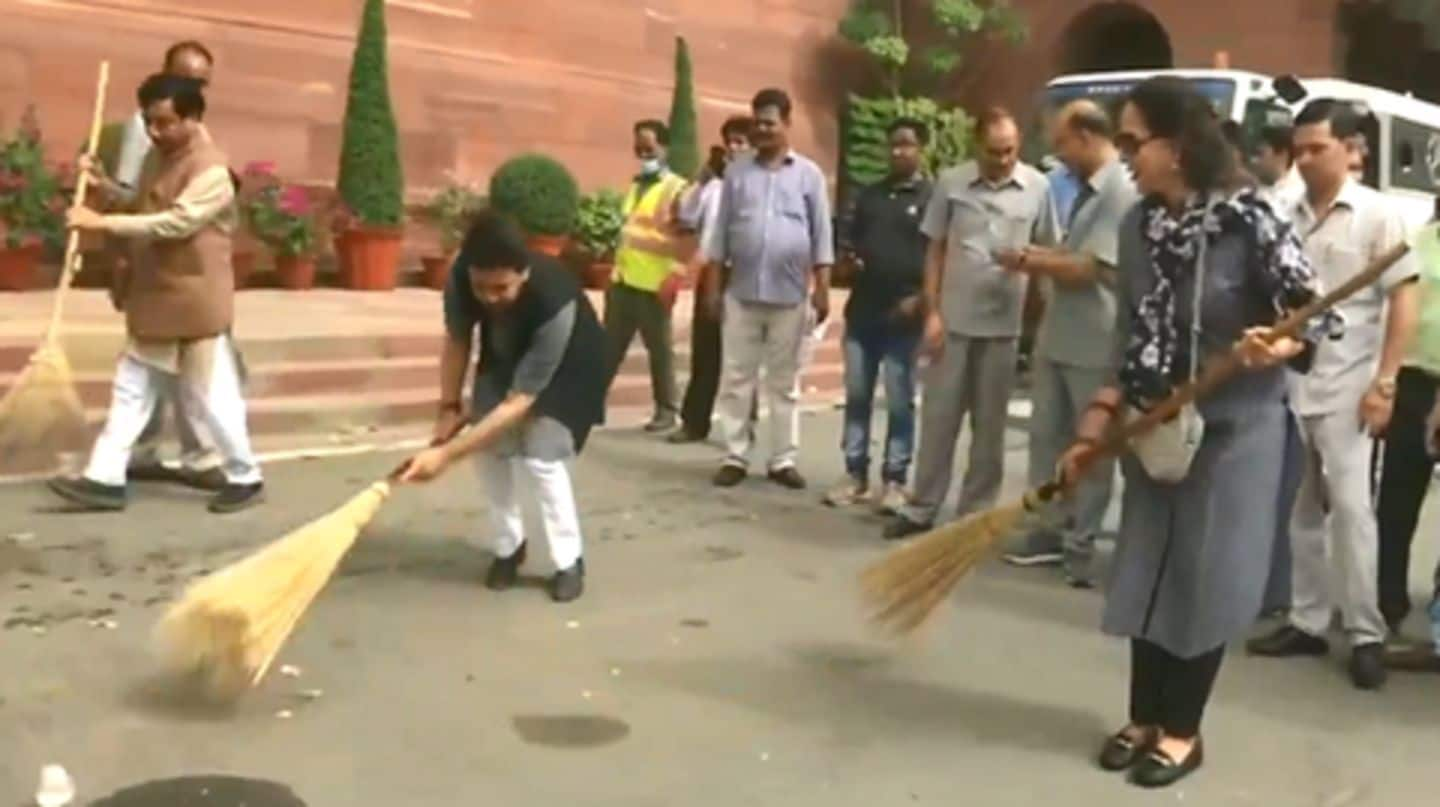 Actor-turned-politician Hema Malini was caught in a photo-op on Saturday, one which she was clearly unprepared for. The BJP MP from Mathura, accompanied by Minister of State for Finance Anurag Thakur, swept Parliament's streets. But the way she did the job unimpressed Twitter users. Most of them saw through her PR exercise and she, unsurprisingly, became the butt of jokes. Here's what went down.
Hema and Anurag participated in drive organized by LS Speaker
Wearing a grey kurta and black trousers, Hema picked up a broom to participate in Swachh Bharat Abhiyan. The cleanliness drive was organized by Lok Sabha speaker Om Birla. While Anurag got to work diligently, Hema showed she had no idea what to do with the item in her hands. She kept moving, rarely bent to sweep the floor, and was evidently uncomfortable.
Here is the video for you
Hema's peculiar way of cleaning piqued Twitter users' interest
After the video surfaced, Twitter users wasted no time in slamming and making fun of Hema. A user, who goes by the handle @RoflGandhi_ wrote: basanti chumbak se loha dhundh rahi hai (sic). Another user @aiyer_meera tweeted: What is the drama queen @dreamgirlhema doing ? Comes with full makeup, with a broom to a place where there is NO kachra (sic).
Are you cleaning air, asked another
The most genuine question to emerge from this scenario
She failed even by acting standards
Unfazed by criticism, Hema promised a similar drive in Mathura
While social media went abuzz with reactions and a memefest began, Hema appreciated Om Birla's initiative. "It is highly appreciable that the Speaker of the House took initiative to carry out 'Swachh Bharat Abhiyan' on the 150th birth anniversary of Mahatma Gandhi, in Parliament premises. I will go back to Mathura next week and carry out this Abhiyan there as well," she added.
Before cleaning streets, Hema 'harvested crops' and 'drove tractor'
Interestingly, Hema has a knack for landing in news for her actions. Before 2019 polls, she started her campaign by "harvesting crop" in Mathura. Her photos went viral, and Opposition termed it "nautanki". She was also seen driving a tractor, and posed for cameras showing a "victory sign". Throughout the election season, her antics kept everyone amused. Looks like they won't end anytime soon.