After week-long drama, HD Kumaraswamy takes oath as Karnataka CM
After week-long drama, HD Kumaraswamy takes oath as Karnataka CM
May 23, 2018, 04:39 pm
3 min read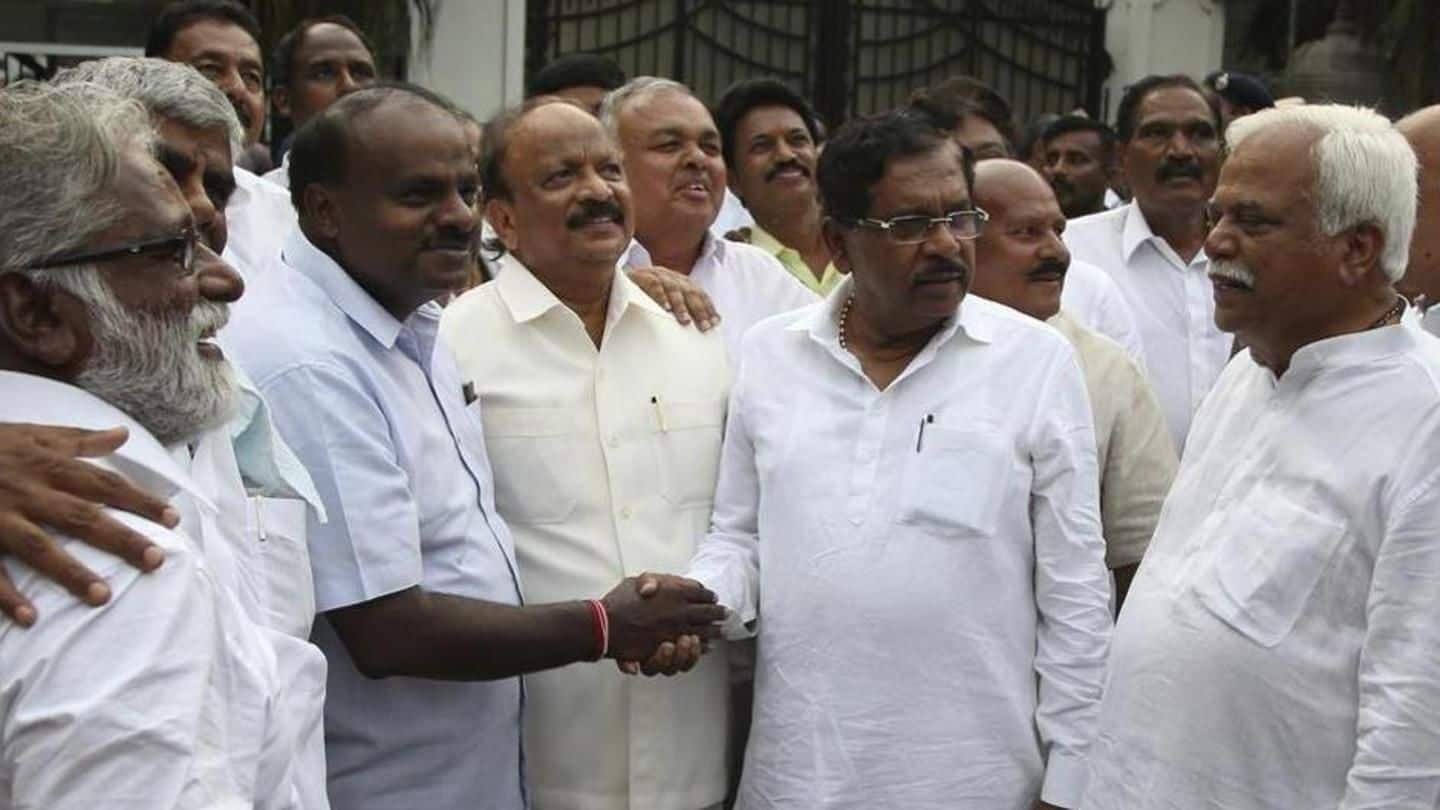 After eight days of political tussle, Karnataka got its second CM in a week today, with JD(S)' HD Kumaraswamy taking oath at the Vidhana Soudha. Congress' Dr G Parameshwara was sworn in as deputy CM. Though the coalition-partners have decided to assign Congress 22 positions and JD(S) 12, portfolios will be finalized on Friday, after a floor test tomorrow.
Celebrations outside Kumaraswamy's house
Coordination committee to be set up to ensure smooth functioning
Among the already-decided roles, the Speaker will be from Congress, which has nominated Ramesh Kumar, a former speaker, for the job. The yet-unnamed deputy speaker will be from JD(S). A coordination committee will be set up within a couple of days to ensure smooth functioning of the government. Meanwhile, BJP will be observing an 'Anti-People's Mandate Day' today to protest formation of the coalition.
Demands for ministerial berths based on caste and religion
Caste and religion are playing a dominant role, as several communities made demands for cabinet berths. The deputy CM post is being coveted by Shamanur Shivashankarappa, president of All India Veerashaiva Mahasabha; MB Patil, who led the Rashtriya Basava Sena's fight for separate status to Lingayats; and Roshan Baig, a Muslim Congress MLA. Many have been ferrying supporters from their constituencies to show strength.
A show of opposition unity at today's event
The oath-taking was a grand affair with several CMs in attendance, including Mamata Banerjee (WB), Chandrababu Naidu (AP), KCR (Telangana) and Arvind Kejriwal (Delhi). Top leaders of various parties will also be present, including Rahul Gandhi (Congress), Sitaram Yechury (CPI-M), Kamal Haasan (Makkal Needhi Maiam) and Omar Abdullah (NC). One-time rivals Akhilesh Yadav (SP) and Mayawati (BSP) were also in attendance.
The Congress-JD(S) government has its plates full
This coalition government has 117 members in the 234-member assembly, just five more than majority excluding the speaker. Though the intense jostling for berths was expected, the government's functioning and stability will depend on how efficiently demands of various sections of both partners are satisfied. Congress and JD(S) leaders are being kept at hotels, likely till the floor test, to prevent them defecting.
Alliance unholy, made with selfish motives: BJP leader
BJP leader Sadhvi Niranjan Jyoti called the Congress-JD(S) alliance "unholy" which has been formed with "selfish motives." "People of Karnataka gave the mandate for the BJP, which won 104 seats. The Congress-JD(S) alliance...will not last for long."
A week of political highs and lows for all parties
Congress (78 seats) and JD(S) (38) announced an alliance during counting of votes on May 15, as BJP shot past them to emerge the single largest party (104). But BJP's BS Yeddyurappa, who was sworn in as CM after an urgent midnight hearing in the SC, resigned minutes before a floor test on May 19. The Congress-JD(S) government will now have to prove majority.