#KarnatakaCrisis: Unwilling to meet Congress leaders, MLAs write to police
#KarnatakaCrisis: Unwilling to meet Congress leaders, MLAs write to police
Jul 15, 2019, 02:03 pm
3 min read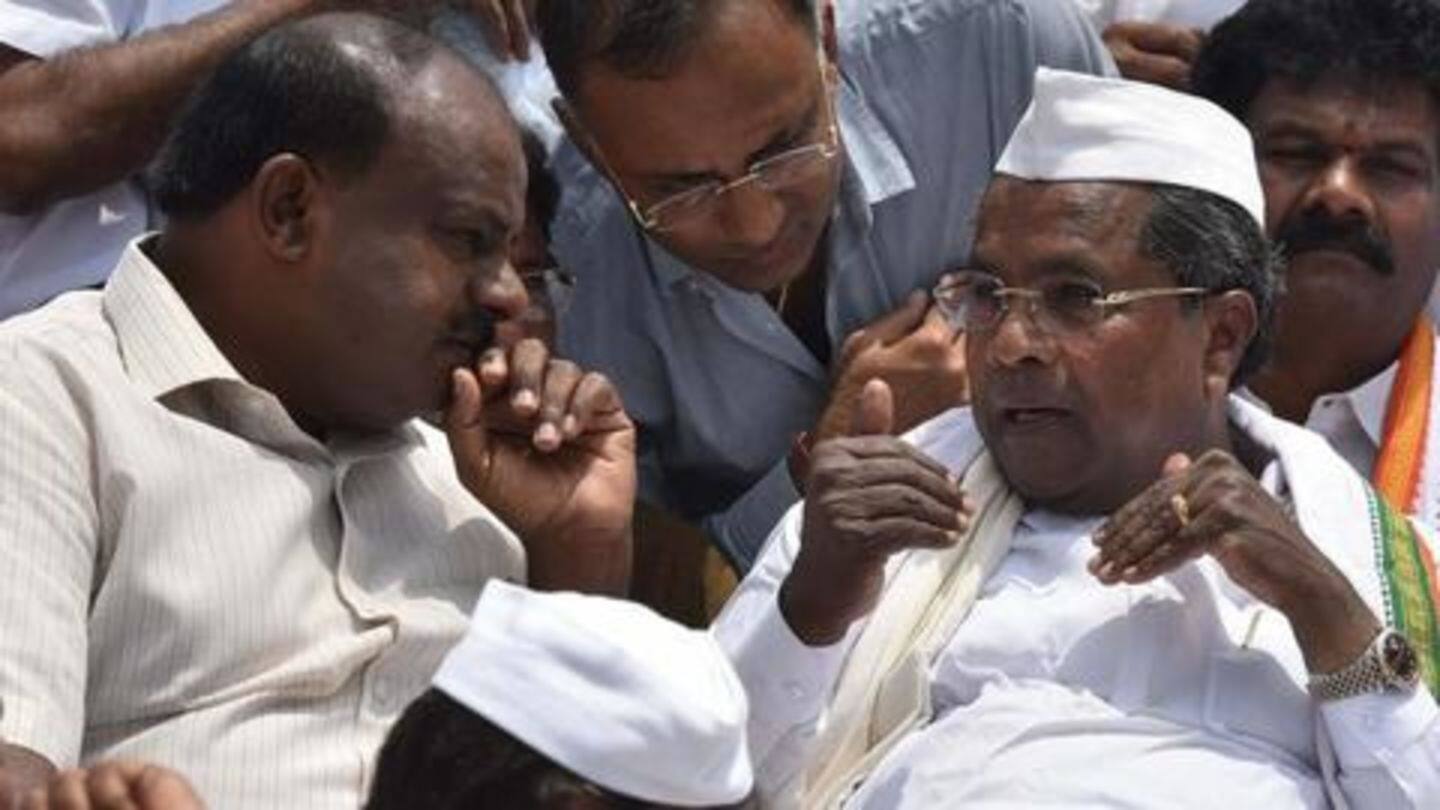 In a major embarrassment to Congress, fourteen rebel MLAs of Karnataka Assembly wrote a letter to Mumbai Police seeking protection from senior leaders who might meet them. After resigning from the state assembly, the lawmakers are staying at the Renaissance Hotel in Powai, Mumbai. Notably, Congress' leaders were expected to talk to them on Monday but it seems unlikely now. Here's what happened.
Context: Resignations of MLAs put Kumaraswamy's government 'on notice'
The over one-year-old Congress-JD(S) coalition, led by HD Kumaraswamy, came under threat after 18 lawmakers resigned. Speaker KR Ramesh didn't accept their resignations, prompting ten of them to approach Supreme Court. On Thursday, Ramesh had a word with the rebels to get clarity behind their move. He didn't decide on their resignations, and on Friday, SC gave him time till Tuesday.
We anticipate serious threat from them: Rebel MLAs
In the latest letter, the MLAs said, "We have absolutely no intentions in meeting Shri Mallikarjun Kharge ji or Ghulam Nabi Azad ji or any Congress dignitaries or functionaries from Maharashtra and Karnataka Congress team leader or any other political leader. We anticipate serious threat from them." According to reports, the disgruntled MLAs may even approach SC if Congress leaders try to meet them.
Here is the letter signed by 14 MLAs
Mumbai: 14 rebel K'taka MLAs write to Sr Police Inspector, Powai Police Station. Write '...we've absolutely no intentions in meeting Mallikarjun Kharge, GN Azad or any Congress dignitaries from MaharashtraK'taka or any political leader as we anticipate serious threat from them.' pic.twitter.com/RfI2Jt6d6D

— ANI (@ANI) July 14, 2019
Last week too, rebel MLAs sought 'protection' from Mumbai Police
This letter serves as a redux of a similar document which was sent last week. Rebel MLAs, who were adamant they don't want to meet anyone from Congress, sought protection from Mumbai Police. So when, DK Shivakumar, seen as Congress' problem-solver in Karnataka, went to Mumbai to meet his "friends" he was stopped. He spent hours outside the hotel before being detained.
Congress-JD(S) are finding it hard to keep flock together
Over the weekend, Congress-JD(S) made frantic attempts to convince leaders. Housing Minister MTB Nagaraj had a discussion, lasting hours, with senior leaders, but afterwards, he jetted off to Mumbai, hinting that negotiations won't be easy. "Yesterday I said that if Sudhakar (another rebel MLA) takes back his resignation, I will do too. Now there is no question of taking back the resignation," he said.
Soon, Kumaraswamy may have to prove majority in House
Left in the lurch by his aides, Kumaraswamy said he is ready to face a trust vote. The test could happen on Wednesday, a day after Ramesh decides on resignations. But BJP, which sits in the Opposition, isn't ready to wait. "We stand by our demand of floor test. Behavior of Assembly speaker and CM HDK is highly uncalled for and unacceptable," said Parliamentary Affairs minister Prahlad Joshi.
Meanwhile, Yeddyurappa is confident BJP will "serve people"
Meanwhile, former CM BS Yeddyurappa, accused by Congress of engineering the crisis, said BJP will get a chance to serve people. "More than 15 MLAs have resigned so the Chief Minister does not have a majority. Let him resign immediately or schedule a trust vote on Monday to prove his majority," Yeddyurappa said. To recall, BJP emerged as a single-largest party after 2018 assembly polls.