After quitting Punjab Cabinet, Sidhu gets support from Shatrughan Sinha
After quitting Punjab Cabinet, Sidhu gets support from Shatrughan Sinha
Jul 15, 2019, 11:37 am
3 min read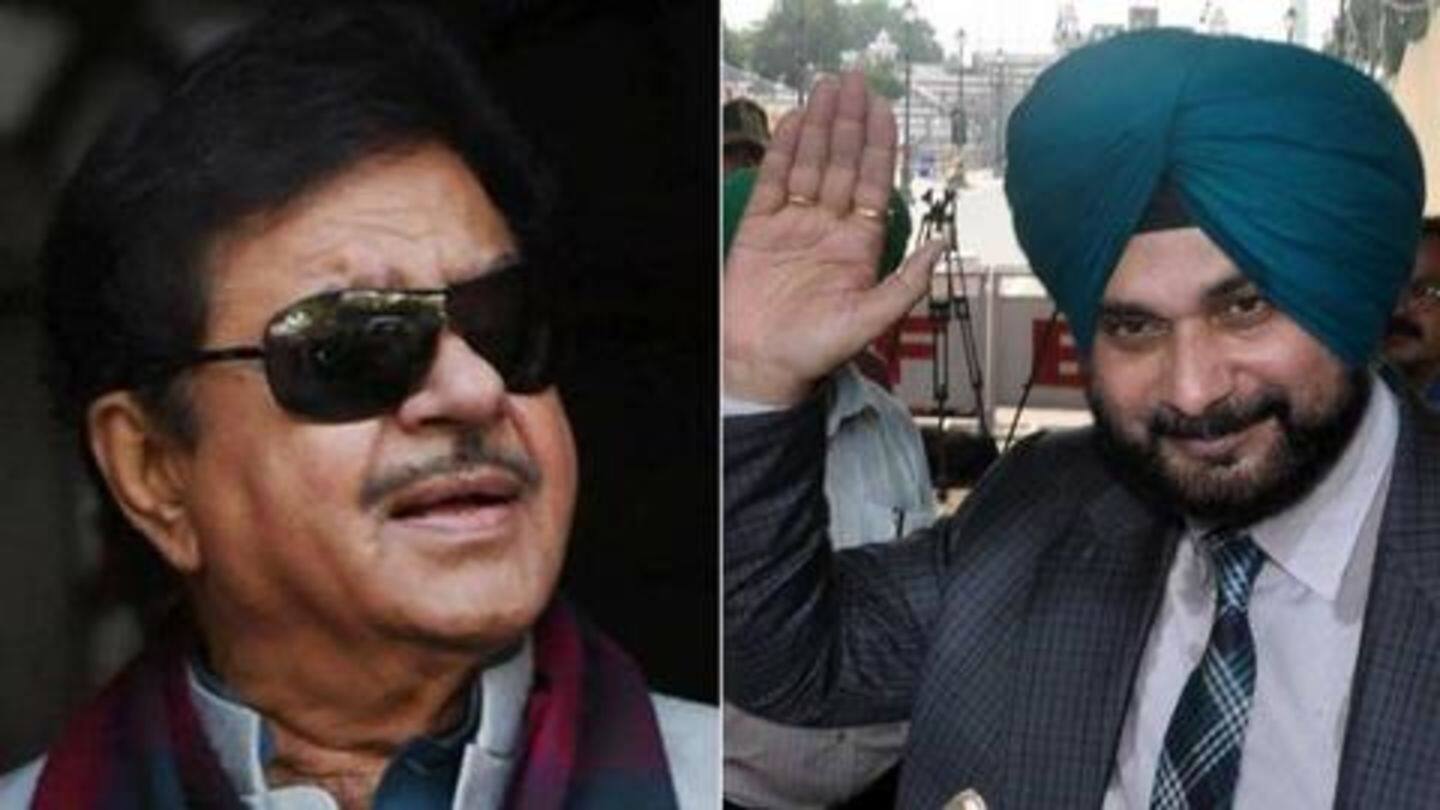 Navjot Singh Sidhu, who resigned from Punjab Cabinet, found support from his party colleague Shatrughan Sinha with the latter saying he was "appalled" by the decision. The cricketer-turned-politician sent his resignation letter to former Congress President Rahul Gandhi on June 10 and tweeted it on Sunday. Reacting on the resignation, Congress leader Sinha said Sidhu is a "supremely talented and popular sportsman/politician". Here's more.
Backstory: Sidhu and Captain have been at loggerheads for long
To recall, Sidhu has been at loggerheads with Punjab CM Captain Amarinder Singh after he attended the swearing-in ceremony of Pakistan's Prime Minister Imran Khan, and also hugged Army Chief Qamar Javed Bajwa. While the CM didn't approve of Sidhu's actions, the latter didn't care. Sidhu said only "Rahul was his captain". The tiff deepened after Congress performed poorly in areas where Sidhu campaigned.
Interestingly, Sidhu didn't send his resignation to Captain
Interestingly, Sidhu sent his resignation letter to Rahul and not Punjab's Governor or CM. Almost 30 minutes after his initial tweet, he posted, "Will be sending my resignation to the Chief Minister, Punjab." Sinha was among the first ones to react on Sidhu's step. In an apparent reference to his feud with Captain, Sinha said remedial measures should be sought.
Can't question decision but hope for remedial measures: Sinha
While we cannot question his decision, one would certainly hope and pray for remedial measures soon towards resolving this unfortunate move....Jai Hind!

— Shatrughan Sinha (@ShatruganSinha) July 14, 2019
To note, both Sidhu and Sinha left BJP for Congress
It doesn't miss one's attention that both Sidhu and Sinha were with BJP, before joining Congress. Sidhu quit BJP in September 2016, briefly flirted with the idea of joining AAP, and finally switched over to Congress in January 2017. Meanwhile, Sinha, who was quite vocal about his criticism for PM Narendra Modi, joined Congress before 2019 elections. He contested and lost from Patna Sahib.
Separately, BJP said Sidhu's resignation is Congress' internal matter
Meanwhile, BJP's Nalin Kohli said Sidhu's resignation was Congress' internal matter. But he pointed out that Sidhu's statements have been "problematic". "Sidhu was showing distrust on our Army. If Navjot Singh Sidhu has resigned, the reason should have been asked from the Congress party," he reportedly said. Kohli added Sidhu "almost" started speaking the language of Pakistan and questioned Indian armed forces.
While Indians suffered, Sidhu hugged Pak Army Chief, said Kohli
"When he went to attend the function in Pakistan, he was seen hugging Pakistan Army chief at a point when Indian people and those who suffered atrocities on the border were certainly pained about it. BJP has consistently asked questions," Kohli went on.
Meanwhile, SAD said Sidhu is just seeking attention
On the other hand, Akali Dal saw nothing but drama in Sidhu's resignation. SAD leader Maheshinder Singh said, "He should have given his resignation to the governor or the chief minister. He sent his resignation to Rahul Gandhi. It is just an attempt to seek attention. The circumstances he has created it is is clear that he cannot be in Amarinder Singh's Cabinet."