Rebel BJP leader Shatrughan Sinha joins Congress, speaks against Modi
Rebel BJP leader Shatrughan Sinha joins Congress, speaks against Modi
Apr 06, 2019, 01:49 pm
3 min read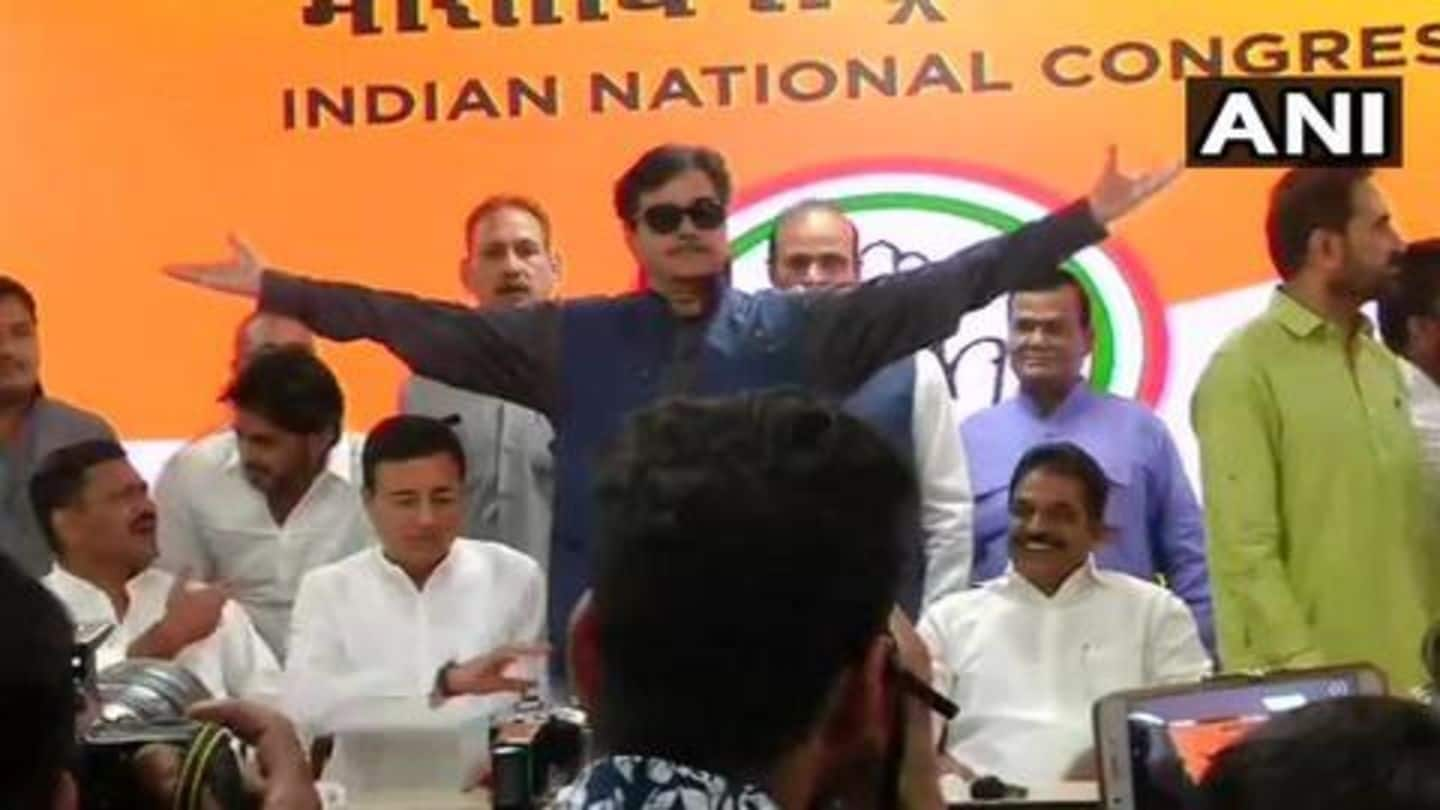 Disgruntled BJP leader Shatrughan Sinha joined Congress on Saturday, ahead of crucial Lok Sabha elections. A few weeks ago, Sinha wasn't given a ticket from Patna Sahib and BJP fielded Union Minister Ravi Shankar Prasad instead. But Sinha had clarified he won't change the constituency. So, Congress gave him a ticket from Patna Sahib and he would now lock horns with Prasad.
Sinha, an admirer of PM Modi, strayed far away
The actor-turned-politician has been associated with BJP since the 1990s. Always a staunch supporter of BJP's ideologies, Sinha even called Prime Minister Narendra Modi "charismatic" when he was elected. But with time, Sinha turned into a rebel, questioning PM Modi's policies and party president Amit Shah's tactics. He didn't mince his words while praising Congress president Rahul Gandhi and other Opposition leaders.
Sinha attended Mamata Banerjee's show of strength in Kolkata
While BJP kept up with Sinha's open criticism for long, his presence at the Opposition rally in Kolkata in January served as the final nail in the coffin. Sharing the stage with leaders like Mamata Banerjee, Sharad Pawar, Akhilesh Yadav, and Chandrababu Naidu, Sinha said this was the biggest show of Opposition strength. He also berated the "dictatorship" in BJP.
Sinha fished for opportunities, Congress gave him a ticket
It became obvious BJP would not give a ticket to Sinha. The politician also left all hopes and started meeting other leaders. He asked PM Modi to come clean on his "jumlas", met RJD Chief Lalu Prasad Yadav, and said Congress has served India for long. In the Congress-RJD alliance in Bihar, the grand old party got Patna Sahib and Sinha received a ticket.
Sinha remembered Vajpayee and Advani in tweets
Before he formally joined Congress, Sinha took to Twitter to bid adieu to BJP. Interestingly, April 6 marks the foundation day of BJP. In a series of tweets, Sinha said the party was built by Atal Bihari Vajpayee and LK Advani but some turned Lok Sabha into "dictatorship". He said differences with some people left him with no choice but to leave BJP.
Sinha left BJP on party's foundation day
to the expectations, to those who are responsible for the injustice and for turning Lok Shahi into Tana Shahi. I forgive and forget at this juncture. The differences I have with some of the present people and policies of the party, leave me with no option but to part ways with it

— Shatrughan Sinha (@ShatruganSinha) April 6, 2019
Sinha explained difference between present and past
Speaking to the press, Sinha said ministers can't work freely in BJP. "In the one-man show, two-man army, everything happens from Prime Minister's Office. We have seen how democracy turned into autocracy," he said. Sinha added his dissent stemmed from his patriotism and he didn't want anything from BJP. He said conversation within party ranks was always encouraged, but it has changed now.
Margdarshak Mandal never held a meeting: Sinha
"Advani ji was sent to Margdarshak Mandal which hasn't held even a single meeting so far. They did the same to Jaswant Singh, Yashwant Sinha... I was even told that I have been a critic and that I will not be given a cabinet post," Sinha said.
Demonetization was a scam, GST benefited CAs, said Sinha
Sinha agreed with Rahul that demonetization was the biggest scam ever. He said no one was consulted. The former BJP MP said demonetization impacted women of household who had hidden money from their husbands for an emergency. He reminded PM Modi's mother also stood in queues. He added an ill-implemented GST after demonetization hurt economy. "Only CAs benefited from GST," Sinha said.
Watch: New joinee Sinha mistook Congress for BJP
#WATCH: Shatrughan Sinha after joining Congress says, 'Shakti Singh Gohil ji (Bihar Congress In-charge) has been backbone of BJP in Bihar and in Gujarat,' corrects himself later. pic.twitter.com/ktaMjkkgSW

— ANI (@ANI) April 6, 2019