Exit polls predict Modi 2.0 but Congress promises a 'surprise'
Exit polls predict Modi 2.0 but Congress promises a 'surprise'
May 22, 2019, 05:18 pm
3 min read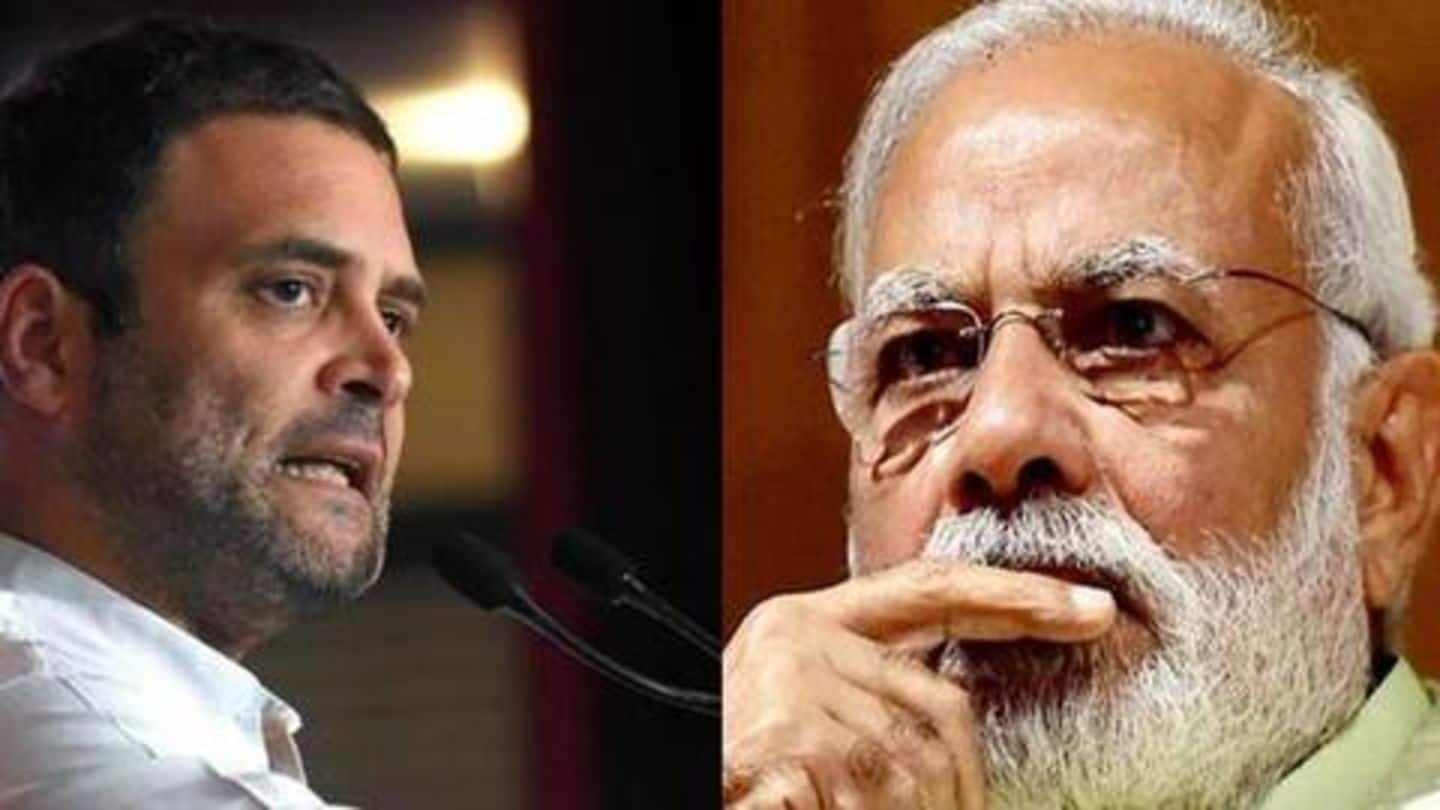 The 2019 general elections concluded on Sunday after long-drawn seven phases and soon pollsters and TV news channels released exit polls. The general consensus of all exit polls was that BJP-led NDA will comfortably form the next government and Congress will be defeated. Despite the prediction, Congress asked people to wait for May 23 and promised it will surprise everyone. Here's more.
Congress' performance will improve but it won't be enough
Exit polls give an idea about what could be the possible outcome of elections. For this, agencies speak to voters after they get inked. Assuming that the voters reveal their true choice, pollsters form their opinion. On Sunday, most experts claimed that NDA will cross the majority mark of 272. Congress and its allies may get 122 out of 543 seats.
Congress leaders maintained May 23 will be different
Though data painted a bleak picture for Congress, the leaders remained hopeful. Party spokesperson Rajeev Gowda said, "Let us wait for May 23, the results will be sufficiently different. We will surprise you. Fear is the key so a lot of people are hesitant to reveal their true choice." Similarly, PC Chacko said several possibilities will come up on May 23.
Separately, Pramod Tiwari claimed polls are 'designed' to benefit Modi
Echoing the same thoughts, Congress leader Pramod Tiwari claimed the polls are designed to promote Modi government. "We do not know from where the pollsters have got these figures. We have traveled extensively during elections and the ground realities are different," Tiwari added. He reminded that exit polls have gone horribly wrong in the past, and it is better to wait.
How can these exit polls be accurate, asked Captain
"With so much experience, even if I go around Punjab to gauge the voter swing, I would not be able to do it with complete accuracy. So how can these exit polls be accurate?" asked Punjab Chief Minister Captain Amarinder Singh.
Meanwhile, Mamata Banerjee claimed EVMs could be replaced
Notably, Congress leaders weren't the only one who dismissed exit polls. Trinamool Chief Mamata Banerjee tweeted, "The game plan is to manipulate or replace thousands of EVMs through this gossip. I appeal to all Opposition parties to be united, strong and bold." As per exit polls, Trinamool's count in West Bengal will shrink and it might win 19-23 out of 42 seats.
Derek O'Brein thought attacking media is the best way forward
Have 'Delhi media' who masquerade as 'national media' lost their credentials and credibility? So-called Exit Polls will only confuse. We await the verdict of the people. Modi ji had called the number 300+ even before Phase 7. Are these numbers to match that? EVM manipulation?

— Derek O'Brien | ডেরেক ও'ব্রায়েন (@derekobrienmp) May 19, 2019
As per exit polls, Congress needs a reboot
If exit polls turn out to be true, then Congress has a lot to introspect. According to Sunday's data, the grand old party will lose massively in Hindi heartland states of Chhattisgarh, Madhya Pradesh, and Rajasthan, which it won in December assembly polls. The polls have also predicted that Congress and its allies won't stop BJP's tsunami in Bihar and Jharkhand.