#ExitPoll2019: Narendra Modi will return as PM, predict political experts
#ExitPoll2019: Narendra Modi will return as PM, predict political experts
May 22, 2019, 05:18 pm
6 min read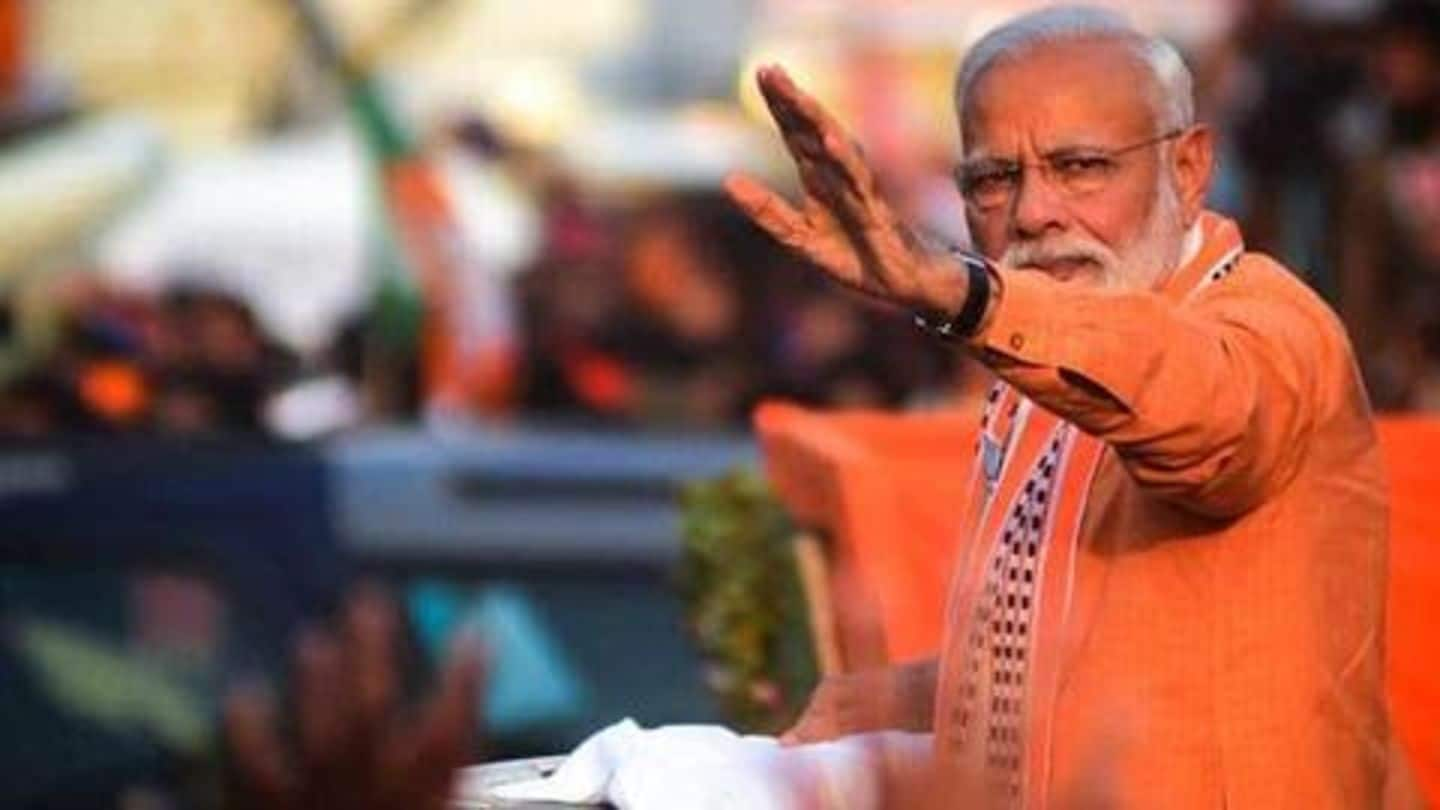 The exit polls of 2019 general elections are bound to make Prime Minister Narendra Modi happy, as most of them have predicted that he will take office again on May 23, when final results will be declared. As per Jan Ki Baat, NDA led by BJP, will get 305 seats, while CVoter said NDA will get 287 seats. Here are the details.
Like 2014, BJP will win all seats in Delhi
According to India TV, BJP will win all seven Lok Sabha seats of Delhi. In 2014 elections as well, the saffron party swept Delhi. Arvind Kejriwal's AAP tried to form an alliance with Congress to ensure anti-BJP votes aren't divided, but the talks didn't materialize. In the absence of a coalition, Delhi witnessed a three-cornered fight and looks like BJP benefited from it.
BJP will sail smoothly in Karnataka
BJP might have failed to form government in Karnataka in 2018, despite being the single largest party, but the party will lead on May 23, two regional channels predicted. Karnataka has 28 Lok Sabha seats and BJP will win 18-20 seats, predicted Suvarna News channel. The Congress-JD(S) alliance will win only 7-10 seats. Separately, TV9 Kannada predicted 18 seats for BJP.
Shiv Sena and BJP will win Maharashtra, said India Today
In Maharashtra, Shiv Sena-BJP alliance will see a redux of 2014, predicted India Today. The Western state has 48 Lok Sabha seats and the coalition of the Hindu parties is expected to win 38-42 seats. Meanwhile, the Congress-NCP alliance will win just 6-10 seats.
Jagan Reddy will emerge as big winner on May 23
Andhra Pradesh has 25 Lok Sabha seats and it looks like the citizens have showered love on Jagan Reddy. YSR Congress is expected to win 13-14 seats, said News 18. Chandrababu Naidu's TDP will win 10-12 seats. The channel predicted that Congress and BJP might draw blank in the coastal state. This also means that Naidu might not return as Chief Minister.
BJP will lose seats in UP, but won't be defeated
The most populous state of India, Uttar Pradesh, scripted history in 2014. BJP won 71 out of the 80 seats, but that won't happen again. As per pollsters, BJP and its ally Apna Dal will win 46 seats in UP, whereas the grand alliance of SP and BSP will win 32 seats. Congress + JAP will manage to get only two seats.
Despite assembly wins, Congress will lose Rajasthan and Chhattisgarh
Rajasthan has 25 Lok Sabha seats and in 2014 all constituencies chose BJP. If India Today is to be believed, the same will happen on May 23, causing major embarrassment to Ashok Gehlot, who became the CM in December. BJP is expected to win 23-25 seats in Rajasthan and Congress might win 0-2. Separately, in Chhattisgarh, BJP might win 7-8 out of 11 seats.
Under Captain, Congress will win Punjab; BJP will keep Chandigarh
Punjab has 13 Lok Sabha seats and Congress will take the lead by winning 8-9 seats. Meanwhile, SAD-BJP will win 3-5 seats. Is this because citizens are still angry with the Akalis? Perhaps yes. Chandigarh will vote for BJP, said India Today. Out of 10 Lok Sabha seats in Haryana, BJP will bag 8-10 seats, and Congress will settle for 0-2.
MP and Gujarat will be painted saffron again
Madhya Pradesh, which has 29 Lok Sabha seats, will send BJP leaders to Lok Sabha in 2019, predicted India Today. BJP is expected to win 26-28 seats, while Congress will be reduced to 1-3 seats. In Gujarat, BJP will win 25-26 out of the 26 seats. It will be worth seeing which seat of PM Modi's home state didn't vote for him.
After heavy campaign, Bengal may have chosen BJP
BJP's mission Bengal seems to have paid off as India Today predicted that it will win 19-23 out of 42 Lok Sabha seats. Trinamool will get an equal number while Left will not open its account in its former bastion. This is particularly important for BJP as it had been fighting tooth and nail against Mamata Banerjee's party. However, Banerjee dismissed all exit polls.
Banerjee asked Opposition parties to 'stay united'
I don't trust Exit Poll gossip. The game plan is to manipulate or replace thousands of EVMs through this gossip. I appeal to all Opposition parties to be united, strong and bold. We will fight this battle together

— Mamata Banerjee (@MamataOfficial) May 19, 2019
BJP will gain ground in northern states; Mufti might lose
Both Himachal Pradesh and Uttarakhand have sizeable Hindu voters, and BJP struck a chord with them. BJP is expected to win all seats in Himachal Pradesh and Uttarakhand. Surprisingly, BJP might emerge as the largest party in J&K. As per India Today, out of 6 Lok Sabha seats, both NC and BJP will win 2-3 seats. Mehbooba Mufti's PDP will see a tough time.
BJP is not an option for voters down South
Despite allying with many parties, NDA might not make a dent in Tamil Nadu. As per India Today, all 39 seats of Tamil Nadu will go to DMK, which joined hands with Congress. Similarly, in Kerala, Congress-led UDF will emerge as the winner. UDF is expected to win 15-16 seats, and LDD will win 3-5 seats. Kerala has 20 Lok Sabha seats.
BJP will win both Lok Sabha seats in Goa
Whether it is a sympathy vote for deceased CM Manohar Parrikar, or Modi factor at play, but both ways BJP will be showered with love in Goa on May 23. Most exit polls said BJP will win both Lok Sabha seats in Goa.
Grand alliance might bite dust in Bihar and Jharkhand
If India Today's exit polls are anything to go by, BJP will sweep Bihar by winning 38-40 out of 40 Lok Sabha seats. The gathbandhan of Congress-RJD might taste the biggest defeat of 2019. Bihar's neighboring state Jharkhand has 14 Lok Sabha seats. Some exit polls predicted that BJP-AJSU combine will win 9 seats whereas Congress and JMM will win 5.
In Odisha, BJP will win Lok Sabha, BJD assembly polls
Odisha will witness a neck-to-neck fight between BJP and BJD. The state, which was ravaged by Cyclone Fani earlier this month, has 21 Lok Sabha seats. According to India Today, BJP will win 15-19 seats. Meanwhile, BJD led by Naveen Patnaik will win 2-6 seats. However, Naveen Babu is expected to win assembly polls and will return as Chief Minister.
BJP might scoop decent number of seats in Northeast
Out of Assam's 14 Lok Sabha seats, BJP will win 12-14, while Congress might not win even one. This could happen despite prevalent anger in the Northeast against Citizenship (Amendment) Bill and confusion over NRC. BJP is also expected to win both seats in Arunachal Pradesh. Northeast states have 25 Lok Sabha seats and BJP will win 17-19, while Congress might win 4-6.