Modi proposed BJP-NCP alliance in Maharashtra, claims Sharad Pawar
Modi proposed BJP-NCP alliance in Maharashtra, claims Sharad Pawar
Dec 03, 2019, 12:10 pm
3 min read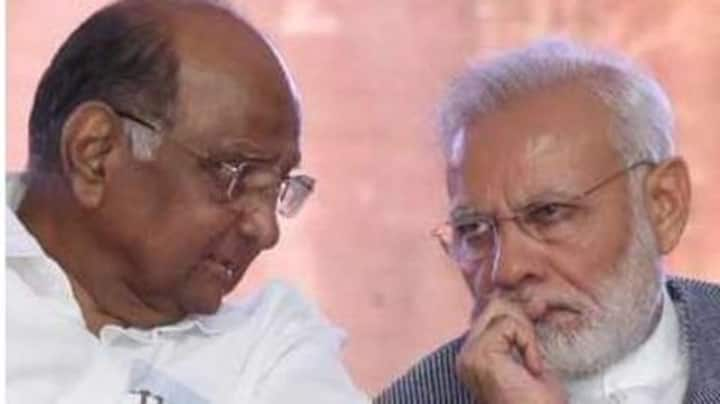 With the Maharashtra political drama settled, Nationalist Congress Party chief Sharad Pawar said that Prime Minister Narendra Modi had proposed "working together." Pawar said that the PM had offered a Cabinet position to his daughter, MP Supriya Sule, in exchange for the NCP's support to the Bharatiya Janata Party (BJP) in Maharashtra. However, he refused. Here's more on what he said.
Modi proposed BJP-NCP alliance after November 20 meet with Pawar
In an interview with Marathi channel ABP Majha, telecast Monday, Pawar said that Modi called him back after the two held a meeting in the Parliament on November 20 over the agrarian crisis in Maharashtra. The meeting had raised suspicions of a possible BJP-NCP alliance. After their discussion was over, Modi told him, "I will be happy if we work together," Pawar claimed.
Political alliance not convenient for me, Pawar told Modi
"I rejected the offer, saying 'our personal relations are excellent and in future too they will be excellent, but politically it's not convenient for me,'" The Times of India quoted Pawar as saying. Dismissing rumors that Modi offered him the President's post, Pawar added, "But there surely was an offer to make Supriya (Sule) a minister in the Modi-led Cabinet."
'I permitted Ajit to meet Fadnavis'
Pawar also spoke about his nephew, Ajit Pawar, joining hands with the BJP against party wishes. Pawar said Ajit's decision caught him by surprise. The NCP supremo said, "Ajit had told me Fadnavis had expressed a desire to talk to him, and I permitted him to meet Fadnavis. So Fadnavis made him an offer to form the government with NCP."
Ajit urged BJP to form government immediately, claims Pawar
Pawar added that Ajit then used the signatures of all party legislators, which he had access to as party legislature leader, to form the government with BJP's Devendra Fadnavis as CM. Ajit urged that the government should be formed immediately, Pawar said. Hence, Fadnavis and Pawar were sworn-in as CM and Deputy CM respectively on November 23. However, both resigned on November 26.
'Promised Uddhav Thackeray I would crush the rebellion'
"When I came to know about Ajit's support, I first contacted (Uddhav) Thackeray. I told him what happened wasn't right and promised I would crush the rebellion," Economic Times quoted him as saying, adding that without his support, NCP MLAs supporting Ajit felt pressured.
Took long time to convince Sonia Gandhi, said Pawar
Further, Pawar spoke about the Shiv Sena-NCP-Congress alliance, 'Maha Vikas Aghadi', and nominating Sena chief Uddhav Thackeray for the post of CM. He said it took a long time for Congress interim President Sonia Gandhi to agree to an alliance with ideologically opposite Shiv Sena. He reminded her that Sena founder Bal Thackeray had supported former PM Indira Gandhi during the Emergency.
'Thackeray was unwilling; convinced him to become CM'
Revealing that Thackeray was initially reluctant to become CM, Pawar said, "I convinced Uddhav it would be a stable government only if he becomes CM. Ultimately, he accepted." Denying that Pawar would "remote-control" the government, he added "Uddhav will head the government, he comes with the rich experience of BMC."
Thackeray sworn-in as Maharashtra CM on November 28
To recall, Thackeray was sworn-in as Maharashtra CM on November 28. Two days later, the Thackeray-led Maha Vikas Aghadi government also passed the floor test in the Maharashtra Assembly with 169 votes. Pawar said that not swearing-in Ajit was a "conscious decision."