Who all will be part of Narendra Modi's new cabinet?
Who all will be part of Narendra Modi's new cabinet?
May 29, 2019, 09:54 am
3 min read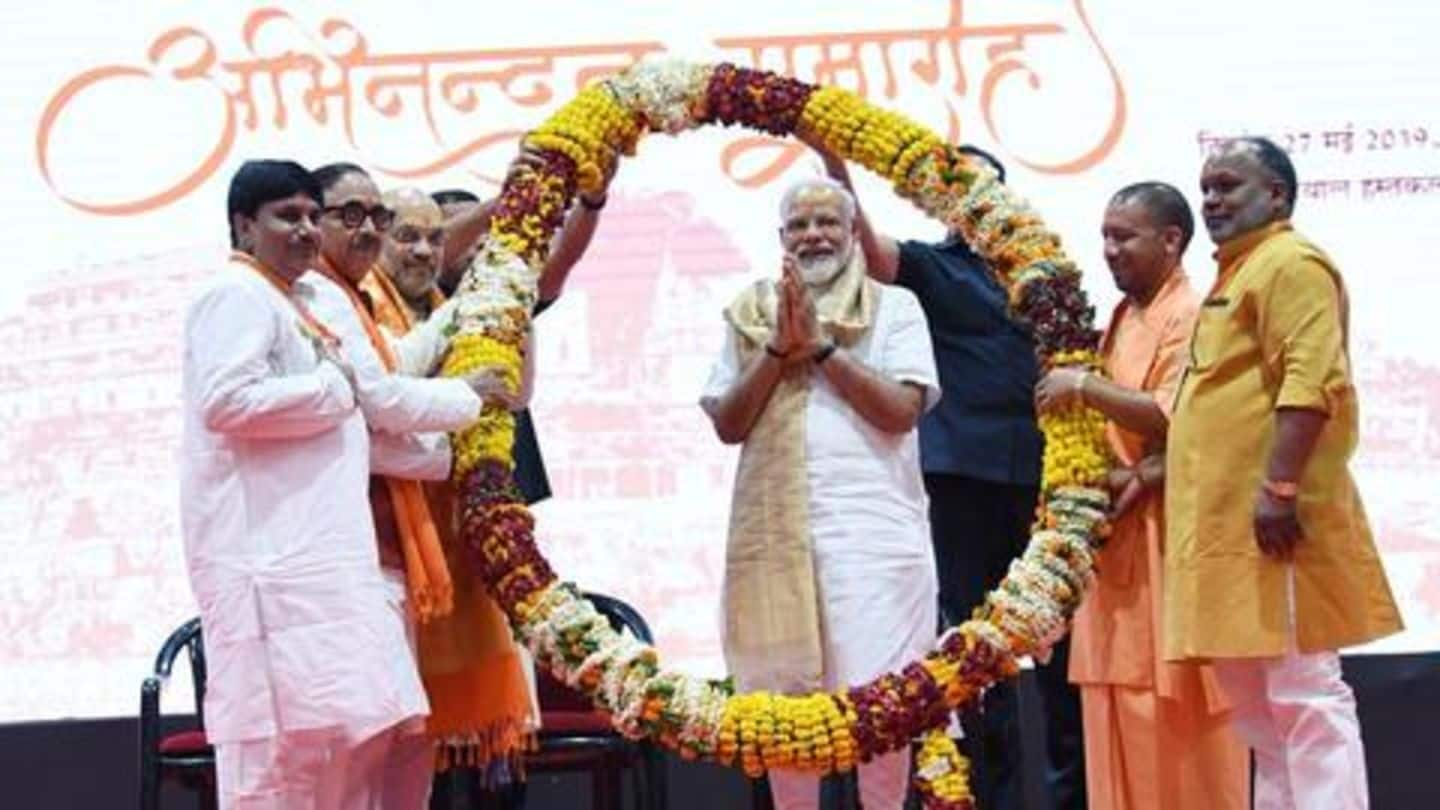 Narendra Modi will take oath as Prime Minister for the second time on Thursday, May 30, exactly a week after he led Bharatiya Janata Party (BJP) to a spectacular win in Lok Sabha polls. Along with him, his new cabinet will also be sworn-in. Political circles have been talking about the new cabinet. Here's taking a look at who might make the cut.
Shah and Modi discussed new cabinet for hours
On Tuesday, BJP President Amit Shah met Modi and both the leaders spoke for nearly four hours about the new cabinet. Reportedly, ministers who are likely to take oath along with Modi will start receiving calls from him on Wednesday evening. The members of NDA 2.0 will take oath between 7 to 8:30 PM at Rashtrapati Bhavan, added reports.
BJP's policy might stop Shah from continuing as party president
The biggest question which has taken over political corridors is this: Will Shah be a part of the cabinet? Shah, who won from Gandhinagar seat, could become Home Minister, speculations suggested earlier. Since BJP follows "one man, one post" policy, Shah will have to leave the party's position if he joins the cabinet. Notably, some BJP leaders opined this might not be a good idea.
Will JP Nadda become BJP's new president?
There have been talks in BJP ranks that Shah should remain at the helm of affairs as elections will soon be held in Jharkhand, Maharashtra, and Haryana; and later in West Bengal and Delhi. In case Shah joins the cabinet, a new president will be appointed. Names of JP Nadda, Dharmendra Pradhan, and the party's national general secretary, Bhupendra Yadav, are doing the rounds.
Many old faces will return, Jaitley could lose finance
Meanwhile, reports suggest the new cabinet will reflect BJP's rise in states like Bengal and Telangana. Arun Jaitley might not get the finance ministry this time, owing to his poor health. Senior ministers like Rajnath Singh, Nitin Gadkari, Nirmala Sitharaman, Ravi Shankar Prasad, Piyush Goyal, Narendra Singh Tomar, and Prakash Javadekar, are expected to be seen in the new cabinet too.
Shiv Sena, JD(U) will get two berths each, suggest reports
Though BJP doesn't need allies to run the Centre, it isn't leaving its friends behind. As per reports, both Shiv Sena and JD(U) are expected to get two berths- one cabinet and one MoS. Meanwhile, LJP and SAD may get one berth each. AIADMK, which is BJP's key ally in Tamil Nadu, won only one seat but it might also be accommodated in the cabinet.
Opposition leaders have been invited, Mamata said she will go
For the grand swearing-in ceremony, invitations have been sent to opposition leaders. On Tuesday, Trinamool Chief Mamata Banerjee said she will attend the ceremony. "I have spoken to other Chief Ministers also," she said. Notably, chief ministers of Congress-ruled states, Karnataka, Madhya Pradesh, Chhattisgarh, Rajasthan, and Punjab have also been invited. But the leaders are yet to take a decision.