PM Modi defends terror-accused Sadhvi Pragya's candidature from Bhopal
PM Modi defends terror-accused Sadhvi Pragya's candidature from Bhopal
Apr 20, 2019, 01:06 pm
3 min read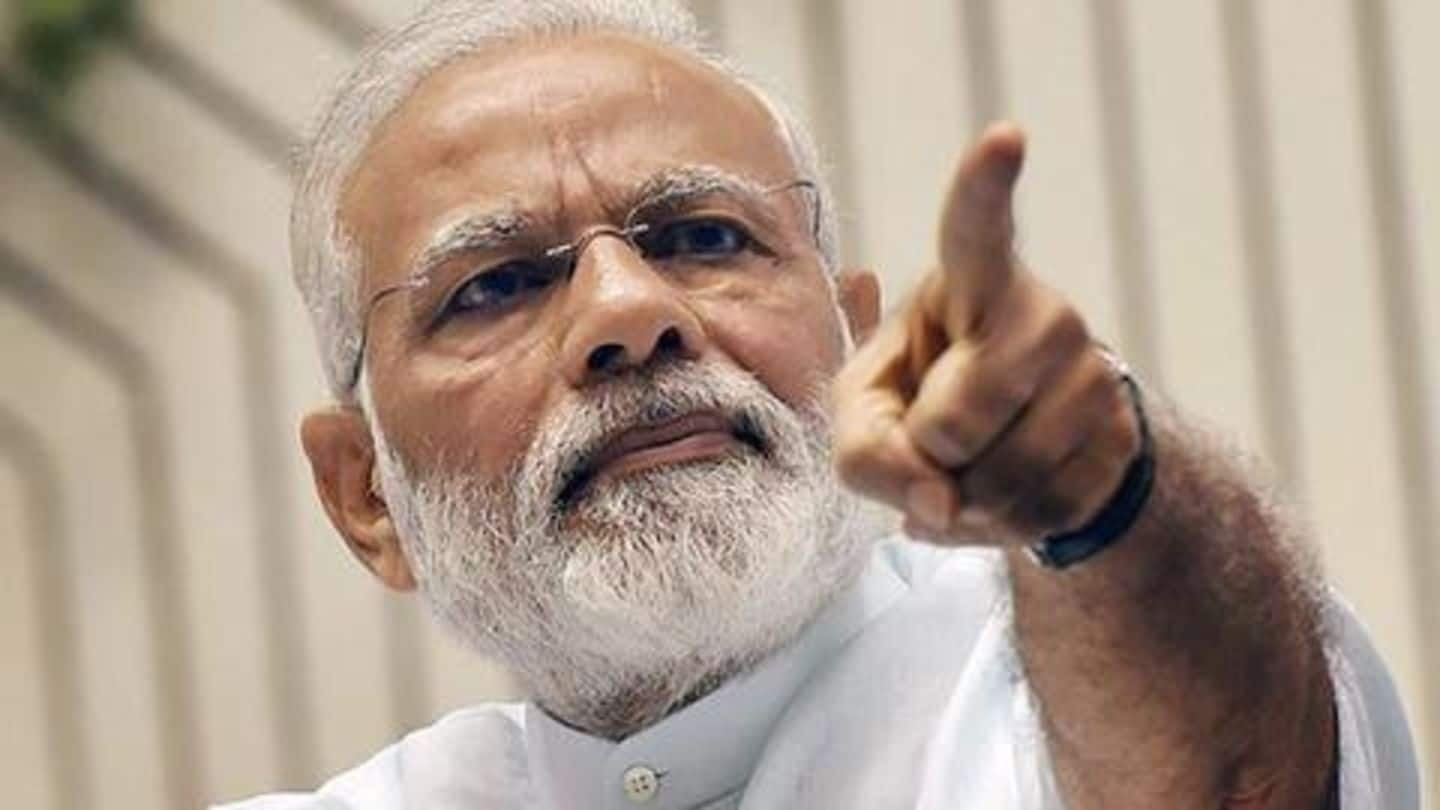 On Friday, Prime Minister Narendra Modi defended BJP's decision to field Malegaon blast case accused Sadhvi Pragya from Bhopal and said this will cost Congress dearly. Speaking to news channel Times Now, PM Modi said her candidature was a reply to those who linked Hindu civilization to terrorism. Pragya will take on Congress stalwart Digvijaya Singh in the Madhya Pradesh capital. Here's more.
Pragya spent nine years in jail on terror charges
Earlier this week, Pragya formally joined BJP and was immediately given a ticket from Bhopal. An accused in Malegaon blast case, in which five people died and 100 were injured, Pragya was arrested in 2008. She was granted bail on health grounds in April 2017. After she was given a ticket, she said she was ready to fight this 'religious battle'.
PM Modi didn't find anything absurd in Pragya's candidature
Pragya's candidature started several conversations. Many opined that by fielding her, BJP has shown it is heavily relying on Hindutva this time. But PM Modi remained unfazed by the criticism and said she was given a ticket after much thought. He said Congress worked with certain "modus operandi" to create false narratives on incidents like Samjhauta Express blast and judge BH Loya's death.
Those who promoted 'Vasudhaiva Kutumbakam' were labeled terrorists, said PM
"A civilization that promoted the idea of Vasudhaiva Kutumbakam for the last 5,000 years was branded as terrorists by some. Sadhvi Pragya's candidature from Bhopal is a symbol to answer all this and this symbol will prove costly to Congress," he said.
PM Modi spoke about Pragya's torture in prison
Referring to Pragya's stay in jail, PM Modi said, "One woman, that too a 'sadhvi', was humiliated in such a manner". He added that the Samjhauta Express case verdict also showed that Hindu civilization was unfairly targeted. PM Modi said he was familiar with Congress' modus operandi. "They (Congress) locate something, then bring a villain and a hero and make a film," he added.
PM Modi wondered why Pragya's bail was being discussed widely
"In Amethi, they (Congress) have a candidate (Rahul Gandhi) who is on bail, in Raebareli, they have a candidate (Sonia Gandhi) who is on bail. But if the candidate from Bhopal is on bail, there is so much of outcry," he stressed.
PM Modi said Congress rewarded those who watched 1984 massacre
Attacking Congress over 1984 Anti-Sikh riots, PM Modi said, "Her (Indira's) son (Rajiv Gandhi) said when a big tree falls, the earth shakes. After that thousands of Sikhs were massacred in Delhi. Was it not terrorism of certain people?" He added that those who witnessed the massacre were rewarded by Congress and one of them was made Madhya Pradesh's CM.