Man slaps 'Hitler' Hardik Patel at rally, explains his act
Man slaps 'Hitler' Hardik Patel at rally, explains his act
Apr 19, 2019, 03:55 pm
3 min read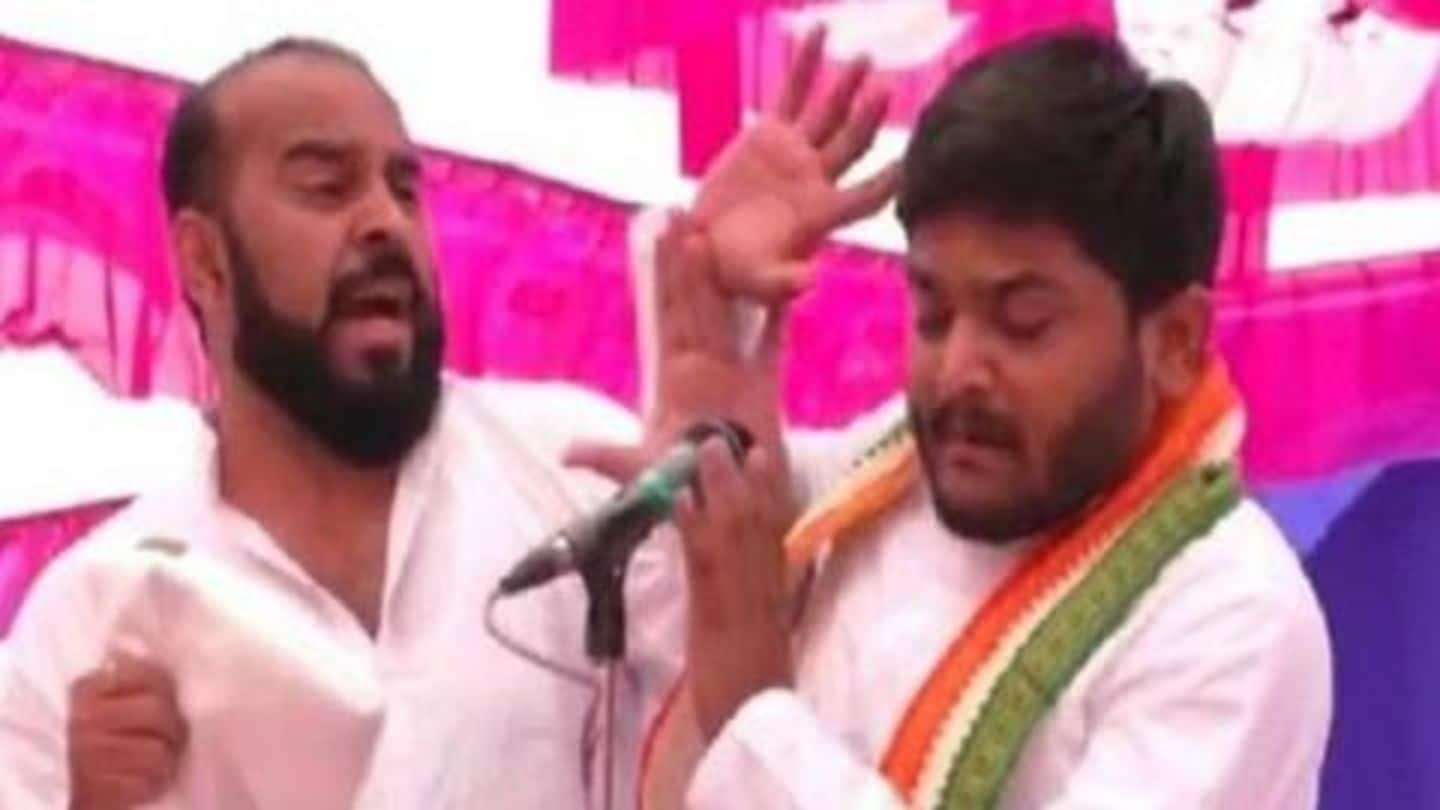 In an unprecedented incident, a man slapped Congress leader Hardik Patel at a rally in Sundernagar in Gujarat, on Friday. The man who hit the young leader was identified as Tarun Gajjar who revealed why he did so. Equating Hardik to German dictator Adolf Hitler, Gajjar said the former's Patidar agitation in 2015 affected his pregnant wife and child. Here's what happened.
Gajjar was removed from venue, Hardik filed police complaint
Hardik, who recently joined Congress, was addressing a Jan Akrsoh rally when Gajjar climbed on stage and manhandled him. After he slapped Hardik, Gajjar was overpowered by Congress workers who rained blows and kicks on him. The man was seen mouthing some words at Hardik. He was removed from the venue by partymen, and later Hardik filed a police complaint.
Watch: Gajjar slapped Hardik when he was speaking
Had decided to beat Hardik in 2015: Gajjar
Later, Gajjar told ANI he had decided to beat Hardik in 2015 when he led the Patidar agitation. "My wife was pregnant when Patidar agitation happened, she was undergoing treatment at a hospital, I had faced problems then, I had decided then, I'll hit this man," Gajjar said. Notably, he was admitted to a hospital after Congress workers beat him.
"Is he Gujarat's Hitler?"
"During his rally in Ahmedabad when I had gone to get medicine for my child, everything was shut down. He shuts down the roads, he shuts down Gujarat whenever he wants to. What is he? Gujarat's Hitler," asked Gajjar.
Backstory: Hardik's agitation turned ugly in few areas
To recall, Hardik catapulted himself to national politics through the Patidar agitation. He led various protests and bandhs while demanding reservation for his community. In 2015, Hardik led the agitation at BJP MLA Rushikesh Patel's office in which 14 people lost their lives. Hardik was charged with rioting and sentenced to two years of prison by Gujarat court. He is currently out on bail.
The jail term is forbidding Hardik from contesting polls
Further, Hardik won't be able to contest Lok Sabha polls due to his conviction. Last month, he approached Gujarat HC seeking a stay on his sentence as it forbade him from filing nomination. However, the state government told court that Hardik had no regards for the law and was accused in 17 cases. Subsequently, the court refused to stay his conviction.
While Hardik blamed BJP for attack, police denied party's links
After he was attacked, Hardik immediately blamed BJP. "The BJP wants to see me dead. They are orchestrating attacks on me. But I will not remain silent," he said. However, Mahendra Baghedia, Surendranagar's SP, said Gajjar didn't belong to any party. "The man is not affiliated to any party, he is a common man. Law is taking its own course," he said.