Modi holds rally in Kathua, slams Amarinder Singh, dynasty politics
Modi holds rally in Kathua, slams Amarinder Singh, dynasty politics
Apr 14, 2019, 03:02 pm
2 min read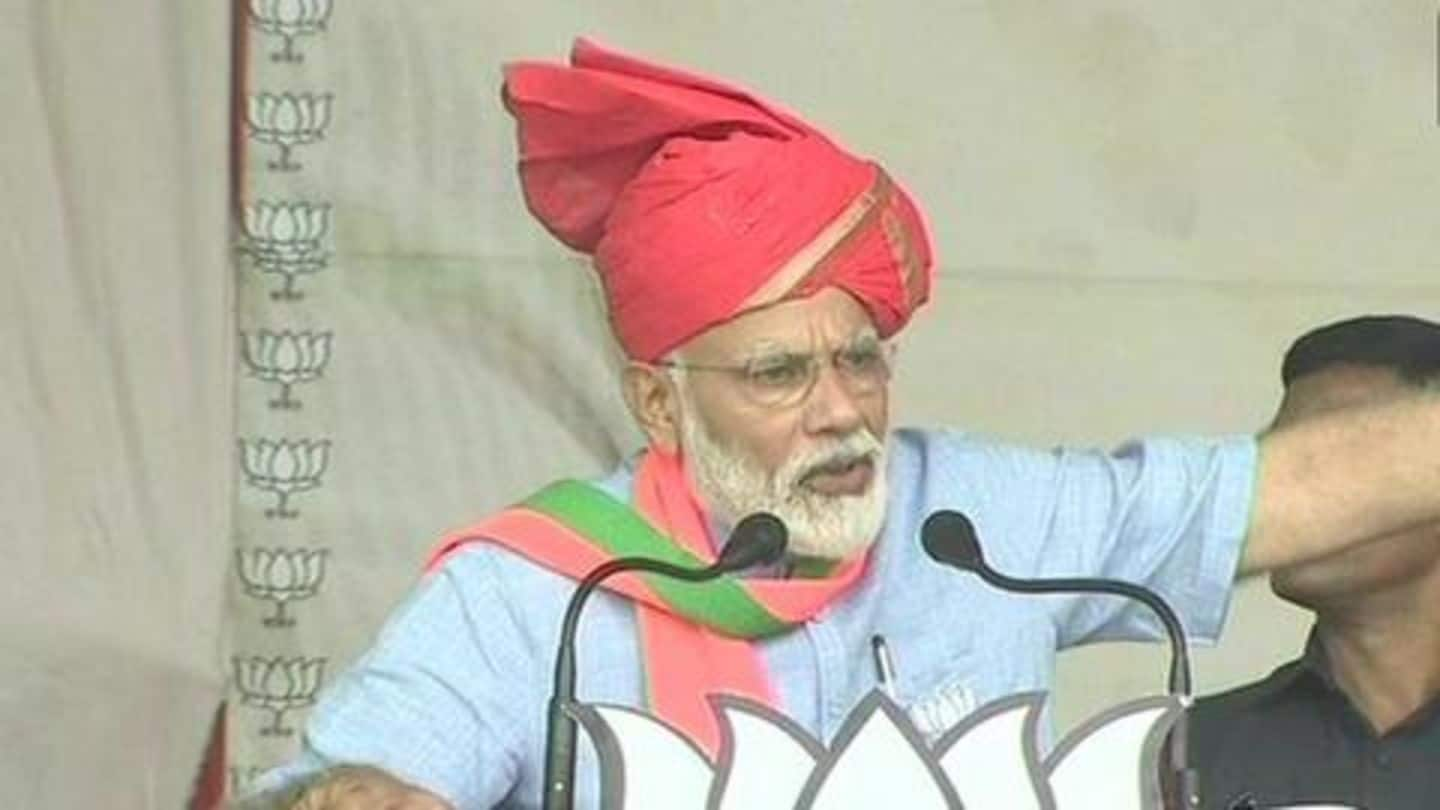 Prime Minister Narendra Modi addressed a rally in Jammu and Kashmir's Kathua on Sunday and criticized tall leaders like Captain Amarinder Singh (Congress), Mehbooba Mufti (PDP) and Omar Abdullah (National Conference). He said he wouldn't let the country be divided and promised to work for the safe return of Kashmiri Pandits. PM Modi also thanked people for voting in the first phase of polls.
PM Modi pointed out Singh missed Vice-president's event
Training guns at Singh, PM Modi said the former didn't visit Jallianwala Bagh when Vice President Venkaiah Naidu went there to lay a wreath. Saturday was the 100th anniversary of Jallianwala Bagh massacre and Naidu visited the park in the evening to pay homage to the martyrs. Earlier in the day, Congress president Rahul Gandhi paid respects at Jallianwala Bagh and Singh accompanied him.
Parivar bhakti was more important for Singh, said PM Modi
"The Vice President was in Jallianwala Bagh for government event, he paid tribute to the martyrs but Congress' CM was not there," said PM Modi. PM Modi said he never questioned Singh's patriotism but it seems he was under pressure to show "parivar bhakti". Hitting back at PM Modi, Singh said he was shocked that the former used a somber occasion for "dirty politics".
Not being one to sit idle, Singh slammed PM Modi
Shocked by your remarks in Kathua on Jallianwala Bagh @narendramodi ji. You used a somber occasion to play dirty politics, conveniently ignoring your own government's decision to hold a parallel event instead of extending support to my govt, which we'd been requesting for 2 yrs.

— Capt.Amarinder Singh (@capt_amarinder) April 14, 2019
"Won't allow this country to be divided"
Apart from Singh, Modi also slammed "dynasty politics" in J&K. He said Muftis and Abdullahas "destroyed" three generations of J&K. "I will not allow Abdullahs and Muftis to divide the country. Main na jhukta hu, na bikta hu," he said. Soon, former J&K CM Mehbooba Mufti asked why does PM Modi slam political families in rallies and stitch alliance after polls.
Mufti shed light on BJP's previous actions
Why does PM bash political families pre elections then sends his envoys to stitch alliances with the very same parties? NC in 99 PDP in 2015. Why do they choose power over Article 370 then ? BJP with its noxious agenda of banishing Muslims minorities wants to divide India https://t.co/8vNDz6WmjJ

— Mehbooba Mufti (@MehboobaMufti) April 14, 2019
PM Modi blamed Congress for exodus of Kashmiri Pandits
On the sensitive issue of Kashmiri Pandits, PM Modi said they were forced to leave their homes due to policies of Congress. "Congress and their friends were so worried about the vote bank that they overlooked the atrocities on Kashmiri Pandits. The BJP is committed to bringing the Kashmiri Pandits back to their land," he said and claimed work has already started.
Chowkidar will bring Kashmiri Pandits back: PM Modi
PM in Kathua: Congress might avoid taking their name but this chowkidar is committed to let Kashmiri Pandits live on their land. Work has begun. We're also making efforts to form law to provide citizenship to families which have come here helplessly from Pakbelieve in'Ma Bharti' pic.twitter.com/YPNHS8O6ZX

— ANI (@ANI) April 14, 2019