Amid Maharashtra crisis, Modi lauds NCP for obeying parliamentary norms
Amid Maharashtra crisis, Modi lauds NCP for obeying parliamentary norms
Nov 18, 2019, 04:39 pm
3 min read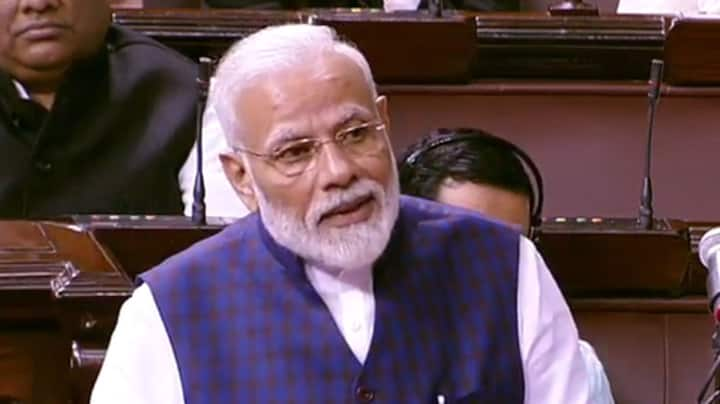 Prime Minister Narendra Modi addressed the Rajya Sabha on the first day of the Parliament's winter session. In his address, PM Modi lauded the National Congress Party (NCP) and the Biju Janata Dal (BJD) for adhering to parliamentary norms. He spoke on the occasion of the 250th session of the Upper House and retraced its history. Here's more on what he said.
Other parties including mine can learn from them: PM Modi
PM Modi on Monday said, "Today I want to appreciate two parties, NCP and BJD. These parties have strictly adhered to parliamentary norms." He said the parties have "never gone into the well (of the Rajya Sabha)" to register protest and have "raised their points very effectively." "Other parties including mine can learn from them," he added.
The timing of these comments is notable
These comments from PM Modi come at a time when BJP is at odds with the NCP in Maharashtra. After the BJP-Shiv Sena alliance won a majority in the state's Assembly elections, the alliance fell apart. The Sena is now trying to ally with NCP and Congress.
'Rajya Sabha has seen many historic moments'
Further, PM Modi said, "This House has seen many historic moments, it has made history and has seen history being made as well. It is a far-sighted House." "The Rajya Sabha gives an opportunity to people away from electoral politics to contribute to the country and its development," he added. The Parliament's winter session will run till December 13 and will have 20 sittings.
Rajya Sabha always stood for nation's good, says PM Modi
Maintaining that the House has always stood for the good of the nation, PM Modi said, "It was widely believed that Triple Talaq bill would not pass here but it did. Even GST became a reality after it was passed in this House." He added, "We can never forget the role of the RS when bills related to Articles 370 and 35(A) were passed."
Rajya Sabha second house, not secondary, says Modi
PM Modi said, "In 2003, Atal ji remarked that RS may be the second house but it shouldn't be called a secondary house. Today, I agree with Atal ji's thoughts and add that the Rajya Sabha must be an active supportive house for national development."
You can watch PM Modi's Rajya Sabha address here
He also called for frank, high-quality discussion in winter session
Notably, the Parliament's winter session will last for 26 days. It will address key bills including the Citizenship (Amendment) Bill, Personal Data Protection Bill, 2019, Anti Maritime Piracy Bill 2019 and Transgender Persons (Protection of Rights) Bill, 2019. Reportedly, the House is expected to take up 47 items during proceedings. Earlier today, PM Modi had called for frank and high-quality discussions in the Parliament.