'Murderous' attack on Rahul Gandhi's car unleashes war of words
'Murderous' attack on Rahul Gandhi's car unleashes war of words
Aug 05, 2017, 04:29 pm
2 min read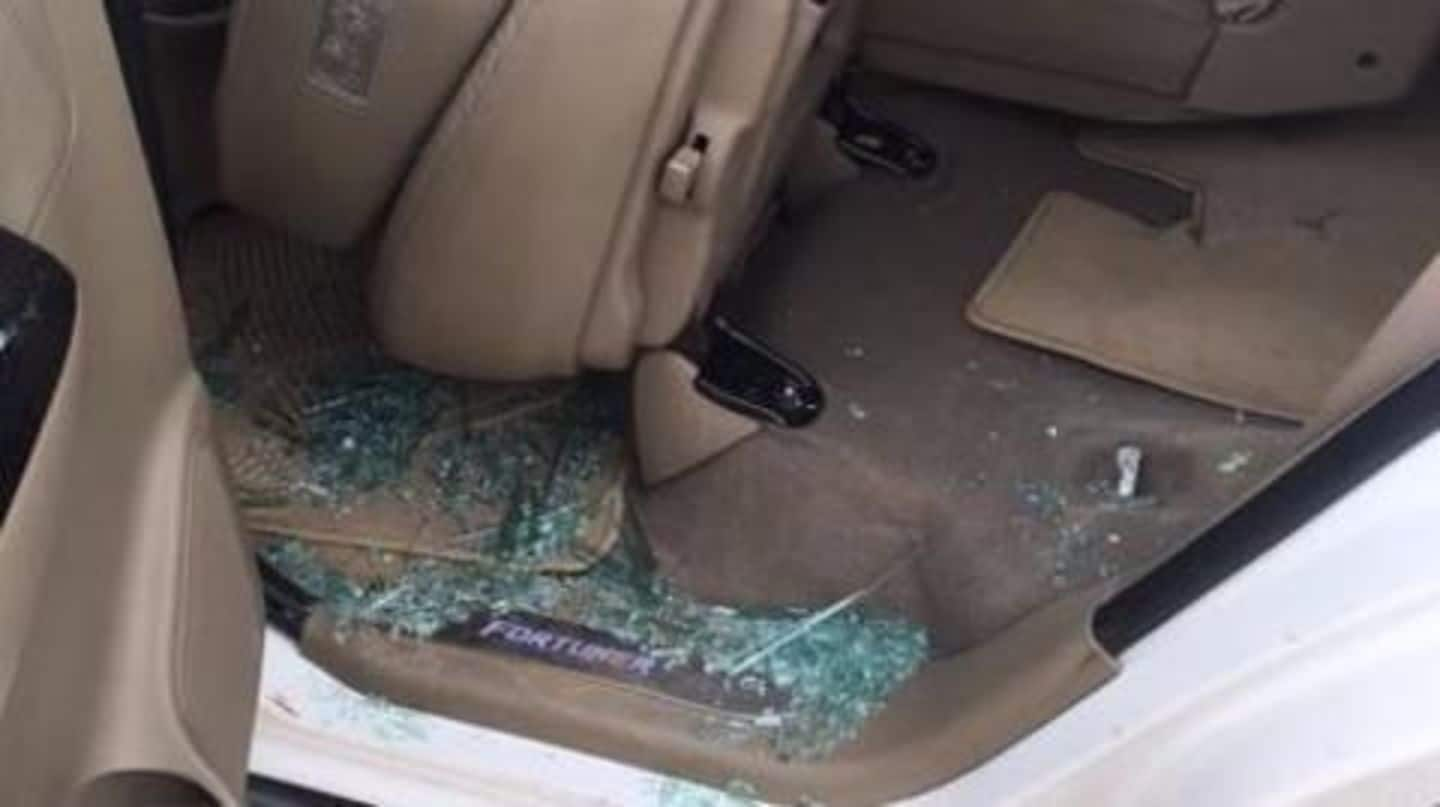 Yesterday, Congress Vice-President Rahul Gandhi's car was attacked by a man in Gujarat's flood-hit Banaskantha district. The attacker threw a stone at the car which broke a window. A security guard of his team was wounded. Ironically, Gandhi is protected by the elite Special Protection Group, which is currently serving only eight dignitaries. The incident has triggered a sharp exchange of political barbs.
Gandhi had flown to Dhanera after reviewing flood-affected parts of Rajasthan. He interacted with people at Manotra, then met farmers and traders at a farm-produce marketing yard. He travelled to Lal Chowk where he was supposed to address people, but the crowd waved black flags, shouted Modi slogans and threw water packets at his convoy. A man then attacked his car with a stone.
BJP-RSS is famous for such things since 1947: Congress
The Congress has launched a barrage of slurs at the BJP-RSS, who it claims planned the "murderous" attack. "BJP-RSS is famous for such things since 1947, we have seen in the case of Mahatma Gandhi and others," said Ghulam Nabi Azad in parliament. Anand Sharma asked, "Where was police? What was the bandobast? How were the people present there with stones and concrete missiles?"
'Modi slogans, black flags won't stop us'
When it was pointed out that PM Narendra Modi hadn't condemned the incident, Rahul said, "How will those who carry out such attacks condemn these?" In a tweet, he said, "We aren't going to step back because of 'Modi slogans', black flags and stone pelting."
Congress should stop doing photo-ops: BJP hits back
Meanwhile, the BJP has questioned Rahul's decision of travelling in a party worker's car instead of the state-assigned bulletproof vehicle. Countering Congress' allegations, Sambit Patra said the attackers weren't "goons", but locals tired of politicians exploiting calamities for gains. CM Vijay Rupani said the Congress should actually do something instead of doing "another photo-op"; however, he condemned the attack and has ordered an inquiry.
Meanwhile, cops have detained one person, inquiry ordered
Police said a man has been detained in connection with the incident. Congress says it had identified four people involved. It has called a Congress Working Committee meeting on August 8 to discuss the political situation in the country. It says the attack is linked to the upcoming Gujarat RS elections. Congress earlier claimed six of its MLAs had been "abducted" by the BJP.